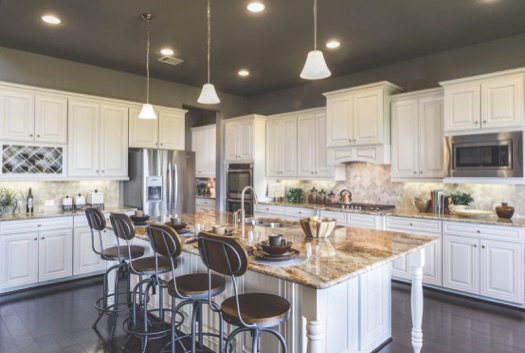 Beazer Homes takes a local and regional approach to its supply chain while maintaining exclusive national partnerships. By Jim Harris
When it comes to its supply chain operations, one of the nation's largest homebuilders believes in taking a local approach. "Regardless of where our headquarters is, we believe homebuilding is a local business, so our supply chain relies on local and regional distribution centers operated by our key partners," says Chris Vanzant, vice president of central purchasing for Atlanta-based Beazer Homes.
Beazer Homes' supply partners and local subcontractors provide it with building materials, appliances and other items from their warehouses. The company has established relationships with a number of shippers and suppliers to ensure its homes receive materials and fixtures in a timely manner. "There are only a few large national homebuilders who warehouse their own materials," Vanzant says. "We believe it's better to let our suppliers manage that overhead than to do it ourselves."

The company has exclusive supplier relationships with national material providers including ABC Supply, which provides it with roofing materials, Builders First Source and 84 Lumber. Beazer Homes has similar arrangements with flooring and tile providers Mohawk and Daltile, as well as laminated wood flooring provider Armstrong. Beazer Homes also exclusively uses Sherwin-Williams paint.
Beazer Homes can renegotiate supplier contracts as needed in light of market demands. "We rely on these exclusive national relationships to ensure product availability and assure the consistency and quality of our homes."
Other exclusive partners include:
• Moen Faucets
• Progress Lighting
• Therma-Tru doors
• Goodman/Daikin air conditioning
• DuPont Tyvek house wrap
• James Hardie fiber cement siding
• Hearth & Home Technologies fireplaces
"We believe in the importance of creating the best possible product. That means working with best-in-class trade partners," the company says. "These companies push the boundaries of innovation and, like us, are dedicated to building smarter, more energy-efficient homes. We take great pride in all of our partner affiliations."
Managing Relationships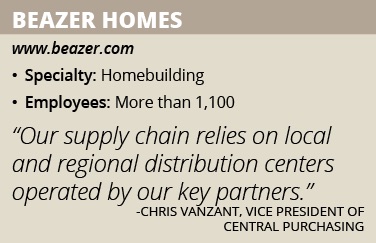 Beazer Homes manages its supplier relationships in two main ways. National supplier relationships are managed by a member of the homebuilder's corporate staff who communicates anticipated demand to its suppliers on a quarterly basis. Local and regional demand is managed in part though the company's use of Hyphen Solutions' Buildpro electronic scheduling, payment and supply chain management software, Vanzant says.
The Buildpro system notifies subcontractors automatically throughout the construction process. "If I start pouring concrete today, the system will let the framing contractor know they will be needed in the following week," he adds, noting that Buildpro also provides permitting and blueprint information.
'The Beazer Difference'
Beazer Homes is active in 16 markets in the states of Arizona, California, Delaware, Florida, Georgia, Indiana, Maryland, Nevada, North Carolina, South Carolina, Tennessee, Texas and Virginia. The company has operated in the United States since 1986, and has been publicly traded since 1994. Beazer Homes traces its history back to the 1700s in England, it says.
Since 1994, the company has completed more then 170,000 homes. Every Beazer home is built with energy efficiency in mind. "All of our homes are built to ENERGY STAR standards and are tested to make sure they meet those standards," Vanzant says. "Many builders say they are ENERGY STAR, but we are ENERGY STAR tested, inspected and certified."
Beazer Homes was recognized by the ENERGY STAR program as Partner of the Year in 2014. The company also won the program's Partner of the Year Sustained Excellence award in 2016 for "continued leadership in protecting the environment through superior energy efficiency achievements," Beazer Homes says.
Energy efficiency is one of the three elements of what the company calls the "Beazer Difference." The company's other differentiators are its mortgage choice program and its ability to offer clients different floor plan and other options at no additional cost to the buyer, which it terms as "Choice Plans," Vanzant says.
The company's mortgage choice program helps homebuyers secure the right mortgage program for their specific needs. "Whether you're a first-time homebuyer or just making a change, you'll probably need a home loan, and Beazer has created an environment that makes it easy to shop for one," the company says. "In every Beazer community, we've identified a group of preferred lenders that provide a comprehensive product portfolio, competitive rates and fees, and outstanding customer service. The benefits of shopping can save you hundreds of dollars a year. And, when you work with a preferred lender, they make sure you're ready to move in when your home is ready."
The Choice Plans program gives homeowners the ability to choose from a number of room-specific floorplans in an effort "to create a home that specifically caters to their lifestyle," Beazer Homes explains. "By thoroughly researching the needs of our customers, we have developed a number of floorplan options for the most commonly used living areas in a new home – the kitchen, secondary living space and master bath."
For example, homeowners can choose a kitchen with a central island for entertaining, or omit the central island in favor of a family oriented setting where a table can be placed. "We believe the perfect home is the one our clients help create," Beazer Homes says.
Clients can also work with design professionals to choose the fixtures in their new home. "From flooring to lighting, cabinets to countertops and more, we offer all the options you'll ever need to design your home just the way you want it," the company adds.