A robust supplier diversity program has helped CBS Corporation expand opportunities for diverse-owned businesses. By Eric Slack
Supplier diversity has long been a cornerstone of CBS Corporation's operations. Indeed, diversity is something CBS has embraced at all levels – on screen, behind the camera, in the workforce and with supplier relationships.
"Supplier diversity is a key strategic initiative of the company's procurement function," Senior Vice President and Chief Procurement Officer Tom Hogan says.
Top Priority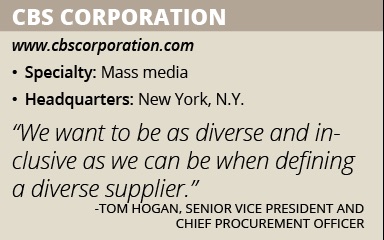 CBS is one of the world's leading mass media companies. It has an extensive number of businesses within its corporate portfolio.
The company is known for industry-leading content through many different platforms. As a global leader, CBS includes supplier diversity as a company priority.
"We want to be as diverse and inclusive as we can be when defining a diverse supplier," Hogan says.
"For a supplier to be classified as diverse in our supply base, they must be certified as 51 percent diverse-owned, and our categories include women-owned, minority-owned, LGBT, veterans, disabled and others," Hogan says. "There are a number of different third-party bodies that serve as the certifying organizations, and we leverage those groups to certify if a supplier is diverse. The CBS Strategic Sourcing team can assist suppliers through the certification process."
Working with diverse suppliers is part of CBS' ongoing business strategy. In fact, the company believes it is important to advance an environment that promotes a diverse supplier base.
Additionally, the company knows it has an increasingly diverse customer base in terms of its viewership and listeners. Therefore, CBS believes its vendor base should reflect that increase in diversity.
"We have demonstrated that having a diverse vendor base is good for the company," Senior Vice President of Strategic Sourcing Mike Smyklo says. "Many of our best vendors have come to us through our supplier diversity outreach process."
"Our efforts in supplier diversity are also closely aligned with our corporate diversity initiatives," Hogan says. "And in this regard, we work very closely with Josie Thomas, the executive vice president and chief diversity officer for CBS Corporation."
Tools to Succeed
The company's corporate procurement policy, which addresses purchasing across all of its divisions, requires that all competitive bids must include a diverse supplier if one can be identified. This policy provides many opportunities for diverse suppliers to compete for business with CBS, allowing them to have the chance to win bids based on their quality, pricing, services and more.
"By having strategic sourcing and supplier diversity under the same department, we can work closely with the procurement team, doing the research and providing recommendations for suppliers they can invite to bid," Vice President of Strategic Sourcing and Supplier Diversity Natalie Robinson says.
CBS also holds outreach events at its Los Angeles studios for prospective diverse suppliers. They get the opportunity to meet with members of CBS' operating teams, as well as with representatives from other major studios in Hollywood.
"We believe in mentorship, helping diverse suppliers through certification and with opportunities to build ties with our company, other studios and our partners," Robinson says.
CBS is currently working with a multitude of diverse suppliers in many different spend categories. This includes everything from IT equipment, consulting services and promotional items to janitorial services, temporary labor and beyond.
A recent high-profile CBS diverse supplier partnership is the new SodexoMagic foodservice operation at CBS Television City in Los Angeles. Earvin "Magic" Johnson, the NBA hall of fame star, is in a joint venture with his Magic Johnson Enterprises and the Sodexo food service company. Leveraging the power of Magic Johnson's brand along with Sodexo's portfolio of service solutions, SodexoMagic provides innovative and comprehensive service solutions.
"Our work with diverse suppliers spans a wide range of spend categories," Smyklo says.
"We want our company to have a strong mix of diverse suppliers providing a wide range of goods and services," he explains.
The CBS supplier diversity toolkit includes a diverse supplier locator tool, enabling CBS staff to readily identify diverse suppliers by spend category and zip code. This tool can be of value when searching for diverse suppliers for competitive bidding.
Further, working with regional and national advocacy groups helps CBS to discover and engage with qualified diverse suppliers and match them with potential opportunities across the CBS organization. Currently, the company works with third-party organizations such as the National Minority Supplier Development Council and various media coalition groups.
"We leverage those groups and their memberships, resources and events to help us find diverse suppliers," Hogan says. "They can be advocates for their members and help them grow opportunities to work with companies like CBS."
Ongoing Reviews
To gauge its performance, CBS has implemented a robust spend visibility platform providing quarterly detail on all supplier spending. The company measures how much it spends with diverse suppliers as a percentage of overall spending. It also measures diverse supplier spend by business unit.
"We provide each of our divisions with quarterly information on their diverse supplier spending," Director of Procurement Analytics William Cheung says. "Providing this visibility has helped us triple our spend with diverse suppliers."
CBS is also focused on monitoring quality, cost and track record as part of its supplier diversity program, regularly reviewing the performance of its diverse suppliers – consistent with how CBS manages that process for any supplier, whether they are diverse or not.
"In the bid process, suppliers succeed based on a scorecarding process that guides our supplier selection process," Hogan says.
"Prior to awarding a bid, we review the RFP responses and supplier scorecarding and measure all of the participants on an even slate," Hogan adds. "Our experience is that diverse suppliers want to be held to the same standards as any other supplier."
Looking Ahead
As the company moves forward with its supplier diversity initiatives, "We will be continually looking to identify more diverse suppliers and to increase the visibility of our program so more suppliers are aware of the opportunities," Smyklo says.
Ultimately, CBS is focused on continuing to execute on its supplier diversity plans. It will remain an important strategic initiative, focused on providing opportunities and increasing engagement.
CBS has demonstrated that with senior level sponsorship, talented strategic sourcing resources, data analytics and collaboration with the operating divisions, the procurement department can both deliver savings and provide significant opportunities to grow the share of spend with diverse-owned suppliers.