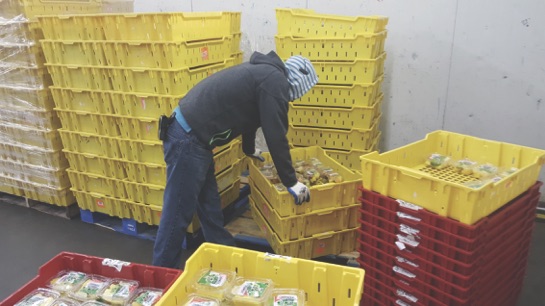 7-Eleven is working with its franchisees to understand how daily ordering patterns can impact the supply chain. By Tim O'Connor
7-Eleven Inc. is the leading name and most prevalent chain in the convenience retailing industry. Based in Irving, Texas, 7-Eleven operates, franchises or licenses some 10,700 7-Eleven stores in North America and each store provides approximately 2,500 different products and services that are designed to meet the needs of specific individual localities. Worldwide, there are more than 58,841 7-Eleven stores in 18 countries.
Of the 10,700 7-Eleven stores operating in North America, only a small percentage have anything resembling a backroom for stocking inventory. When the Twinkies run out, employees can't simply go into the backroom and unload another case of the tasty snack cakes. Instead, 7-Eleven keeps their store shelves stocked by making daily deliveries to every store using a complex but very effective supply chain.
The company first instituted a daily delivery of fresh foods, bakery items and other perishable products throughout its nationwide network in 1994. At that time, 7-Eleven set up a sophisticated preparation and distribution system designed to minimize the number of daily deliveries to the stores from multiple suppliers. These centralized distribution centers (CDCs) have turned out to be very beneficial.
Through proprietary handheld inventory and ordering systems; 7-Eleven store operators place their orders by 10 a.m. each day for deliveries out to the store that same day. The computer system promptly combines these orders and transmits them to the CDCs, commissaries and bakeries that support these stores across North America.
One of the people behind the demand planning to support these efforts is Dean Burkett, 7-Eleven's director of demand planning and replenishment. Before joining 7-Eleven a little over a year ago, Burkett worked at Sara Lee, Topco Associates and Abbott Laboratories holding various supply chain/logistics positions in inventory management, customer service, order processing, transportation and distribution center operations management.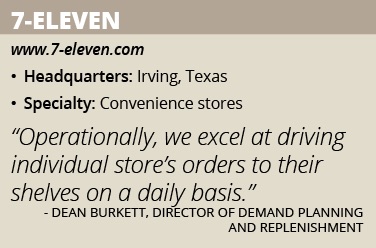 Upon receipt of the stores' orders, sandwiches, salads and baked goods are prepared fresh that same day. Fresh-food products are date/time stamped immediately after they are made. Other perishable products are delivered throughout the day, to be sorted for that night's delivery. Trucks are then dispatched to deliver each store's products between 9 p.m. and 5 a.m. the very next day.
To ensure the highest quality, the CDC facility follows stringent product-handling and temperature standards. Products brought to the CDC are continually kept at required temperatures throughout food preparation, sorting and transportation cycles. The CDC also safeguards the highest food quality by shipping from temperature-controlled docks.
The company has made a big push in recent years to offer hot foods and fresh sandwiches. Two of its newest products are a $1.99 chicken sandwich and a similarly priced cheeseburger. Fresh foods are viewed as one of 7-Eleven's biggest growth areas and a point of differentiation within the marketplace. "Local CDCs and commissaries, make it possible for us to create the highest-quality and freshest foods for our customers," Burkett adds. But with that freshness comes expiration. All of 7-Eleven's donuts, for example, are made within 24 hours of appearing on store shelves. At the end of each day any leftover pastries are discarded, often by being donated to local food banks.
"7-Eleven is vested in the quality of our product," Burkett says. "We make sure that at the store level we have the freshest items out in the marketplace." The convenience store chain needs a fast supply chain to support that expectation of freshness. Gallons of milk, for example, go from cow to store shelves quicker than for most other retailers. With most retailers, typically milk is fresh for about up to a week after purchasing. With 7-Eleven's speedy supply chain it means customers could bring home gallons that are good for up to two weeks.
The company's commitment to its supply chain is an extension of CEO Joe DePinto's belief in servant leadership – an inverse pyramid philosophy where it's the role of upper management to support the retail employee who actually makes the sale. 7-Eleven is a company that understands its past and has a vision for how to improve for the future. The company is celebrating the 50th anniversary of the Slurpee® drink this year with unique flavors, promotions and special products such as a Slurpee-flavored donut.
Efficient Ordering
One of the biggest impacts on the supply chain is the in-store ordering. Each day, every owner takes inventory of his or her products; checks expiration dates and orders what is needed to replenish the shelves. To aid that process, 7-Eleven recently introduced a guided replenishment system. The system generates an anticipated forecast of demand based on weighted sales from the previous forecast periods. That information generates a suggested order amount for each item at an individual store, Burkett says.
The system is designed to be easy to use and more efficient while allowing stores to more quickly fulfill orders for items in low-velocity categories, reduce out-of-stock situations and grant employees more time to manage the quality of the inventory. However, to make the most out of this innovative system, stores must maintain a strong ordering discipline and perform accurate cycle counts.
Negating Errors
The complexity of the supply chain process means there is room for human error. Distribution centers are automated but still require a significant amount of manual processes. Human pickers are needed to take products coming in from the wholesaler and sort them into individual delivery routes, each of which may serve as many as 20 stores.
7-Eleven is working with its distribution operators to eliminate the opportunity for mistakes in order fulfillment. Distribution centers are now outfitted with automated pick voice systems that inform workers via headset of what items must be selected and what bins they need to be placed in.
In March of this year, 7-Eleven took another giant stride forward in its supply chain efforts to reduce error when it invested in a planning system to manage demand and replenishment into its centralized distribution center. This system forecasts demand down to the store level by looking at a store's take rate and actual consumption. There are number of reasons that result in order error. "Communication is one of the most effective ways to mitigate these occurrences," Burkett says.
Store owners themselves have a direct impact to the supply chain. Burkett is working to help inform franchisees as to how their own ordering patterns can create a ripple effect throughout the supply chain. The learning process begins when new franchisees attend a 7-Eleven Launch class designed to explain the day-to-day operations of their store, lay out the ordering process and familiarize attendees with the company's various departments. Burkett introduced a supply chain element to that introductory training: the Pizza Game.
The Pizza Game is an exercise designed to simulate a number of key principles within 7-Eleven's supply chain: manufacturer, wholesaler/distributor, CDC and store. Players take the role of one of those four areas and must forecast orders and fulfillment without verbal communication, earning or losing points based on inventory levels and ability to meet consumer demand. The object of the game is to meet store demand for cases of pizza through the distribution side of a multi-stage supply chain with minimal expenditure on back orders and inventory. At the end of the game, Burkett does a debriefing session with the attendees following every game to review the results of each team and discuss the lessons learned. By opening up the communication between stores and the rest of the supply chain, Burkett and 7-Eleven are creating accountability and identifying the root causes of issues while simultaneously creating collaboration at all levels.