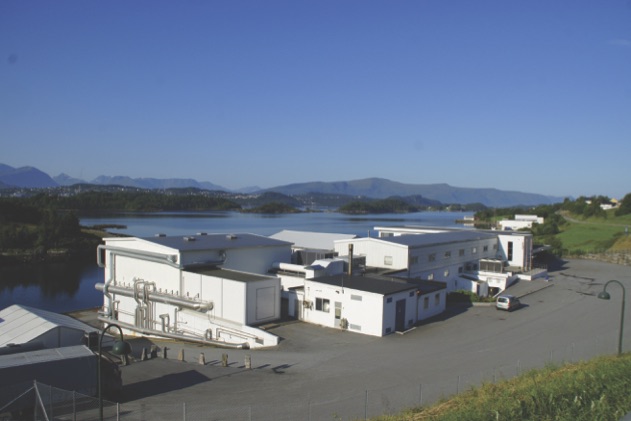 Firmenich is streamlining and regionalizing its flavors supply chain for industries it has served for more than 120 years. By Russ Gager
For family owned Swiss company Firmenich – the world's largest privately owned fragrance and flavor company – the freshness of its ingredients is paramount, so an efficient supply chain is crucial. A flavor may contain up to 100 individual components, and a fragrance even more – up to 150. "The ingredients are those components," explains Craig Wallace, senior director of supply chain planning and project excellence. "Some of those we produce in-house, and others we source externally."
Firmenich produces and sells tens of thousands of different flavors. "Producing such a large number of products creates a lot of complexity, and this increases when we add in technology such as encapsulation," Wallace notes. "Other factors influencing complexity include the trend toward natural products, considering dietary restrictions and the growing influence of allergens."

Firmenich uses synthetic and natural ingredients, some of which are ordered up to 18 months in advance, so the demand for them has to be updated through the monthly sales and operations planning (S&OP) cycle.
"Natural ingredients form a major part of our product portfolio including citrus oils and vanilla," Wallace notes. "As these are seasonal products, the market is heavily influenced by environmental factors and the balance of demand vs. supply. Right now, the vanilla crop is under an enormous amount of pressure, and the price of vanilla beans has increased significantly over the last six to 12 months."
Sometimes Firmenich can mitigate the impact of fluctuating prices by taking an inventory position on a natural ingredient. "We see at the moment that the price of orange oil is expected to rise due to the expected crop yields in Florida and Brazil," Wallace says. "Based on this speculation, our purchasing team will look to secure supply through our network of suppliers at the best possible price. Taking a mid- to long-term view on these materials helps us to secure supply for our clients and reduce the impact of fluctuating market prices. We make these decisions through a cross-functional strategic S&OP process specifically designed to manage our natural ingredient portfolio."
Firmenich – which was founded in Geneva, Switzerland, in 1895 – celebrated its 120th anniversary last year. The company has created many of the world's best-known perfumes and flavors that billions of consumers enjoy each day. It continues to innovate and invests 10 percent of its revenue in research and development.
Cultural Evolution
The S&OP process is helping Firmenich to transition from an entrepreneurial management style to one closer to that of a public company. "Firmenich has been extremely successful over the years due in large part to this entrepreneurial spirit," Wallace stresses. "However in today's market, we must take a more systematic approach in order to manage our working capital and to ensure that we continue to improve the service we provide to our clients."
The challenge has been to retain the company's entrepreneurial spirit, innovative technology and family atmosphere while undergoing this transition. "It's a difficult balance to reach, but it seems to work," Wallace says. "Before we make any major decision, we use our S&OP process to provide real numbers to senior managers to enable them to make informed decisions. When you can combine our customer intimacy, market knowledge and experience with accurate objective information, the sky's the limit."
The food industry is constantly changing, be it through consolidation, trends for natural products or responding to changing demographics. Companies are also looking at their internal processes and in some cases are relying more and more on their suppliers, such as Firmenich, to provide value-added services such as product development, marketing, consumer insights and regulatory affairs.
"These value-added services in conjunction with increased competition in the flavors industry make it even more critical for Firmenich to manage our business through an effective S&OP process," Wallace emphasizes.
S&OP Journey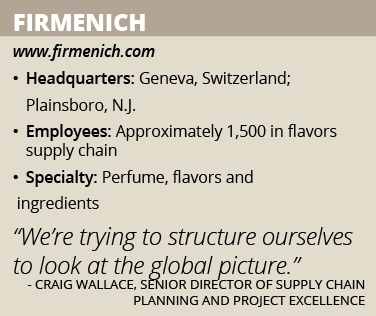 Firmenich uses SAP enterprise resource planning software to manage the entire supply chain, ordering materials, issuing purchase orders, managing inventory and paying suppliers. "SAP is how we manage our business from a process standpoint." Wallace explains. "All of the data that we use for the S&OP process comes out of SAP."
Moving to SAP enabled Firmenich to manage the supply chain on a global basis rather than on a site or regional basis. Supply chain information for all of the company's flavor manufacturing locations now is at employees' fingertips instead of requiring logging into another plant's computer system.
"We're trying to structure ourselves to look at the global picture, and that has helped us to manage our working capital more effectively and improve service, because we're looking at it through a wider lens that provides full visibility across the entire value-chain," Wallace says.
Wallace's team sets inventory targets and planning parameters for the flavors division. "We're really working on ways to harmonize the S&OP process so that everyone works the same way," Wallace says. "We're still in the implementation phase of S&OP. It's like climbing a mountain – you start at base camp and work your way up the mountain. We're a few days out of base camp and constantly moving towards the summit. We're trying to harmonize our S&OP processes in order for our senior management to have the same view across our three business divisions. That's the key project we are working on now within the S&OP spectrum."
Global Master Plan
Firmenich has served Europe and North America for decades, but nowadays growth is also coming from elsewhere. "In the flavors division, we're executing a global investment plan where we are regionalizing our supply," Wallace says. "As the emerging markets grow, we need to move our supply closer to the end markets both to improve service to our clients and to reduce our carbon footprint through reducing the distance between our plants and our clients.
"Consequently, we're embarking on a project to balance our capacity across the emerging and mature markets to make sure we have the right footprint."
The company releases a report annually on its environmental performance. Its goal is to be carbon-neutral within the next 10 years. Local sourcing will help reduce Firmenich's carbon footprint, but sourcing locally can be difficult because the company uses thousands of raw materials, many of which are highly specialized. When looking at local sourcing, Firmenich takes a total cost of ownership approach including material cost, freight costs, impact on working capital and environmental impact.
Customer-Facing Supply Chain
Firmenich's goal is to have a customer-facing supply chain in which Firmenich's teams are dealing directly with people in the same capacities at their clients and with each other.
"The traditional business model that our company runs on is that the account manager is the person that leads the communication with our clients," Wallace says. "This is often referred to as the 'bow-tie' approach. We want to move towards the 'reverse bow-tie' approach where we have peer to peer communication with our clients."
"Like a lot of industries, you don't make many one-off sales," Wallace observes. "Once you've sold the flavor or perfume, you have to manage it through its entire lifecycle. At the same time, a large proportion of our revenue comes from new business, as product lifecycles are becoming shorter. As this trend increases, it will be imperative to balance our resources in order to maximize our ability to win new business while at the same time to effectively manage our existing business. As a result, all indications are leading toward this customer-facing supply chain concept and further development of the S&OP process."
Wallace emphasizes the importance of teamwork in any transformational changes. "We are really collaborating very closely across all aspects of the business to build a solution that works best for all stakeholders," he asserts.
He stresses the commitment of Firmenich to achieve its supply chain goals. "We are investing heavily across the globe to make sure we have the right manufacturing footprint to serve clients better, minimize our environmental impact and generate as much value for stakeholders as we possibly can," he says. "We're constantly evolving, very entrepreneurial and extremely good at generating new technology and pushing boundaries. We maintain close communication and relationships with our customers. We've done it this way for many decades and been a highly successful, profitable company as a result."