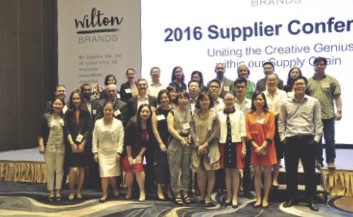 Craft and cake decorating product specialist Wilton Brands is transforming its supplier relationships. By Jim Harris
Since 1929, Wilton Brands LLC has inspired and enabled consumers to engage their creative sides, whether through baking sweet treats, decorating edible masterpieces, making their own clothing and costumes or creating amazing crafts with paper. Today, the company is one of the largest and most diversified suppliers to the craft industry. Its commitment to crafting remains evident in its vision statement: "We inspire the joy of creativity in everyone, everywhere, every day."
Up until the past few years, however, the Woodridge, Ill.-based company's approach to sourcing the crafting items it sells and distributes did not involve much creativity or interaction between it and its suppliers beyond placing orders and receiving goods. "We long had more of a transactional relationship with our suppliers," Executive Vice President of Global Operations James Hill says. "Today, we look to our suppliers as an extension of Wilton instead of just buying goods from them."

Suppliers have long played a critical role in the company's ability to get products to retailers and, ultimately, consumers. The company has more than 23,000 SKUs in its portfolio across two main business units: Wilton Enterprises, which offers baking, cake decorating and food crafting products; and Simplicity Creative Group, which includes several sewing, knitting, paper crafting and arts and crafts brands.
The company serves a variety of consumer channels including specialty crafting retailers such as Michaels, Jo Ann Fabrics and Hobby Lobby; big box retailers; grocery stores; distributors; and e-commerce including Amazon.com. Wilton Brands also operates the Wilton School of Cake Decorating and Confectionery Art and offers cake-decorating courses at retail locations through certified Wilton Method Instructors. "We have a long history of educating consumers about our products and related crafting activities," Hill says. "Our product development teams have intimate knowledge of what sweet treat making and decorating, sewing and crafting are all about, which we translate to on-line and in-store inspirational and educational content and to the products we sell."
Wilton Brands sources its products from more than 200 suppliers in 10 countries. The company operates over 2 million square feet of distribution space in the United States, Canada, the United Kingdom and Australia and ships to customers around the world. With the amount of volume flowing through its domestic DCs, the company is in the process of converting them to foreign trade zones as another step to improve efficiency and lower total cost.
In addition to operating its own distribution centers, the company regularly uses third-party logistics providers to support regional requirements and products with high seasonal demand such as gingerbread house kits, Hill says.
As with other consumer product lines, the level of complexity managed through the supply chain has increased over the past few years. Retailers continue to work to differentiate themselves and demand unique SKUs.
"No one wants to compete with Walmart on price and no one wants to be a showroom for Amazon," says Hill. "We work with our customers to create unique consumer and retail experiences. We no longer have the luxury of shipping full containers of the same product from factories to distribution centers and full case packs to retailer DC's and then on to stores. We, the end-to-end network, must work together to take out as much waste as possible and attempt to respond to changes in demand at the pace and scale of the market."
Strategic Planning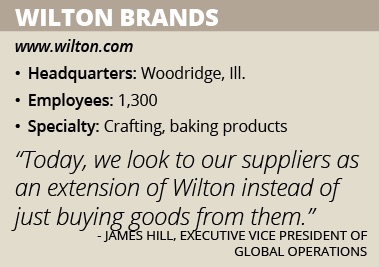 Changing Wilton Brands' interactions with suppliers to a much more integrated relationship that encourages collaboration was a high priority for Hill, who joined the company in October 2014. His experience includes serving in several supply chain and operations functions since starting his career in 1990. Before Wilton Brands, Hill worked in the consumer products industry for more than 10 years and still leverages tools he gained in the automotive and high-tech arenas.
After arriving at Wilton Brands, Hill began completely revamping the company's supply chain team and organizational structure. "We have significantly strengthened the supply chain team in the United States and China and continue to improve the processes and systems we use across operations," he says. "We now have a great team and putting the right people in place was a critical part of my first several months here.
"We are now focused on driving further improvement to total cost and agility through strengthening internal and external collaboration. This includes putting the consumer and retailer at the heart of all decisions, reducing process complexity and automating processes to focus resources on higher value-add activity."
Creating and implementing a three-year strategic plan that the company can communicate back to the primary stakeholders was also a high priority for Hill. This links operations and supply chain initiatives to broader corporate financial and strategic priorities and creates a foundation to cascade objectives down through every level of the team. One key element of the strategic plan and Wilton Brands' ongoing supply chain transformation is the reduction of the company's supplier base from more than 300 vendors to less than 200. This drives more of the dollars to fewer suppliers, better leveraging existing spend and creating greater incentives to collaborate and drive improvement.
Suppliers are now more confident to make investments in capital equipment and facilities, improve capabilities of managerial and technical staff, take on greater working capital investments (e.g., inventory), and add IT infrastructure to drive efficiency improvements. "Some of our suppliers used to behave as if the PO they just received from us was the last one they were ever going to get. Yet the companies had been doing business together for years," Hill observes. "Now there's much more collaborative planning, including longer range strategy not only for things like offsetting rising labor costs and meeting growing compliance requirements, but also focused on creating true differentiation in products."
The company looked at a few key considerations when examining which suppliers to keep doing business with. This includes looking at its average spend per supplier in each of its product categories, cost competitiveness, quality, product development capabilities, business disruption and other risk elements, and where it was more dependent on suppliers' knowledge versus purely capacity. "We evaluated whether we were benefiting from specific know-how or formal intellectual property, a unique cost advantage, capacity or other considerations," Hill explains.
Gathering Feedback
Wilton Brands' strategy includes the creation of a governance structure for its remaining vendors. "We are going to an environment where we have an annual supplier conference and quarterly business reviews (QBRs) that are more structured and provide clear, two-way feedback beyond the traditional supplier report card," Hill says.
The QBRs cover a comprehensive evaluation of key performance indicators such as technology, quality, responsiveness, availability, cost and compliance. Expectations in each of these areas continue to increase rapidly, so collaborating on objectives and priorities and having common metrics becomes increasingly important.
Wilton Brands is also making improvements to the technology it uses to communicate with vendors. A new supplier portal will allow the company and its suppliers to create orders, share forecasting and inventory levels and track order fulfillment from a single source.
Wilton Brands already is seeing positive results from its supply chain efforts. "The work is supporting financial objectives, improving supply chain responsiveness and service levels and energizing the team," Hill says.
Hill goes on to say that the company still has plenty of room for improvement. "We have a fair amount of runway left in terms of creating truly collaborative relationships internally and with our suppliers and customers," he says. "Our next steps also include a more formal application of lean principles and looking at where we can implement automation in the manufacturing process."