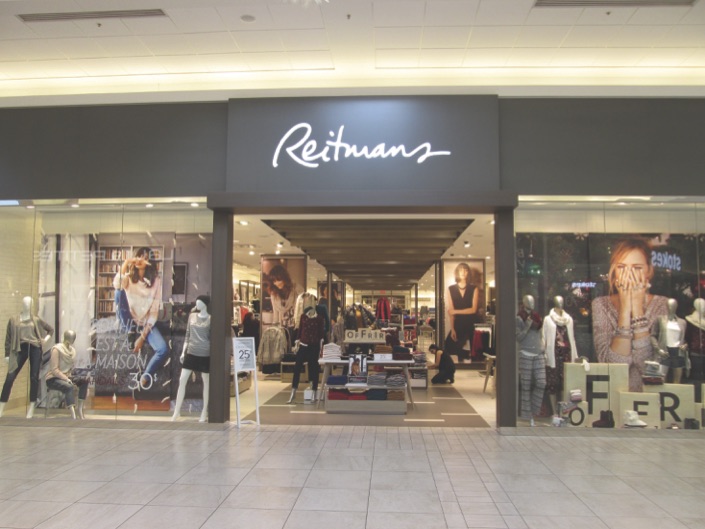 Reitmans has changed much in 90 years, and the company continues to evolve its supply chain to improve. By Chris Petersen
A company doesn't become the largest women's specialty fashion retailer in Canada overnight, and Reitmans has undergone a lot of changes and growth over the years to reach that lofty position. From its humble beginnings in 1926 as a women's clothing store in Montreal to its current footprint of more than 800 stores across the country, Reitmans has had to evolve.

The company's supply chain operations are no exception, and today Reitmans continues to change and develop in that area as it strives to improve in every aspect of its supply chain. Vice President of Distribution and Logisitics Domenic Carbone has been at the forefront of these efforts, and although he says the company has made much progress toward becoming the most effective and efficient organization it can be, Reitmans understands that the process of improving supply chain operations is ongoing. There will always be new and improved processes to go along with more advanced technology, and it's only by staying on top of these developments that Reitmans can claim to have a truly effective supply chain.
As the company continues to focus on creating transformative changes within its supply chain and logistics operations, Carbone says Reitmans is at the top of its game. The company may still be on top in the world of fashion retailing in Canada, but it's only by improving the behind-the-scenes operations that it can remain there.

Technological Edge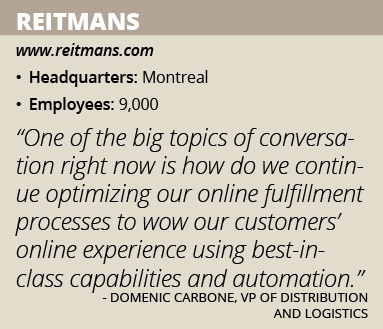 The last few years have been characterized by change and evolution within Reitmans' supply chain, and Carbone says much of that change has been facilitated by an enhanced focus on technology. "Our distribution center that we have here in Montreal has really evolved over the last few years," he says.
The company has overhauled the distribution center, switching from an inbound manual approach to upping its game with more automation and implementing a new warehouse management system. Carbone says the company started this process in 2012 by putting its new warehouse management system in place, with the help of partners such as SDI Industries. Although the process wasn't without a learning curve, Carbone says the company has been able to successfully navigate it so far. "Most WMS implementations are quite challenging, but that's OK," he says.
The need for greater automation and efficiency within Reitmans' distribution center was exacerbated by the ever-changing nature of the fashion world. As new styles cycled in and out of popularity, it became clear to the company that it needed to be able to react much faster than it had been. "We weren't nimble enough to move product in and out of our facility, and needed automation and equipment to be able to adapt to the changes in the marketplace," Carbone says.
Greater Visibility
Another significant change to take place in Reitmans' supply chain in recent years has been the implementation of a vendor portal that provides Reitmans and its vendors with greater connectivity. Not only does this make it easier for the company to communicate with its vendors, but it also allows vendors to send Reitmans detailed information electronically with inbound cartons bearing intelligent barcodes that provide content visibility of every carton they ship.
By providing greater visibility and clarity on shipments, Reitmans and its vendors have been able to increase the speed with which Reitmans can get product out onto the store shelves. "It gives us the ability to not only know where the product is, but pre-allocate the merchandise and get that speed to market," Carbone explains. "Once it hits our distribution center, it's placed on our automated conveyor system and the individual cartons automatically are directed to where it needs to go within our facility."
Carbone says Reitmans is embracing the change brought about by the emergence of ecommerce and the omnichannel retail experience. He says five years ago the company had a third-party logistics provider handling all of its online fulfillment because Reitmans didn't have the capabilities in-house to do that itself. Today, however, customers' expectations have risen to the degree that the company could no longer afford to rely on outside sources for much of its ecommerce fulfillment.
"One of the big topics of conversation right now is how do we continue optimizing our online fulfillment processes to wow our customers' online experience using best-in-class capabilities and automation," Carbone says.
Fortunately, Reitmans already has a big part of the solution in place. Carbone says the company is working on implementing a fully automated solution in its Montreal facility to address the significant increase in the online channel. With stores located in every province in Canada, the company's brick-and-mortar footprint is also being evaluated so that it can be leveraged to help fulfill online orders with the speed to which customers are becoming accustomed to. "That's all part of the omnichannel strategy that we have on the plate right now," Carbone says.
Keep Evolving
Even though the company has made great strides in the last few years, Carbone says Reitmans knows it has to keep evolving to stay in step with the changing marketplace. "Having introduced a continuous improvement mindset within the supply chain network as well as launching a kaizen project within the Montreal facility will have a positive impact on the way teams manage efficiently the product flow from factory to stores shelf," he says. "This has helped us remain aligned with common goals across all areas of our brands and, as our COO says, 'If we can take our customers breath away for one second when they visit our stores or navigate through our websites we will have achieved our goal of wowing that customer with great product and a great customer experience which will keep our organization ahead of the game.'"
Reitmans has evolved a lot over the last 90 years, and thanks to the efforts of Carbone and the company's supply chain professionals, it will continue to do so and stay on top.