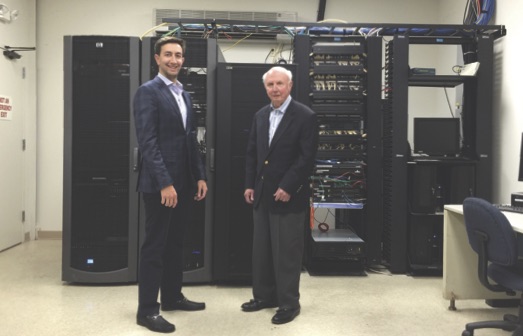 Topicz optimizes its supply chain with its new app-based ordering system and routing software that maximizes its fleet. By Janice Hoppe
Topicz is implementing the latest technology and fleet upgrades to increase efficiency within its supply chain as it looks to expand. "We pride ourselves on service," Director of Business Development and Operations Adam Greenberg says. "Our sales reps and drivers communicate with our customers on a daily basis and provide service to the highest standards and cater to our customers' every day needs."
The Topicz family founded Cincinnati-based Topicz in 1926 and operated it for the next 50 years until it was sold in 1976. A couple years later, management decided to liquidate its holdings and sold the company to Marvin Schwartz, company president and Greenberg's grandfather, in 1983. "He took control of the 7,000-square-foot building in Cincinnati and Topicz at the time was the smallest of six candy companies," Greenberg explains. "Fast-forward 33 years to today, and Topicz is the largest candy and tobacco distributor in the area."
Greenberg is the fourth generation of his family that will take control of the family owned business. Schwartz is training Greenberg to take over and bring Topicz to new heights. "I got us this far, and it's time to take another giant step and expand our horizons beyond convenience stores," Schwartz says.
Today, Topicz is a premier distributor of full-line convenience store products, servicing 900 customers in Ohio, Kentucky, Indiana, West Virginia, Tennessee and Illinois. The company owns a 120,000-square-foot facility that includes 8,000 square feet of refrigerated and frozen space. "Our primary customer base is purely independent," Greenberg adds. "We pride ourselves on excellence through creative service while constantly changing and adapting to our customers' needs."
Topicz continues to expand within the six states it currently operates and is targeting partnerships with schools and universities. Most recently, it began a partnership with the University of Cincinnati to stock Main Street Express Mart in Tangemen Student Union Center. "We are getting that off the ground," Greenberg says. "We are very thankful for that relationship as we immerse ourselves into that category. It looks fantastic from a public standpoint as the university is working with a local company and reinvesting in the local community."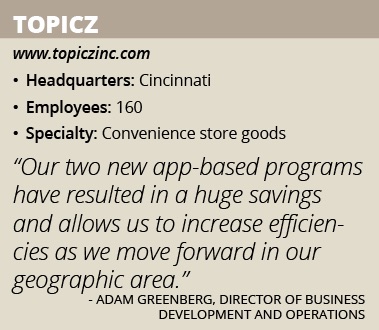 Efficient Ordering
Topicz implemented ZiiZii, Novex Software Development Inc.'s all-in-one order entry solution four months ago. The app-based program puts inventory access at customers' fingertips. It is compatible with iOS and Android phones, tablets and can be accessed via laptop or desktop.
"It allows customers to obtain inventory, on-hand quantities, pricing specific to their store and browse our entire network of inventory on whatever device with the touch of their finger," Greenberg says. "A Bluetooth scanner communicates with the app to order new products in the store. If the owner forgets to order in the store, they can reorder based on last week from their device."
ZiiZii generates email confirmation of an order immediately, as well as pickup requests and return labels. "Twenty to 25 percent of our customers are currently using ZiiZii," Greenberg says. "It has been very successful thus far, but there is some apprehension so we are educating our customer base that may not be as tech-friendly. We explain how it can benefit them and increase efficiencies to spend more time and focus on working with their customers at the convenience store level."
Topicz's goal is to eventually convert all customers to the ZiiZii platform. The benefit of the app to Topicz is that it doesn't have to invest in physical hardware at the retail level and it requires less IT support. "There are a lot of savings and efficiencies on the supply chain end and our return process is much simpler," Greenberg notes.
Fleet Technology
Up until two-and-a-half years ago, Topicz was routing its trucks by hand and putting deliveries in what was thought to be the best order at the time. The company partnered with Cheetah Logistics Technology to optimize the number of deliveries within a route. Cheetah route planning and visibility software integrates seamlessly with existing order entry, point-of-sale, inventory, warehouse, accounting and many other systems.
"It takes 15 to 20 routes and calculates out the most efficient way of going out to the store and coming back," Greenberg explains. "It has rearranged driver routes to save time. For example, a driver might have been going to a store that takes 45 minutes to get to, but he could hit a couple stores before that based on what the system generates the route to be."
Topicz's drivers use the Cheetah software to access delivery stop information, such as addresses and number of totes to be delivered, as well as how many boxes need to be picked up. The technology also uses Google directions that show traffic so the driver is able to bypass congested areas to make the delivery window.
Topicz runs one less route every day since implementing Cheetah, which has resulted in saving on driver pay, maintenance and fuel.
"Our two new app-based programs have resulted in a huge savings and allows us to increase efficiencies as we move forward in our geographic area," Greenberg says. "We can tailor routes to our needs."
In addition to the technology, Topicz is upgrading its equipment to include dual-temperature trailers and a larger box design that will allow it to carry more product. "Customers have shifted from tobacco to food service and in doing so, we have seen an increase in sales and product being loaded on the truck," Greenberg explains. "It's heavier and we have to make sure we have the room and space on the truck, hence we are expanding to larger trucks."
Increasing Automation
Topicz uses voice picking technology in its warehouses that allows for greater focus, less error and increased production. The company's inventory includes 8,500 SKUs to ensure it offers well-rounded categories. "Every piece of product is scanned and has a specific home in the warehouse," Greenberg says. "Each piece has to be in place for the supply chain to be the most efficient."
In the future, Topicz will look to implement an automated picking system in its operation that is similar to how a carousel functions.
"Our current picking system is that the picker goes to the goods," Greenberg explains. "I'm seeking alternatives where the goods would come to the picker. Like a merry-go-round, the product will turn and once it comes to that location it can be pulled. This would reduce overhead and is something we are exploring."