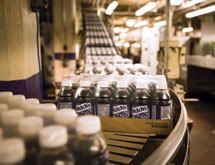 Even a company that has been around for 144 years can admit that it doesn't have everything figured out. Consumerism is an art just as much as it is a science – buying trends, technology and cultural shifts all play a part in what sells and what doesn't. Companies such as Welch's – which is most famous for its grape juice but is also a purveyor of jams, jellies, spreads, fruit cocktails and sparkling beverages – know that the most important thing to figure out in retail is that there is always something new to figure out. That ever-evolving mindset is what has led to the company's success.
Welch's is the world's leading marketer of Concord and Niagara-based grape products. The company is headquartered in Concord, Mass. but its products are sold in more than 35 countries and territories around the world. It was founded by physician and dentist Thomas Bramwell Welch and his son Charles Welch who processed the first bottles of unfermented wine to use during their church's communion service. Today, the label includes more than 400 items.
"Consumers are getting smarter and smarter and smarter all the time," says Dee Biggs, director of customer logistics. "It's always difficult for everyone in the supply chain group to anticipate what consumers will do. We have worked to significantly improve our forecasting … and when you reduce forecasting error, you take inventory out of the system and increase service level in the store. We have been able to use technology to do that, and expanding the use of technology in the supply chain will be a trend for a while."
Finding the Key
Biggs explains that this expanding trend really dates back a decade, when Welch's decided that the next move for its century-old business was to develop a smarter supply chain. It sat down with a core group of accounts and tailored its operations to match the needs of those customers. To do so, the company has relied heavily on technology.
"We decided that we needed to identify who our key accounts were going to be – the ones we thought we could grow with and whose philosophies matched up with ours," Biggs explains. "Sometimes it's because they are very large but there's a lot of diversity in this category. We identified between 10 and 15 that we thought were in that group and we have organized our sales organization around them. We organized our customer service around them and the customer logistics group is focused primarily on those accounts."
That core group includes major national grocery stores  as well as well-known North American big-box retailers. It also includes the major clubs spanning the nation. Because each one operates differently and gears itself to a certain market, Welch's developed supply chain systems tailored to each. The three goals of each plan are to drive sales, reduce costs and improve service at the store shelf.
"It has to do with collaboration and it's about collaborating with the key accounts to find ways to drive sales, reduce costs and improve service," Biggs stresses. "Every customer takes a different approach. We took an approach with one key account that wasn't really a big account from a supply chain view, but they were a leader in the industry.
"We sat down with them and said, 'If you had the perfect supply chain, what would be included in that from a technology point of view, from an information sharing point of view, from a case movement point of view? What would be the best way to do this?'"
Welch's developed a specific supply chain for a customer that included moving to a vendor managed inventory system, and also moved from deliveries to pickups. From a technical point of view, Welch's also started to send advanced ship notices and using pallet license plates so the customer always knew what was on the order. In addition, Welch's and the customer collaborated on picking the pallets in pallet patterns that could immediately be put away, which reduced the unloading time from more than three hours to less than thirty minutes. This program became a model for both Welch's and the customer to apply to other key partners.
Following the Signals
As it goes with retail, however, the focus on supply chain improvement has shifted. Biggs explains that suppliers follow three demand signals: How many products Welch's sells to a customer; how many of those products get shipped from the customer's warehouse to their store; and how many products actually gets sold in the store. Now that Welch's has approved service from its warehouses to its customers' warehouses, the company is paying more attention to the third demand signal – which is the most accurate but also the hardest to track, according to Biggs.
"The third level is what was sold of a specific item at a specific store," Biggs explains. "That's the POS [point-of-sale] data. From that data, we can create insight for the retailer so they can improve service in the store. We are trying to anticipate what is happening now, not what was happening a week ago or a month ago. This way, we can provide feedback to the retailer so they know when a certain item is out of stock and tell them they need to do something about it. This is generally where customer logistics is going. We are using information much better than before and applying it to real-time situations."
This has led to a much closer relationship between Welch's and its retailers. As a food and beverage manufacturer, Welch's realizes that its success depends on sales inside the stores. Many of its key accounts are sharing their POS data with Welch's, allowing Welch's to monitor what is happening at the store level in real time and help the retailer ensure that the right product is at the right store at the right time. It is a just-in-time approach for the retailer – and a more accurate, less wasteful process for supply chain management.
"We are in the business of selling groceries," Biggs explains. "We want to shorten the cycle time from when a retailer makes an order to the time it's at their store. We are looking at service at the retailer – service at the shelf. That is the most important metric – is your product there on Sunday afternoon when the consumer is standing there at the shelf?"