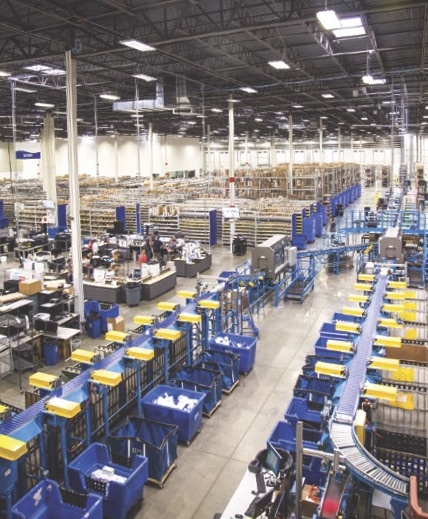 All of 1-800 CONTACTS' supply chain functions – from planning to packaging design – keep its customers in mind. By Jim Harris
When it comes to planning its supply chain and related functions, 1-800 CONTACTS puts itself in the place of its customers. "Everything we do is essentially set up from a customer-backward standpoint," Vice President of Supply Chain Jason Copley says. "We look at our end-users and try to create a simple and exceptional experience and then work to make the process as efficient as possible for us. In everything we do, we look at the customer experience and journey and try to make their experience better."

For the Draper, Utah-based company, this includes examining everything from its delivery times and return policies to the packages it uses to deliver its products. "We always focus on continual improvement for our customers," he adds. "Service is paramount to what we do in our industry, especially since in healthcare, consumers can experience a transactional experience. We want to change that paradigm and make the customer feel special and in control – one of our company's core values is 'We Make Her Day.'"
As the world's largest contact lens store, 1-800 CONTACTS has many customers to please. During its 21 years in business, the company has filled more than 30 million orders for more than 8 million customers. In a single day, the company typically delivers more than 200,000 contact lenses – including major brands such as Acuvue, Air Optix, biofinity, Dailies and FreshLook – to its customers.
All orders are fulfilled from the company's 175,000-square-foot fulfillment center in Salt Lake City, Utah. The facility maintains an inventory of more than 15 million contacts, ensuring more than a 98 percent in-stock rate in the facility. The company provides third-party logistics services for other partners as well. 1-800-CONTACTS delivers to homes as well as retail stores and optical centers.
The majority of the company's home delivery orders are derived from its website and app. 1-800 CONTACTS' high stock rate gives it the ability to fulfill these orders in as short a time as possible. "Typically, the contact lens consumer needs to wait five to 10 days to get their lenses from our competitors. Our volume and centralized storage creates a competitive advantage to deliver faster," Copley says. "We are set up in such a way that once a prescription is verified, customers can either receive it the next day or within three to five days. We do everything with customer retention and repeat business in mind."
In addition to fulfilling its own orders, the company also performs order fulfillment as well as purchasing and receiving for other partners, including a major optical retailer. "That partnership is a little more than a year old and has allowed us to bring on a few million more orders per year and helped improve costs and service for our partners," Copley says.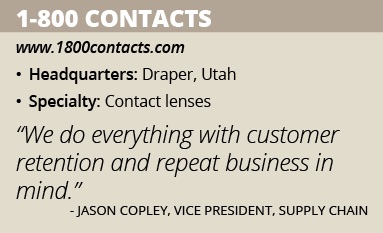 Service Improvements
1-800-CONTACTS has made improvements to its customer-facing operations. These include introducing a mobile app that allows customers to place orders or verify prescriptions in a few clicks.
Something the company is constantly improving is the packaging the company uses to ship products. "Our home delivery box is basically like our brick-and-mortar store when it comes to how we brand ourselves," Copley says. "Consumer packaging is a big deal to us – we're not about just throwing something in a box and sending it to the customer. It's part of the 1-800 CONTACTS experience."
The company's package was designed for easy opening, storage of contact lenses in the home, and durable enough if something needs to be returned to the company. "The package features a perforated tab strip on its top that is easy to open and our customer won't scrape her hand while opening. Even the way we design our box is customer-backward," he adds.
1-800 CONTACTS is looking into ways to improve its delivery times as well as its overall operations while keeping its customers in mind. This includes expediting orders as well as finding ways to speed up the amount of time it takes the company to verify a new prescription. "That process with doctors can take up to eight hours," Copley says. "We're looking at how we can improve that experience for our customers."
The company is always exploring new delivery methods and concepts. This includes things from same-day pickup, forward staging product, and utilizing partner locations as pick-up locations in major metros. Changes to the company's distribution network and model including new distribution centers and a hub-and-spoke shipping model are also being explored.
1-800 CONTACTS also constantly reviews adding more automation to its warehouse operations including sorting, circulation, routing and package filling technology. These improvements will allow it to create further efficiencies in its processes like its order pick rates, which average from 700 to 900 lines per hour. "We want to know what is out there that can streamline our process to make it even faster," Copley says.
Caring for Associates
Copley says he is proud of the company's ability to find efficiencies in its operations as well as its customer focus. 1-800 CONTACTS' internal culture is built around not only customer satisfaction, but also employee retention. "We believe in taking care of our team so they can take care of our customers," Copley says.
The company's distribution center includes a full-service restaurant that is mostly corporate subsidized. This means employees pay less than $3 for items that rotate weekly including items like ribeye steak and ahi tuna, and breakfast items such as waffles, cereals and breads are free. The center also features a video gaming area complete with large-screen televisions, on-site massages and games including a basketball court.
1-800 CONTACTS also regularly sponsors events including movie nights and other gatherings. "We believe if we show the associate what customer service is, they will provide that to the customer," Copley adds.