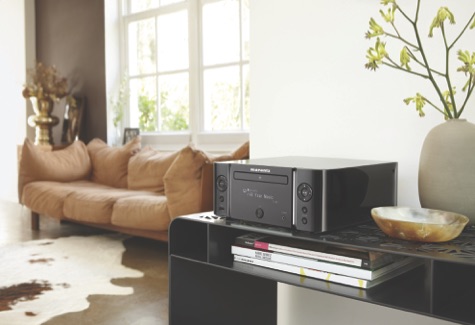 D+M Group restructured its supply chain and created a cross-functional approach in the company. By Tim O'Connor
Christopher Nault's background was not in consumer electronics and he was not an audiophile when he joined D+M Group. But a center channel demonstration from one of D+M's sound engineers made him a believer.
"Performance is everything and the investment in the sound's quality and the user experience is at the front of everything we do," says Nault, the company's vice president of supply chain.
D+M is a consumer electronics company specializing in audio devices such as AVRs, HiFi and wireless speakers. The company consists of three brands: Denon, Marantz and Boston Acoustics. It also sells wireless multi-room sound systems under the HEOS by Denon label.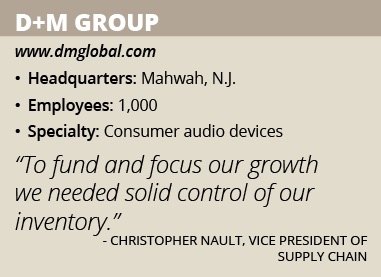 Reshaping the Supply Chain
Nault previously worked for Teradyne, a developer of automatic test equipment, and Genzyme, one of the world's largest biotechnology companies. At both organizations, Nault developed a sales and operations planning (S&OP) process to synchronize leadership and all intra-company divisions with the same goals.
Five years ago, D+M was implementing Kinaxis' RapidResponse supply chain management software and needed someone with experience to complete the implementation of the S&OP process. When Nault came to the company in 2011, D+M was in the beginning stages of the transition. New leadership had come in and was tasked with finding ways to grow in the consumer audio market. "In order to fund and focus on our growth we needed solid control of our inventory," Nault explains.
D+M was set up with three regional organizations divided between Europe, Asia and the United States, with each area having its own commercial and supply chain group. Each organization operated on a separate ERP system, with different structures, processes and capabilities. The regional alignment brought the supply chain teams closer to the unique commercial and organizational structures in each region but made the task of global alignment more difficult.
The maturity of the supply chain organizations were different in each region. Nault needed to take a step back. "My view is you have to establish process first and then you have to engage with the tool second," he explains. "The tool has to support what you want to accomplish."
The team worked together to establish the global process outline each region would follow, organized around key objectives, schedules, and deliverables. Nault put a supply chain team in each region which ceated a demand plan and established a supply plan. The team worked across functions to establish one plan aligned on a principle of "one set of numbers."
D+M's leadership backed the approach, which got more people on board. It took time for the organization to align to the new S&OP processes, the collaboration it required and the one set of numbers it generated. While the process started with focus on the demand forecast and ability to control inventory it has continued to develop.
Building Trust
D+M understands its supply chain team cannot create the forecast in a vacuum. It needs input from the organization, including sales and product development, to get a full picture. The analysis of the past data or current trends might lead to one conclusion but the perspective from a salesperson close to the market might provide a different context. The process needs consolidate multiple perspectives. "If one part of the business doesn't understand its impact or feel it's valuable, then it doesn't come together," Nault says.
It requires trust and understanding across functions to change these practices. The team worked to provide insight to the commercial team how their numbers were being used and why accurate numbers mattered. They gave them respect and worked to understand the challenges they faced. "If you want the team to provide a realistic forecast you have to understand some months you will over sell, but some months you will undersell – if you punish for underselling then you will not get an accurate projection," Nault says.
The alignment to one set of numbers and the open sharing of information across functions on risks and opportunities allows the team to make the best decisions for the business.
The commercial side of the business and demand planning team now see each other as assets, not enemies. "I'm a strong believer the numbers will tell you a story," Nault says. "But if you only listen to the numbers and you don't go back to the people behind it you're not always getting the right story or the complete story."