American Hotel Register Company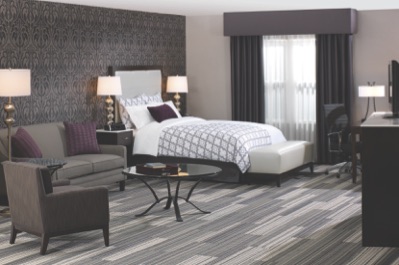 American Hotel Register Company builds a strong foundation while developing tools that will carry it into the future. By Janice Hoppe
American Hotel Register Company looks to achieve greater upstream visibility into its supply chain to better understand the demands of its customers. "It is customer-focused here," says Mike Bartoszek, senior vice president, global supply chain. "From the top down, we are extremely focused on understanding customer behavior and giving our customers what they want when they need it to ensure successful outcomes."

For more than 150 years, American Hotel has supported the growth of the hospitality industry by being the most valued supplier of hospitality products in the world. Jim and Tom Leahy, the third generation of the family who leads the company, as well as its associates and supplier partners, drive the Vernon Hills, Ill.-based company's success.
"At American Hotel, 'family' is more than blood relatives," Chairman Jim Leahy said. "It's the people who show up and stand beside us. They dedicate their creativity and energy to one another's success and the company's success. Our life's work is their life's work."
American Hotel is the premier global hospitality supplier, offering more than 50,000 products including 1,600 national brands and more than 3,000 best-value products from its exclusive Registry brand. Its comprehensive Buying Guide has served as the industry source for hospitality products. "We are committed to the customer and deliver on every single promise," Bartoszek says. "We have some of the highest engagement scores in the industry and our customers have positive feelings towards us and our business."
Through its long-term customer partnerships, American Hotel has developed individual procurement programs for more than 100 chain and management companies. It operates private fleet delivery in the top 55 markets throughout the country, has a total of 10 distribution centers in North America, with others in Dubai, the Netherlands and South Africa, and more on the way. "We are currently in the midst of an aggressive expansion of our Asian distribution network," Bartoszek notes.
Strong Foundation
The foundation of American Hotel is built heavily on technology and embracing progress to successfully manage its global supply chain. Over the past four-and-a-half years, the company has upgraded its transportation and warehouse management systems, as well as its voice picking technology for maximum efficiency and increased transparency. "That's provided the foundation for our expansion efforts," Bartoszek says.
Logility supplies American Hotel with its supply chain management software, offering a suite of collaborative and best-in-class solutions. The Atlanta-based company also provides American Hotel with a forecasting tool that improves its inventory and supply chain planning. "We see everything globally now," Bartoszek says. "What I mean by that is our corporate headquarters now forecasts optimal inventory levels for all distribution centers, including South Africa and soon Asia. It gives us more integration with suppliers so we're in stock on the right products needed to meet the demand of our customers anywhere in the world."
Technology is a vital piece of the foundation for American Hotel, but the same can be said for maintaining long-term relationships with suppliers. In June, the company hosted its Supplier Summit where companies came together to focus on common goals for next year. "We are focused on strengthening relationships with our suppliers because if they aren't successful then we aren't successful," Bartoszek explains. "We work closely with them to better understand what their needs are and the Supplier Summit drives the backdrop so we can all move forward with a cohesive perspective for the future."
American Hotel developed a Supplier Advisory Board two years ago to gain feedback from suppliers on what is going right and wrong, as well as to serve as a sounding board for new ideas.
"The Supplier Advisory Board and Supplier Summit have both been a big win over the past couple of years," Bartoszek says. "With the capabilities of SAP, we will be able to provide the suppliers with real-time data regarding their current and past performance, as well as give them a good view of how they are impacting our business so we can identify and remove inefficiencies within the network."
The company's largest recent investment has been in SAP, which it plans to have fully up and running in late 2017. "It's not about our service levels today, but giving us global capability for tomorrow," Bartoszek says. "The system will create the foundation for us to gain a global perspective of what our customers need and drive efficiencies through the entire supply chain."
Greater Visibility
"Our supply chain is evolving and changing every minute of the day," Bartoszek says. "The biggest challenge we face is to understand the unique needs each customer has at each property they own or manage. We also need to see our supply chain from a brand or higher-level perspective."
To gain greater visibility upstream, American Hotel is taking its forecasting model and flipping it upside down, so to speak. "We want to see it from the property-level perspective and evaluate the effects up from there. We think that will position us to better understand the buying behavior and needs of our customers, so we can be much more proactive versus reactive," Bartoszek adds.
For example, most companies build a forecast at the SKU level and inventory 1,000 pieces of a product because that is how much sells around the globe. American Hotel wants to know that 25 pieces are selling in Baltimore, for example, and see if patterns are emerging so it can react at the property level. "We are looking for a tool that gives full visibility, a way to react much quicker than we have before," Bartoszek says. "We are doing everything we can do to gain visibility up and down the supply chain to understand where demand is increasing and where it is decreasing. Balancing the inventory as exactly and accurately as we can is most important."
American Hotel is working on developing a tool that will encompass all the data and pull it all together for one clear view. "A complete 'control tower' is what we are looking for and is where we are heading," he adds. "In the next few years, that will be the key. Supply chains have to go from reactive to proactive management and that's how we're evolving."