Neovia Logistics Services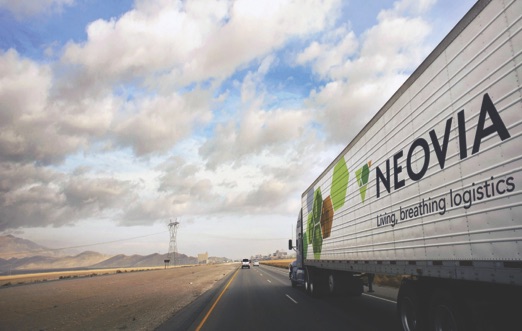 Neovia strives to enhance its clients' worldwide operations by using the best processes and technology to increase efficiencies.

Supply Chain World: Why Logistics?
Rachael MacDonald, Neovia Logistics Services director of global logistics development: I was inspired by a mentor who worked for a large automotive OEM, and in learning from my friend it became clear that logistics is a challenging industry, poised for growth and with a lot of opportunity. Supply chain has a significant global impact, and I wanted to be a part of that. At Neovia, we have a strong global presence, being in 132 locations in 24 countries around the world, and I enjoy solving challenges on a global scale – and creating a global solution for customers.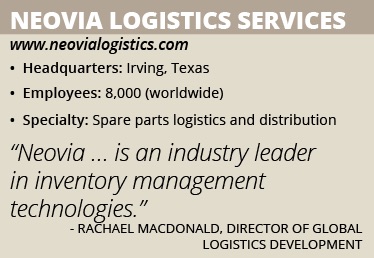 SCW: What do you focus on specifically in your role at Neovia?
RM: In my current role at Neovia Logistics, I am part of a great team that works on transportation and inventory management. We focus on using the best processes and technology to increase efficiencies and reduce cost for our customers. Currently, our inventory management capabilities are quite powerful and can deliver on average 10 percent to 40 percent reductions in on-hand inventory and up to 20 percent gains in fill rate for customers.
Our transportation management capabilities are an area of growing strength. Currently we use OTM (Oracle® Transportation Management), a market-leading transportation management application that is rated No. 1 in the Gartner® Magic Quadrant, to optimize global transportation networks. We have used this technology to deliver results to existing clients, with significant reductions. In fact, a few clients have experienced more than 20 percent reduction, on average, in freight spend. Neovia always looks for opportunities such as these to reduce the cost to our customers.
SCW: What challenges did the logistics industry present to you as a woman?
RM: I think junior team members in general are expected to prove themselves very quickly, demonstrate value in a short time and move at a fast pace. Hard work and going the extra mile helped me overcome these challenges. This hard work paid off, and that is why I enjoy working at Neovia – because our culture is built around the values of hard work and dedication.
SCW: How do you see the logistics industry changing?
RM: I am seeing a lot more focus on diverse teams– both in terms of team composition and the experience team members bring – but there is still more work to do. However, I feel the 3PL industry is well-suited to advancing women because it is a field that by nature embraces diversity. People in logistics come from a variety of industries and backgrounds, so there is more room for team members with a breadth of skills and experience that is required for companies to be successful. At Neovia, we use our diverse perspectives and expertise to build the best customer solution and experience possible.
SCW: What is your advice to other women going into logistics?
RM: First, you have to have a passion for supply chain and logistics. Second, it's important to have a global perspective and mindset. And third, it is beneficial to get focused early in your career. By starting with an area of specialty, you can build credibility relatively quickly. As your career progresses you can always grow into other areas, but a specialty provides the opportunity to distinguish yourself and bring a critical skill to companies that need it.
Another thing that was critical for me was confidence – and realizing the importance of the work that my team and I do helped me become more confident. Together, we have the ability to contribute to top-line and bottom-line improvements for Neovia and our customers. Knowing that I am supporting our customers and Neovia as we continue to grow gives me a great sense of purpose and drive. One final point is that finding a good mentor makes a huge difference in being able to grow professional and personally. I have worked with three very helpful female mentors, and they were able to show me the ropes and help me advance on my own path. I try to pay that forward and find opportunities to mentor others. I look forward to seeing more women in logistics in the coming years and watching the industry continue to grow and change for the better. I know that at Neovia I have a great vantage point to watch this unfold.