Toshiba America Business Solutions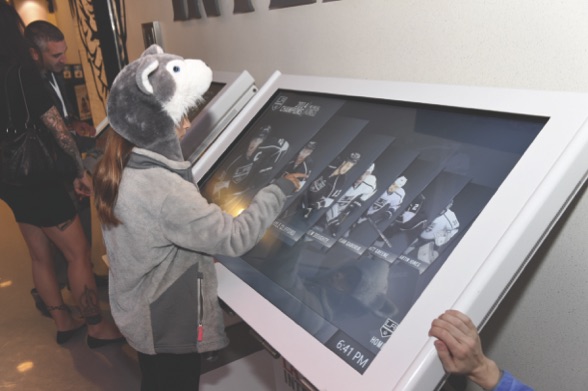 Toshiba America Business Solutions tackles the challenge of integrating supply chain systems with an acquired sibling. By Jim Harris
The products and services provided by Toshiba America Business Solutions (TABS) Inc. have helped thousands of corporations around the world better manage their communications since the company's establishment in 1999.
The Irvine, Calif.-based company is now looking to improve its own internal communications, particularly as related to its supply chain organization. The TABS supply chain is responsible for importing, distributing and servicing the printing systems, copiers, digital signage and thermal barcoding products manufactured by the company's parent organization, Toshiba Tec Corporation.

Toshiba Tec in 2012 expanded its B2B offerings when it purchased IBM Retail Services, now rebranded as Toshiba Global Commerce Solutions (TGCS). Based in Durham, N.C., TGCS specializes in retail point-of-sale systems including hardware, software and in-store solutions. The company's products include printers, cash drawers, USB scanners and display screens, as well as software applications and operating systems.
The acquisition presented TABS with an opportunity to consolidate supply chain operations when its President and Chief Executive Officer Scott Maccabe accepted the additional role of CEO at TGCS last August.
"We are integrating the supply chains of both organizations going forward," says R. Steven Tungate, TABS vice president and general manager of service, supply chain and innovation. "We're continually looking for ways to take the former IBM supply chain and our existing Toshiba supply chain and put them together in a way that brings value to both of us."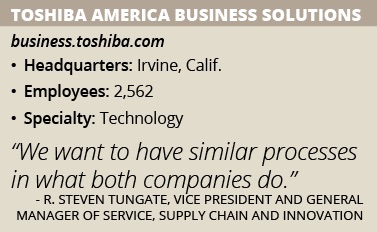 Combining Processes
A critical part of the unification effort involves bringing together the sales and operations planning (S&OP) processes of both organizations. "TABS' S&OP process is integrated with Toshiba Tec, but TGCS' is not," Tungate notes. "We want to have similar processes in what both companies do."
Getting both companies on the same page when it comes to planning involves a number of tasks including unifying the way they import, handle and ship products. TABS operates distribution centers in Tennessee and California that serve the entire United States, while TGCS outsources its warehousing and distribution to third-party logistics providers in Tennessee and Pennsylvania.
"We're taking in-sourced and outsourced operations and figuring out what to do with them," he adds. "We're examining all of the warehouses and distribution services that are involved in this process, and looking at how we distribute products." This includes examining transportation contracts and potentially combining distribution centers. The companies are also considering expanding the reach of TABS's in-house trucking fleet to ship products and provide services for both companies.
TABS is also examining its sister company's inbound shipping of products from Toshiba factories in Asia, as well as the ways it exports products to destinations around the world. Each company operates a separate vendor base.
"We're looking right now at common logistics," Tungate says. "Many of the products TGCS is bringing in come from the same sources we use. We're trying to coordinate the management of that to take advantage of each company's scale and size."
Integrating Systems
Building a technology system that both companies can use to leverage their resources is one of the biggest challenges facing TABS and TGCS.
TABS recently moved TGCS' enterprise resource planning (ERP) systems from SAP to Oracle; however, each company operates a different instance of the system. "We're now looking at making these two instances one," Tungate says. "A lot of the integration work we're doing depends on having a system that is connected and working together, and it is up to us to decide how to integrate."
Tungate expects both companies will eventually use a mixture of Oracle on-premise and cloud solutions. "The flexibility of the cloud appears to be well-suited to this kind of activity, but each of us has on-premise solutions now, so that's a difficult task," he adds.
The companies are determining which information they will share across both Oracle systems, as well as what will be kept separate.
Setting Goals
Other technology-related issues facing the companies during their supply chain unification include the use of warehouse management systems (WMS) and field service management systems. TABS uses WMS while its counterpart does not, and each company uses different parts planning and field management systems.
"This cake isn't baked yet," Tungate explains. "We're still throwing things in the mixing bubble and seeing what it might look like."
Although TABS continues to examine and make decisions regarding the unified systems, it has established a "road map" for how it wants its new supply chain to look. Both companies are expected to be operating a unified system by late 2018.
"We know where we are now, what our next steps are and what our end goal is," he adds.
Both companies are already making significant progress toward their shared goal.
"We are sharing labor in a number of areas within the supply chain as well as on the services side for logistics and field service delivery," Tungate says. "We're very proud that we've been able to do that, and that our field service delivery operations have maintained excellent results.
"We want to do this gracefully while meeting our No. 1 priority, which is that our customers are well cared for," he adds. "All the things we've done so far are to ensure our customers are ultimately at an advantage."