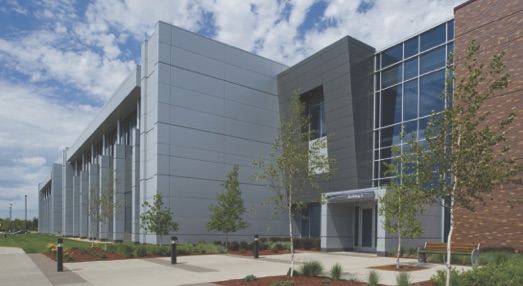 Boston Scientific makes improvements to its supply chain to complement its stellar manufacturing capabilities. By Chris Petersen
There are few manufacturers that touch as many people's lives in as meaningful a way as Boston Scientific. The global medical solutions manufacturer produces approximately 15,000 different products used in treatments ranging from gastroenterology to gynecology to neurological surgery to cardiac rhythm management.

As can be expected with a product lineup so deep, Boston Scientific's supply chain has to be world-class to be as effective as it is in serving the healthcare market. Vice President of Global Supply Chain Tony Stallings says the company has made significant improvements over the last 18 months to improve upon what was already an exemplary supply chain organization, and the numbers bear that out. "In 2015, we're very proud that we served 22 million patients globally," Stallings says.
As a 20-year-plus veteran of end-to-end supply chain strategies with multiple Fortune 500 companies including Toyota and Schneider Electric, Stallings brought much experience to Boston Scientific when he joined the company more than a year-and-a-half ago. In his current position overseeing end-to-end supply chain planning and global execution for Boston Scientific's seven core business groups, he says he has been able to incorporate best practices from numerous other sectors he has witnessed over the years to drive a holistic change in Boston Scientific's supply chain. Although the company already was a worldwide leader, Stallings says his goal has been to drive further improvements to better serve Boston Scientific's customer base and, ultimately, the patients those customers serve.
Thanks to Stallings' efforts and the cooperation of every point along Boston Scientific's supply chain, the company has made significant steps to building its supply chain into something every bit as impressive as the manufacturing capabilities the company was known for already. As he continues to affect change throughout the organization, Stallings says, Boston Scientific is becoming "truly inside-out as a supply chain."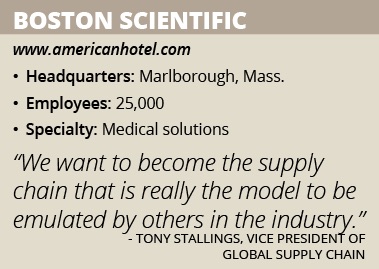 Complete Approach
Stallings says his approach is based on the four traditional aspects of the supply chain: plan, source, make and deliver. In terms of where Boston Scientific was a few years ago, the company was one of the strongest in the industry at the make aspect of that model, with one of the highest-performing and most cost-efficient manufacturing networks in the life sciences sector. However, when Stallings joined the company he saw opportunities to create greater efficiencies in the other aspects of the company's supply chain.
To determine where these improvements could be made, Stallings approached the company's supply chain with a three-pronged initiative. "I tend to break things down and look at them from the aspects of people, process and technology," he says.
From a people perspective, Stallings has helped guide Boston Scientific into a structure that drives greater communication, connectivity, coordination and continuity between decision-makers at all levels of the company's supply chain. Stronger communications leads to greater transparency and more efficient operations, he says.
In terms of process, Stallings has implemented several practices he has seen in other sectors to drive greater improvements in Boston Scientific's supply chain. One of the most prominent has been the implementation of a control tower model to create a central hub through which all supply chain information flows. Stallings says inventory optimization modeling and integrated business planning are other practices Boston Scientific is implementing across its supply chain to measurable success so far. Key to those processes' success is how they enable the company's decision-makers to receive and analyze the data necessary to make the right calls for customers.
On the technology side of the equation, Stallings says Boston Scientific is looking for technology platforms that will become foundational in terms of enabling the company to best implement the people and process aspects of the supply chain. He says software that allows the company to capture, analyze and manage data is crucial for the overall success of its efforts.
Becoming the Model
All of this is being done in service of making Boston Scientific more responsive to customers' needs and better complementing the company's world-class manufacturing capabilities. "Our biggest challenge is that we need to move to a more inside-out approach in terms of our supply chain, and by that I mean to be truly customer-centric when it comes to supply chain operations," Stallings says.
Fortunately, Stallings adds, the measures that Boston Scientific has taken under his guidance already have gone a long way toward bringing the other aspects of the company's supply chain up to the same standards as its manufacturing. "That will really enable us to become truly customer-centric, gain that inside-out approach and move from being product suppliers to our customers to problem-solvers and solution providers," he says.
"We want to become the supply chain that is really the model to be emulated by others in the industry," Stallings says.