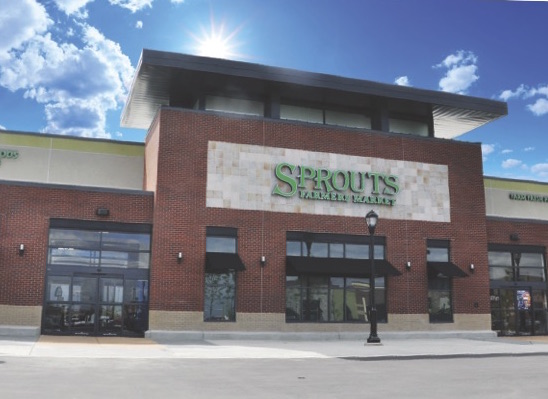 Sprouts Farmers Market is growing across 13 states from coast to coast at a rate of more than 30 new locations annually. By Russ Gager
As vice president of construction, procurement and facilities, Steve Hagen is keeping busy with Sprouts Farmers Market's 36 store openings scheduled this year. Last year, he kept busy with 32 store openings. This pace has helped the company maintain the 14 percent annual growth rate that its board of directors set as a goal when the company went public in August 2013.
"Generally, that's the expectation – 14 percent organic growth," Hagen says. "This year, we're a little bit above 14 percent because we had the opportunity to take over a few of the Haggen stores that closed and convert them into Sprouts stores. So that was a few more stores than we planned this year."

Sprouts' more than 240 stores are located in California, Arizona, Colorado, Texas, New Mexico, Utah, Nevada, Oklahoma, Georgia, Alabama, Tennessee, Kansas and Missouri. "We operate pretty much within those zones, and typically, we open stores across the entire network," Hagen says.
Some of Sprouts' early expansion was through acquisition of chains such as Henry's Market, Sunflower Farmers Market and Sun Harvest Farmers Market. "Today, our current expansion is focused on reimagining existing buildings or developing new sites," says Hagen, who has been with Sprouts Farmers Market since 2013.
The Right Site
The company values leased locations that are good for retailing when deciding where to locate its stores. "Whether it's good real estate in the area that we want to be in – whether an existing or a new building – is the biggest driving factor," Hagen says. "Is it really the right site?"
Sprouts stores usually are in a retail strip mall with parking in front, but sometimes they are freestanding. Both types of stores are acceptable, and which is used depends on which type of store is available and how good a site it is in.
Sprouts' prototype store measures approximately 30,000 square feet on a single level. "We would prefer every building be our prototype, but if you find a great site where you can't get that – it might have to be 28,000 square feet – we wouldn't pass up a great site over a couple thousand square feet," Hagen says.
The Haggen stores that Sprouts took over were 45,000 to 50,000 square feet in size. In cases such as this, Sprouts often will use only 30,000 square feet, build a demising wall and return the extra square footage to the landlord for leasing as another store. "That 30,000 square feet would be the intention for every store, but you can't always get what you want, especially if you're taking over an existing building," Hagen concedes. "If it's the right site, we can make almost anything in that 30,000-square-foot range work."
A Total Gut
When Sprouts takes over an existing location, it completely guts the interior down to the raw ground so it can build the store in Sprouts' prototype design. "We just rip everything out, recycle what we can and start from scratch so we can have a store that looks right and represents a Sprouts," Hagen says.
Even former grocery stores are totally gutted. Underground systems such as plumbing usually have to be moved to match Sprouts' prototype. "So that gets all torn out," Hagen confirms. "For the most part with rare exceptions, all-new electric and plumbing is installed."
The remodeling of each store includes building a new floor out of highly polished, integrally colored concrete with expansion joints sawed in 9-foot-by-9-foot squares. "It's all poured as one," Hagen says. "If you don't put in expansion joints and sawed cuts to create room for expansion, the floor is always going to end up cracking. Concrete cracks, but you can minimize that by putting in expansion joints."
In food preparation areas, traditional concrete is poured and quarry tile adhered on top. "This is to provide the typical finish you would want in a preparation area for food," Hagen says. Ceilings typically are open to the trusses, painted a light tan color, the ductwork left in its original galvanized color and skylights installed. "This just makes the building feel more open," Hagen says.
Most of the stores use conventional drywall covered with finishes such as paint or a wood similar to the barn feature on the front of the stores. The HVAC systems vary, as do the climates in which the stores are built. Different regions of the United States use different types of HVAC systems, such as heat pumps in the South and swamp coolers in the Southwest.
The typical time to remodel a Sprouts store is four months, and to build one from the ground up takes approximately eight months. The company hires general contractors who employ five or six prime subcontractors and from 30 to 50 smaller ones for the many small sections of the store that use the variety of equipment and finishes in today's grocery stores.
Regional Differences
Sprouts stores vary in the materials used to build them based on the wide variety of locations, regions and climates in which they are constructed. Most of the regions use block construction. "In Texas, they're tilt-wall concrete," Hagen says. "They always like to use tilt-wall because they do a lot of concrete."
Exteriors are made up of a wide variety of different trims, from stucco to veneers. "It just depends on how that specific site is designed," Hagen points out. "The finished building is often driven by the city planning or the requirements of that area. There's also a wide variety of finishes in the stores based on the area."
Over the years, since Sprouts was founded in San Diego by the Boney family in 1943, there have been some different store formats. The first Sprouts opened in Chandler, Ariz., in 2002, but since then, the small-box, open-sightline format has not changed. New stores share a similar look, although some stores open to the right or left.
"We try to model that prototype layout as much as possible," Hagen says. "There will be times when you can't do that and you have to be creative because the store isn't prototypical, but overall, we try to make them very much the same and keep the same authenticity of design."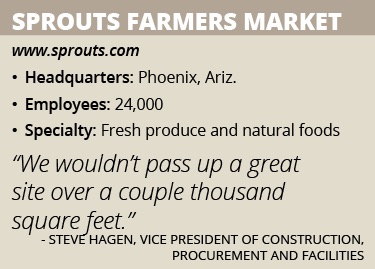 Natural Foods
Sprouts sells fresh produce and grains from field bins, barrels and wooden crates. The stores strive to inspire, educate and empower every person to eat healthier and live a better life. The company is committed to providing its customers with affordable, healthy foods and friendly, knowledgeable and engaging service every day.
The stores offer fresh, natural, local and organic foods and products at favorable prices in an approachable setting that feels like an old-fashioned farmers market. Low shelving allows customers to see the whole store from the entrance and throughout the store. Spacious aisles and bright natural light evoke the feeling of an indoor farmers market.
The stores feature colorful, fresh fruits and vegetables, barrels of grains, nuts and sweets, and full-service deli, meat and seafood counters, complete with handcrafted burgers and sausages.
Fresh baked goods, ready-to-eat meals, gourmet cheeses, vitamins, supplements and thousands of natural, organic and gluten-free groceries are supplied to each store. The company says its buyers go to great lengths to source new and unique, top-quality items on a regular basis. Sprouts-branded products are sprinkled throughout its stores.
Food Fixtures
Sprouts Farmers Market makes sure its stores use energy wisely. Its skylights reduce the use of artificial lighting. The stores' refrigerator and freezer units have doors and are operated by efficient energy management systems, as are the air conditioning units. "We make sure the refrigerated units, freezers and air conditioning system operate at the highest efficiency," Hagen emphasizes. High levels of insulation are applied to the walls and ceilings, and all the glass used extensively at the store entrance is insulated.
The color and quality of lighting systems are crucial to present food, especially produce, in the best possible light. The company is testing LED lighting in some of its stores. "We're retrofitting a few stores to see what kind of performance we get," Hagen says. "We have one new store that is designed with LED lighting. The biggest part of efficiency is with the skylights. We can turn off most of the lighting during a good part of the day."
Multiple Sources
Sprouts tries to retain the spirit of its origins in farmers' markets with its décor, which favors real wood in its fixtures and barrels. "We have a higher amount of real wood than a typical grocery would because we're more focused on produce and fresh food," Hagen asserts.
"People can tell when it's real wood, even if they don't know a lot about wood," Hagen maintains. "When people walk into a store, they don't see everything the way I do, but they know how the store makes them feel – the ambiance. Part of that is whether it feels fake or authentic, and inherently most people feel that the wood is authentic, even if they don't articulate it."
Those wood fixtures in produce and the bakery and bulk departments are supplied by JSI. Plywood is used in the produce department and primarily maple wood for other areas.
Unlike a traditional grocery store, produce is located in the center of a Sprouts instead of being off to the side when customers first enter the store. "One of the key features in a Sprouts store is that you can see all the way from the front to the back of the store," Hagen notes. "The customers comment that it is one of their favorite things about the stores."
The only sections where merchandise is stacked above eye level is along the perimeter of the stores where dry goods, health, beauty and vitamin products and the refrigerated and freezer cases are located.
Supply Chain
Scott Coleman is Sprouts' certified procurement manager and handles procurement of construction materials, store merchandise and supplies. "Many times, we'll have more than one source for a product, but if the companies are strong and have multiple distribution and manufacturing points, then we'll do a single supplier," Hagen says.
The company recently launched a software program called Places in which all the manufacturers that ship Sprouts products put in their invoices and the production managers verify that the items have been received.
The procurement team obtains all the fixtures and equipment used to remodel Sprouts' stores, many of which are being remodeled. The team also handles procurement of items that are not for resale, such as plastic bags to bag groceries, containers for bulk and fresh food, cleaning and office supplies and small wares, such as plastic spoons and knives used in the deli and bakery.
"We typically have agreements with people that go across all the regions," Hagen says. "We try to find some suppliers that have multiple manufacturing facilities spread across the United States so we minimize the distribution cost."
Just-in-Time Delivery
Arrival of construction materials usually is delayed if a project is behind schedule. However, "for the most part, construction materials arrive just in time," Hagen says. "Occasionally if a project is behind, some materials might get shipped and have to be stored, but that would be the responsibility of the contractor to safe harbor it somewhere until we're ready for it."
Storing construction materials outside can affect their quality in a negative way.
"We don't want them sitting outside where they could get rained on or heated up," Hagen emphasizes. "Being covered in plastic is not good for equipment. We make the contractors put it in a warehouse somewhere where it can be stored. For the most part, everybody does a pretty good job of managing that. There have been very few times when we have to hold equipment."
Often, suppliers can delay delivery of construction materials or equipment if they are notified in advance of a delay in construction. Sometimes, steel fabrication can be delayed, or if construction materials or fixtures are already manufactured, with the number of Sprouts stores always being remodeled, the materials or fixtures can be shipped to another Sprouts store that might need them right away for its remodeling.
"The vast majority of the construction materials and fixtures is the same equipment," Hagen declares. For example, the stores all use the same metal shelving. Despite the rate of expansion and organic growth always increasing, the goal of Sprouts never changes. "Our goal is always to offer great value and strike the right balance between quality, flavor and price. But most importantly, your safety is our priority," the company says.