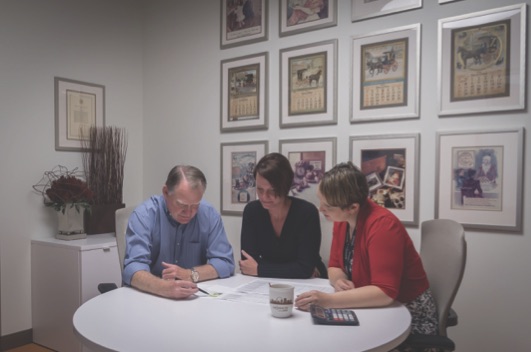 AB Mauri North America's procurement team has played a key role in finding savings and boosting efficiency. By Alan Dorich
Some companies undervalue their procurement teams, but not AB Mauri North America. Instead, the firm knows procurement can have effects as substantial as "a salesforce can have," Vice President of Procurement David Hufford says. "It can play a very large role in the company."
Based in St. Louis, AB Mauri North America is a division of AB Mauri, a global provider of yeast and bakery ingredient products. "Globally, we are a $1.3 billion company," he says, noting that the firm has 55 plants in 34 countries, with sales in 90 countries.
AB Mauri's clients, Hufford says, include industrial bakers and distributors. "We deal with the major players all the way down to the corner baker that might be making products just for the local market," he says.
AB Mauri North America's logo features the slogan, "Passionate about baking," which sums up the company's culture, Hufford says. "We're also very much a solution-based organization," he says.
"We have a good range of products, strong technical support and a distribution network that's really comprehensive," he says, noting that the North America division has the support of AB Mauri and its parent company, Associated British Foods (ABF). "There are not a lot of companies that are set up in the manner that we are."
Procurement Focused
Hufford, who has been with AB Mauri North America for 21 years, says he has a "hybrid" role in the company. "Seventy-five percent of my time is dedicated to AB Mauri North America, with the other 25 percent dedicated to AB Mauri on a global basis where I lead the procurement of certain ingredients for the entire team," he says.
He operates a lean procurement team that includes Procurement Manager Kara Neville and Buyer Susan Jubela. "We also have buyers at our manufacturing facilities," he explains. "We call ourselves 'small but mighty.'"
AB Mauri North America's focus on procurement has allowed the company to increase its efficiency, Hufford says. "In the last four years, we have seen a dramatic improvement in how we manage costs as we strive to offset constant upward pressure on key inputs," he says.
He credits that boost in a large part to President Mark Prendergast. "When he came on board four years ago, he did a reorganization," Hufford recalls, noting that Prendergast saw a lack of emphasis on procurement. "He did not have a structure that operated that way in his previous leadership roles."
Hufford was focusing on customer service, logistics and procurement. "[Mark] came and said, 'The only thing I want you worrying about is procurement," he recalls. "We then put a laser focus on the procurement function."
This required AB Mauri North America to restructure its procurement team and make sure it had the right people in the right roles. At the same time, the head office in Peterborough, UK, hired a new head of global procurement who led a paradigm shift in how AB Mauri's procurement teams around the world worked together.
"That has had a huge impact," he says. "Previously, I didn't even know my peers around the world, but now we work together on a daily basis and are able to leverage our spend, help each other source difficult ingredients and share best practices."
Hufford's team also began working with ABF's global procurement team and now enjoys multiple advantages such as e-procurement tools, an online training academy and a high level of expertise in many categories. "We've been able to learn so much from tapping into the ABF global network and its global category managers," he says.
With these steps, Hufford's team has assisted those that manufacture and sell items within AB Mauri be successful. "We touch every single aspect of this company," he says. "Our job is to do our role and give our internal customers more than they expect, sooner than they expect it. If we do that every day, we'll win."
Gaining Savings
Hufford's recent successes have included sourcing a key chemical used in yeast manufacturing at a lower cost. By opening his tender beyond AB Mauri, he also brought benefits to many of the ABF plants around the globe.
"Leveraging and putting ourselves out in the marketplace enabled us to gain savings that we would not have accomplished by going alone," he says, noting that one of the biggest beneficiaries was its facilities in China. "That was one of the first times we've had more success in that region than just about anywhere.
"Through this process, we also gained access to suppliers that we didn't have access to before," he continues. "We're already starting the approval process to get them approved for our plants around the world."
Top Technology
AB Mauri is seeing many changes in its industry, including an evolution in customer expectations. "We're seeing that they want strong technical support," Hufford says. "They're looking for a partner to help solve their problems.
"Price and quality are kind of standard in the industry and they alone often don't get you the sale, they just get your foot in the door," he says. "You have to separate yourself through your technical support and high-service levels."
AB Mauri's link to ABF has allowed it to have access to top technology, including Scanmarkets, a web-based sourcing platform. "It is a very professional, logical and efficient way to go to the market versus email," Hufford says.
Not only can the company enjoy the benefits of Scanmarkets' tools, "But we also have great access to commodity tracking tools," Hufford says. "We can look at historical commodity pricing out there. We also can look at the future forecasts for many different commodities.
"We also have great visibility to our global spending information for the rest of the world," he says. "We can see if somebody might be paying a better price than we are."
AB Mauri North America also uses global communication tools, including web applications and Skype. "The benefits we get out of those are great," he says. "Technology has had a huge impact on how we are able to prepare for and be in a really good position to negotiate with suppliers."
Beneficial Behavior
AB Mauri's procurement team has earned a reputation for being fair and ethical among its suppliers, Hufford says. "We don't even approach that red line related to unethical behavior, and, in fact, stay miles and miles away from it," he says. "Our suppliers reciprocate that attitude and behavior."
Hufford's team follows the values established by Prendergast, which include being ambitious, accountable, customer centric, collaborative, innovative and proactive. "It really is a culture that Mark has instilled in this organization to focus on those values," Hufford says. "If you do that, everything else will take care of itself."
The company also strives to be well prepared with research before negotiating with suppliers. "It also gives us a huge benefit of having them know that we're this prepared," he says. "It cuts through the red tape."
AB Mauri also strives to be frank with them. "We provide honest, critical and timely feedback," he says. "They're going to get the straight scoop from us. We're not going to fluff the situation. Sometimes they like it, and sometimes they don't."
The Right Balance
Going forward, Hufford and his team will carefully manage their priorities. "Trying to balance the strategic focus versus getting bogged down in the weeds is difficult," he admits. "You could find yourself spending half a day with emails. Learning to use the right type of procurement is important as well. Sometimes transactional procurement is okay, but other times strategic procurement might be the right tool.
"You've got to know when you need to implement one or the other," he continues. "If you look at something as strategic and your supplier looks at [it] as transactional, that's not going to be a good result for you."