B&G Foods manages some of the country's biggest brands with a focus on supply chain excellence. By Chris Petersen
In the famous old television commercials, the Jolly Green Giant cast a huge shadow over the valley where he grew vegetables. It's appropriate, then, that the owner of the Green Giant brand, B&G Foods, casts a pretty big shadow of its own over the food industry.
The company, producer of shelf-stable food brands including Green Giant, Ortega, Cream of Wheat and Mrs. Dash, manufactures, sells and distributes products throughout the United States, Canada and Puerto Rico. Managing the supply chain for such a highly diversified portfolio of brands and products is a major challenge, but it's one that Senior Director of Procurement Marty Schoch explains B&G Foods is more than capable of handling.
Schoch joined the company in 2008 after spending many years in various roles related to logistics and supply chain. He says his experience as director of supply chain for Manischewitz gave him the opportunity to learn all about the various aspects of modern supply chain operations, including IT, purchasing, warehousing and inventory control.
Thanks in part to the work Schoch has done in streamlining the company's procurement operations, B&G Foods has added approximately $1 billion in annual revenue since he joined the company. Schoch says that with the company's supply chain firing on all cylinders and continuing to improve, there's virtually no limit to how far the company's shadow can reach in the future. "We're not looking at stopping our growth," Schoch says.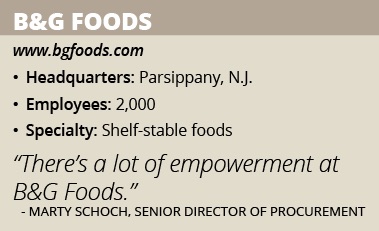 Powered by People
The main reason B&G Foods' supply chain is as successful as it has been over the last several years has been people, according to Schoch. Although his department's responsibilities are huge, the department itself is relatively small, with just six people sharing the work. Although Schoch says managing multimillion-dollar spends with such a small number of people can be challenging at times, B&G Foods is blessed with people who are capable and passionate about their jobs.
Operating a lean department means employees have to juggle a lot of responsibilities, but Schoch says his team at B&G Foods accomplishes a lot because it knows how to delegate down and collaborate with other departments. He says his employees also bring a lot of experience to the table, which allows them to make certain decisions on their own without having to bog down the decision-making process and waste valuable time. "There's a lot of empowerment at B&G Foods," Schoch says. "We're empowered to make the best decisions for B&G Foods.
"We've been there before and we do those types of things," Schoch adds.
The speed with which B&G Foods can make decisions on the supply chain side is critical for the company. Schoch says the food industry moves faster than ever, and the company needs to be able to bring new products to market quickly in order to meet new demands and respond to new trends. Thanks to the people within its supply chain being empowered to make the right decisions for the company, B&G Foods is capable of launching up to 100 new products every year, according to Schoch.
An Interesting Ride
That empowerment and experience also makes it possible for B&G Foods to adjust to big changes in the marketplace as well as internally. For example, the company just recently purchased the Green Giant brand, which required adding a frozen distribution network to its operations. Schoch says frozen foods were an entirely new type of product for B&G Foods to deal with, and the company continues to work on refining its approach to that category.
Schoch says the company also is working to streamline its operations by outsourcing some elements to external experts. For example, B&G Foods recently outsourced its energy spend as a means of reducing costs and work. "Without losing our history of what makes B&G Foods great, we are looking to continue to evolve and challenge current practices to be better," Schoch says.
The company's growth has brought with it certain changes, as well. Although Schoch says B&G Foods' current systems have served it well, the company's growth means it needs to handle larger quantities of data and may need to upgrade its systems accordingly. Schoch says B&G Foods is looking at systems to analyze data much faster than it currently does to facilitate better and more accurate results
One thing B&G Foods can forecast with some certainty is that the company is in line for more growth in the near future. Schoch says the company plans to acquire more brands and its five-year plan also includes becoming growing like we did in the past exponentially. All in all, no matter what happens to the company in the near future, Schoch says B&G Foods' supply chain advantages will play a crucial role.
"It should be an interesting ride in the next five years," he says.