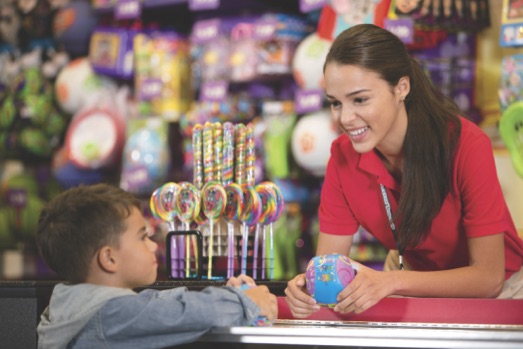 CEC Entertainment is consolidating suppliers for Chuck E. Cheese and Peter Piper Pizza without sacrificing quality. By Russ Gager
When families plan children's parties, Chuck E. Cheese's comes to mind. Known the world over for providing entertainment for greater than 60 million visits annually, the chain of food and fun emporiums features pizza, rides, games, prizes, merchandise and a life-size mouse named Chuck E.!
Besides the menu of pizza, sandwiches, salads, appetizers and desserts, another treat guests enjoy at Chuck E. Cheese's are the prizes. Making sure each location has enough food, prizes and small wares is the task of Vice President of Supply Chain Dean Satchwell's team. His team also handles the supply chain for the Peter Piper Pizza brand of restaurants that CEC Entertainment Inc. acquired in October 2014.
CEC Entertainment currently operates and franchises 735 Chuck E. Cheese's and Peter Piper Pizza family dining and entertainment centers in a total of 47 states and 12 foreign countries and territories. The supply chain works hard to provide guests of those locations with consistent food, beverages, and prizes.
Satchwell joined CEC Entertainment last year. "One of my goals was to streamline and consolidate the supply chain," he says. "It's a slow process, but we've made some headway." To aid the process, Satchwell wants staff at each Chuck E. Cheese's and Peter Piper Pizza location to be able to concentrate on serving guests, not sourcing supplies.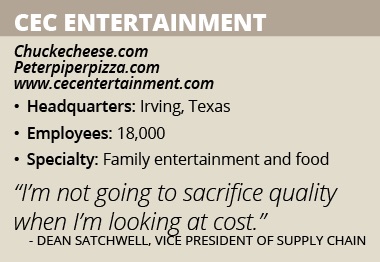 Consolidating Suppliers
Fortunately, when Peter Piper Pizza was acquired, it already was using the same food distributor – Performance Food Group (PFG) – as Chuck E. Cheese's was at its domestic locations. "We didn't have to look at distributors to consolidate, but the bigger opportunity is consolidation of suppliers," Satchwell emphasizes. "If you go down the list of ingredients, our biggest expense by far is 100 percent whole milk mozzarella cheese. It's just the volume. There's a lot of cheese on a pizza, and virtually every pizza has it. But Chuck E. Cheese's and Peter Piper use different suppliers.
"I'm not trying to blend the two brands, only the supply chain," Satchwell notes. With that goal in mind, Satchwell worked with Chef Gregory Casale to have the same distinct products, such as Chuck E. Cheese's and Peter Piper Pizza's unique wing sauces and salad dressings, produced at the same supplier. "We worked with Chef and did a lot of taste testing and consolidated all the dressings and sauces into one company," Satchwell notes. "We got the efficiency of shipping those items on the same truck and shipping them to those same distribution points. So not only was it a win from shipping things like that, but also we got an impressive price reduction on most items."
National Produce Program
Both Chuck E. Cheese's and Peter Piper Pizza rely on fresh ingredients for their food, but most locations were using local produce houses. The number of these swelled to 175 that were active in the company's accounting system and were each being paid invoices before efforts to consolidate the suppliers began.
"Once we have our whole system rolled out, we will use a management group that will go on our behalf and negotiate with growers for a price that would be basically national and for a period of time, like getting a contract for lettuce for six months or a year," Satchwell says. "When we get done with this national rollout by the end of August, we will have consolidated 175 produce distributors down to 45."
Suppliers of disposable items such as paper cups and plates, trashcan liners and gloves have been consolidated, along with import items such as black olives, pineapple and jalapeno peppers. More consolidations are to come, along with ones for the prizes children win at Chuck E. Cheese's, which include stuffed animals, trinkets and candy.
For many of the commodities the restaurants use, such as cheese, the supply chain team is trying to forward purchase, hedge or blend contracts to reduce price fluctuations. "So for most of our commodity items, we have strategies or programs like futures contracts in place to try to achieve a more predictable price than to ride the market price," Satchwell says.
The supply team also is testing a new back office system that will help restaurant general managers forecast food inventories and labor costs more accurately. "It will be a good teaching tool and monitor to help us really see what's going on from an inventory standpoint about whether our volumes are enough," Satchwell explains. "Some managers are better than others, so we're trying to put some tools in place to make them more consistent." Most locations receive deliveries twice weekly.
All these efforts are adding up to more efficient and economical operation. But Satchwell is insistent about one of his values. "I'm not going to sacrifice quality when I'm looking at cost," Satchwell pledges. "So we're always looking at equal or higher quality at equal or lower cost. Typically, in the foodservice industry, people think purchasing people are just going to cheapen things to make them more affordable, and that is absolutely not our mode of operation. We want to always uphold quality and just find better ways to be smart about buying so we lower costs."