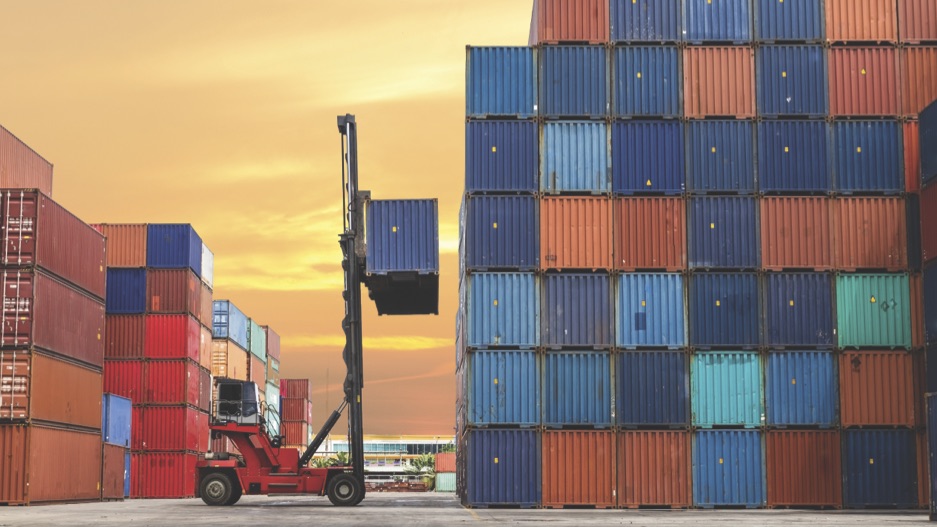 CoreTrust helps private equity firms and corporations find savings and improve profitability through its GPO model. By Eric Slack
Over the last decade, CoreTrust has become a leading group purchasing organization (GPO) for large corporations and private equity firms with multiple-enterprise portfolios. An established aggregator, CoreTrust works to enhance profitability for clients by negotiating best in class pricing for non-production supplies and services.
"We launched CoreTrust in 2006 with three members at a time when the private equity market was very active," Vice President of Sales Scott Miller says. "We started with a focus on private equity firms and later expanded to large corporations."
Legacy of Success
As a division of HealthTrust, CoreTrust's legacy influenced its ability to become the leading GPO for indirect spend supplies and services. HealthTrust helps healthcare providers improve their performance through an aligned membership model and the delivery of total spend management solutions built upon operator experience, scale and innovation.
Based in Nashville, Tenn., HealthTrust serves more than 1,400 acute care facilities and 22,600 other locations, including ambulatory surgery centers, physician practices, long-term care and alternate care sites. CoreTrust leverages the buying power of HealthTrust's $28.5 billion in annual spend to achieve unparalleled savings for its non-healthcare organizations.
"HealthTrust is the most aggressively priced healthcare GPO in the marketplace and we had that base to draw from," Miller says. "Because HealthTrust is a unique compliance-based GPO, we also built a compliance-based model. Other GPOs have volume tiers and establish price points for members accordingly, but we have a one-price-for-all model. When companies are compliant to an 80 percent level, we create leverage in the vendor community superior to what individual members can achieve on their own."
In the healthcare space, HealthTrust learned that it could help providers lower their expenses and improve outcomes by creating a truly committed and aligned group purchasing model.
The company quickly became a leader in custom sourcing for physician preference items and purchased services, value analysis, spend analytics, workforce management and healthcare IT, helping providers on both the cost and quality fronts.
HealthTrust membership delivers immediate and sustainable savings to members and participation in advisory boards ensures they have voice in sourcing decisions. Members have the flexibility to customize contracts as dictated by local market conditions.
Additionally, HealthTrust offers a comprehensive set of advisory services to help providers best utilize its supply chain, workforce management and clinical integration capabilities. HealthTrust inSight Advisory Services provides guidance in the form of analytics, assessments and recommendations based on best practices that have been proven in real-world operating environments of the nation's largest healthcare providers. These services enable providers to address strategic cost management and operational efficiencies while maintaining high quality care and patient satisfaction.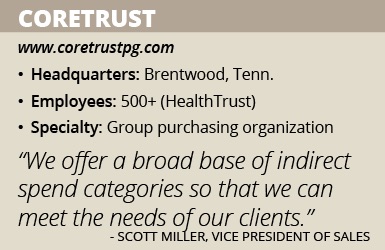 Transferring Knowledge
HealthTrust's approach to sourcing in the healthcare arena ultimately led to the creation of CoreTrust to bring the same level of excellence to the private equity and large corporation market sectors. Like HealthTrust, CoreTrust does not require companies to pay entry or membership fees to join. Its revenue comes from contracted suppliers based on a standard GPO percentage of purchasing volume.
"Ease of use is important to us," Miller says. "There is no charge for members to join and our members work directly with suppliers. We are the contracting agent and create contracts with suppliers on behalf of our members."
In 2004, HealthTrust member Vanguard Health Systems was acquired by The Blackstone Group. The private equity firm was looking for ways to aggregate spend across its portfolio. "Blackstone asked us about taking our indirect spend categories into the commercial area and start a commercial GPO," Miller says. "We were then introduced to additional private equity firms who wanted to work with us on behalf of their companies. Now, our membership has grown among and beyond PE firms largely because of networking and word of mouth."
CoreTrust has grown to more than 1,300 members across multiple verticals and delivers sustainable, double-digit savings by drawing on its extensive contract portfolio and expertise.
"Being a compliance-based committed GPO means we can move volume for our supplier partners. That's of interest to them because by giving us preferred pricing they gain market share," says James Hallock, Vice President of Development. "All businesses want to cut costs but their leverage is limited to the spend that they control. At CoreTrust, we create leverage by aggregating spend across multiple companies and applying our subject matter expertise to ensure the contract, pricing and terms align with the needs of all members."
Key Offerings
As a CoreTrust member, companies enhance profitability by saving on non-production supplies and materials. Members receive top-quality customer service, operations support and a voice in the process of selecting new suppliers and renewing existing agreements. CoreTrust tracks and measures success in achieving financial targets, compliance and member satisfaction.
Indirect spend categories include products and services from leading suppliers of the basics needed to run a business such as office supplies and logistics. In IT, CoreTrust leverages its buying power to enhance business performance and reduce the cost of technology. In the human resources area, CoreTrust has a comprehensive portfolio that delivers strong pricing and design flexibility across a broad spectrum of benefits. And in the facility infrastructure category, it provides access to contracts with some of the industry's most respected suppliers to help members manage operational costs.
"We offer a broad base of indirect spend categories so that we can meet the needs of our clients," Miller says. "We have a density of members and spend in certain verticals so we are building programs to meet needs across specific industries and subgroups of our membership; for example, we have added forklifts and pallets for members in manufacturing."
CoreTrust allows members to participate in a committee-based contracting approach, led by subject matter experts and focused on achieving market-leading pricing, terms and service levels.
"Our advisory teams help us find out what is important to clients so we can build the right solutions," Miller says. "We make sure our members understand that this is a member-led organization. Our advisory boards are involved in any decision that we make."
Looking Ahead
Through its involvement with private equity firms and large corporations, CoreTrust has worked to understand the needs of each of its members.
"There is a method that private equity companies follow in acquiring a company and putting a plan in place to create value for investors," Miller says. "Cutting costs and improving efficiencies are important to them, so they identify areas for opportunity and our team works closely with their procurement teams to meet those objectives."
From the vendor perspective, becoming a supplier partner has many advantages. Suppliers benefit from shortened sales cycles and a reduction in customer acquisition costs. CoreTrust takes responsibility for establishing master agreements, implementation support, compliance management and providing access to members, allowing suppliers to concentrate on customer needs and relationships.
Additionally, CoreTrust is committed to providing opportunities for minority- and women-owned business enterprises to make sure they get strong consideration as supplier partners. Bottom line, CoreTrust knows that suppliers value being part of the collective because of the committed model and the conversion volume that it delivers. "We drive market share for our suppliers," Miller says. "Having a contract with us means something."
Moving forward, CoreTrust is staying on top of the way market sectors are evolving. It is pursuing growth in the commercial sector and targeting certain verticals. It's also working with current members to find additional categories for partnership. "Hospitality, retail and manufacturing are all areas where we see broad opportunities," Hallock says. "We work with companies in those areas and view them as targets for growth.
"There are also service categories we can address such as freight and logistics and other highly complex areas of indirect spend," he adds.
Supply chains work in cycles of several years and CoreTrust works with members to ensure a deal they got a few years ago is still the best deal. It wants members to know that it continually monitors what is happening in the market so the deals they have in place remain relevant and strong, which is a big part of member retention.
Recently, CoreTrust refreshed many contracts and accelerated contract lifecycle management to be sure its services are having the right impact for members. It engages with clients to work with their procurement teams to analyze what their needs are and bring them into the ongoing evolution of its contracts.
"We want to deliver meaningful new categories and advance our presence in the marketplace," AVP Jason Hanson says. "Fortunately, our suppliers do everything they can to keep contracts strong so everybody wins: supplier, member and CoreTrust."
In helping members balance both the tactical and strategic sides of their procurement strategies, CoreTrust provides the processes, resources and scale to deliver more value than individual companies could attain on their own. When this happens, the true power of aggregation is realized.