Supply Chain Innovation Summit Preview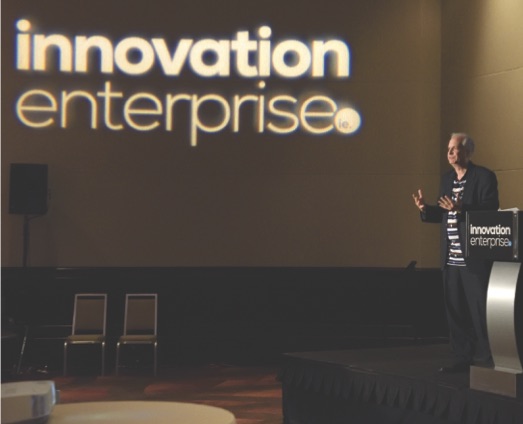 Organizations' drive for efficiency in the supply chain has seen them adopt a wide variety of technologies, from the ingenious to the bizarre. We are now entering a period of unprecedented change for supply chains managers, with a number of new innovations entering the market en masse that have the potential to irrevocably alter operational processes, streamlining them as never before.
I recently attended the S&OP Innovation Summit in Boston, where a number of speakers discussed what these technologies would be, with three in particular standing out.
Blockchain
Blockchain made its name as the technology behind Bitcoin, a cryptographically secure public register of transactions operated by a decentralized peer-to-peer network. It relies on algorithmic consensus established by verification across the network to approve entries to records, which it uses to manage transactions through a distributed database of computers.
According to Jerry Cuomo, IBM's vice president for Blockchain, "Supply chain is the most likely application for the technology after financial services." The technology is already in use in a number of supply chains. Its value lies in the added level of trust that it provides – particularly important in establishing provenance of products so that you can best verify their quality. Provenance ensures transparency in supply chains, providing all physical products with a record authenticating that it is what it is supposed to be and came from where it was supposed to come from. It is also anonymous, which means producers do not lose competitive advantage by revealing provenance of their goods.
IBM, in particular, is betting the house on technology that enables Blockchain to be used in the supply chain and has launched a new platform allowing companies to test Blockchain technology in their supply chains. The new service, called Everledger, uses the company's LinuxOne system to allow supply chain customers to build and test Blockchains in a secure cloud – protecting everyone involved against theft, counterfeiting, and other forms of corruption.
Everledger Chief Executive Officer and Founder Leanne Kemp summed up how Blockchain could be used in supply chain, noting in a statement that, "When you are in the business of provenance, secured records, access and transparency are everything. There is no compromise when it comes to security and one cannot underestimate the expertise required to enable this. Having the opportunity to build, test, scale and refine Everledger on IBM Blockchain, underpinned by a security-rich infrastructure, is a game changer. It has accelerated our ability to move fast and deliver the most innovative solutions to our partners internationally and confidentially."
Internet of Things (IoT)
There has been much written about the impact of IoT and the influx of devices we are set to experience in the next decade, and the consensus at the summit was that it would have a profound effect.
According to a recent research by the McKinsey Global Institute, IoT could provide a boost to productivity and the economy as a whole of $6.2 trillion by 2025. The planning 'bucket' is decreasing in size – while we used to talk about the 'quarter' and 'month ends', now we talk about days and weeks. IoT will move this forward again towards minutes and hours as real-time data become more and more connected.
The influx of data points IoT will provide companies will also help them better pinpoint areas where they could improve processes and cut costs. Speaking at the S&OP Innovation Summit, Orhan Bazna, Senior Director of the Global Supply Chain, Gum & Candy Category at Mondelez International expressed his belief that in the future "data management and data synthesizing will play a major role. A lot more data is gathered in today's world. Whoever can master synthesizing that data will manage to get better predictions. They will, therefore, capture bigger revenues than others, and adapt quicker to changing customer/consumer needs."
Artificial Intelligence (AI)
AI is set to have a profound impact on society, possibly more so than any technology humanity has ever seen. Its applications in business are many, and these are already starting to be realized – nowhere more so than in supply chains. In a recent survey by Accenture, 70 percent of executives said they are significantly increasing investments in AI compared with two years ago.
In Gartner's recent report 'Predicts 2016: Reimagine SCP Capabilities to Survive,' the research firm said that supply chain organizations they had spoken to expected the level of machine automation in their supply chain processes to double in the next five years. The level of automation that supply chains could, theoretically, embrace, will completely revolutionize the speed and accuracy at which they can operate. Traditional models for handling inventory can be used in conjunction with sophisticated algorithms to increase the speed of computation, and it will likely augment this process by generating new features to run such models on. Autonomous vehicles will also mean upheaval in logistics and shipping. What this means for supply chain professionals remains to be seen, with the nature of work likely to completely change, but it is likely to mean a much more strategic, creative role for many.
At the Supply Chain Innovation Summit in Chicago this November 17-18, Dr. Anthony M. Pagano, Director of the Center for Supply Chain Management and Logistics at the University of Illinois, will be among the more than 25 speakers taking the stage. He will discuss his two-year study into recent technological trends in the Logistics and Supply Chain Management space in the U.S. that have been employed by major corporations. He will identify emerging technologies, either hardware or software, that companies are investing in, currently and in the short term, and provide a deeper understanding the implications of the technologies with respect to areas that include value creation, operational effectiveness, investment level, technical migration and general industry acceptance.
To reserve your place at the Supply Chain Innovation Summit, call Elliot Jay at 415-800-4713 or email ejay@theiegroup.com. Group rates are available.
Lauren Ravary is a global marketing executive with Innovation Enterprise.