General Motors works hard to create stronger relationships with its supply base and improve vehicle quality. By Chris Petersen
General Motors Vice President of Global Purchasing and Supply Chain Steve Kiefer brought a unique perspective to the automaker's supply chain when he joined the company about two years ago. After spending 20 years as a supplier to GM, Kiefer had the perspective and the experience to know what makes GM a successful partner to its vendors and suppliers, as well as where it needed to make improvements. Although the company continued to be one of the leaders in the automotive industry, its relationships with suppliers in terms of controlling costs, ensuring the highest levels of quality and driving innovation were not where the company wanted them to be.
That's why, over the last few years, GM has been engaged in a continuous process of actively improving its relationships with suppliers. Keifer says the process has been extremely important and transformative for the company, building stronger bonds with suppliers and improving the overall quality of the company's vehicles. "What we're most proud of is that last year we saw significant improvement," Kiefer says.
Through GM's Strategic Supplier Engagement (SSE) initiative, the company has been working on building consistent and clear internal processes aimed at improving the communication between it and its suppliers, as well as better recognizing those of its suppliers that have driven greater innovation throughout GM's product lines. Although the process has not always been an easy one, Kiefer says GM and its suppliers have embraced their goals and worked together to create stronger working relationships for the immediate future as well as the long-term.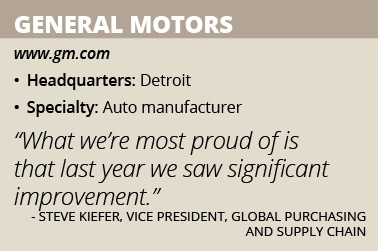 Clear Communication
Kiefer says he recalls that during his time as a GM supplier, one of the biggest challenges he and other suppliers had in working with the company was that communication was not always consistent. "GM used to speak with many voices," he says.
Although that's not necessarily surprising given the size and scope of GM's operations, Kiefer says GM nevertheless knew it needed to focus on improving its communications with suppliers. This meant GM needed to develop an easy-to-understand scorecard to measure suppliers' performance from a business and a cultural standpoint and ensure GM and its suppliers understood it.
With input from key suppliers, GM developed a new scorecard for its suppliers that gives it a clear and consistent vocabulary for discussing their performance. Kiefer says the scorecard now gives GM one voice when communicating with suppliers, and the clear metrics make it easier for suppliers to align around GM's goals.
"I don't go into a supplier meeting without that scorecard in front of me," Kiefer says. "It's probably not unique in the industry, but it's somewhat new for GM."
Stronger Collaboration
Stronger communication also leads to greater collaborative efforts, and Kiefer says GM is taking greater advantage of its suppliers' expertise thanks to its efforts with the SSE process. GM is bringing its suppliers into the product development process much earlier than in years past, and Kiefer says their ideas are helping GM ensure higher quality and more controlled costs in the finished products.
According to Kiefer, GM is practicing earlier engagement with suppliers than before, allowing them to become involved in the product development process much sooner than in the past. He says this has enabled GM to find new and better ways to make its products more innovative as well as more affordable.
For example, Kiefer says, GM and its suppliers are finding ways to source technologies across multiple generations of vehicles, rather than introduce new technologies or components for each successive generation. By enabling suppliers to commit the same technology to two generations of vehicles instead of just one, those suppliers are able to amortize their costs over a 10-year period rather than a five-year period. "That's having significant impact on thinning the costs for our suppliers and for ourselves for these new products," Kiefer says.
Bridging the Gap
Although the process of engaging with suppliers more successfully has proven to be a winning strategy for GM, Kiefer says the process has not come without some challenges. One of the most significant challenges the company has had to overcome during this process was what Kiefer characterizes as a disconnect between how the company engaged with suppliers and how the suppliers saw the process. "One of the big comments that we heard in these [supplier] surveys in the last two to three years was that GM's leadership gets it, but the buyers don't," he says.
Too often, Kiefer continues, suppliers said they didn't feel that the buyers on the front lines were on the same page as GM's leadership, creating confusion. Although Kiefer doesn't believe that was necessarily the case, the company nonetheless took steps to ensure that there was a clear throughline of what's important to GM from the upper leadership all the way down to the buyers getting face time with the suppliers.
Kiefer says the company developed a priorities chart it refers to in every meeting that emphasizes what's important to GM. These priorities are categorized into five key elements: supplier relationships, defect-free vehicles, supplier innovation, waste-free value streams and total enterprise cost and value improvements.
"It's started to bring some consistency throughout the GM team," Kiefer says. "It's a simple message but it's one we can all rally around."
Continued Success
GM has made significant improvements in its supplier relations efforts over the last several years, but Kiefer says the company isn't done yet. He says the company continues to talk to its suppliers, including its North American supplier council and its top 50 global suppliers, and look for new ways to drive further improvements. "I would like to think that we would continue to improve," Kiefer says.
When he was a supplier years ago, Kiefer says the one thing he wanted most from OEMs was for them to listen to his suggestions. It's that perspective that has been one of the largest elements of GM's recent successes with its supply base, and Kiefer says that as long as the company continues to engage in clear communication with its suppliers, they will continue to be one of the key reasons for GM's continued success. "They bring most of the innovation, they bring a huge impact on our quality and cost structure, and if we listen to them we'll continue to be successful," Kiefer says.