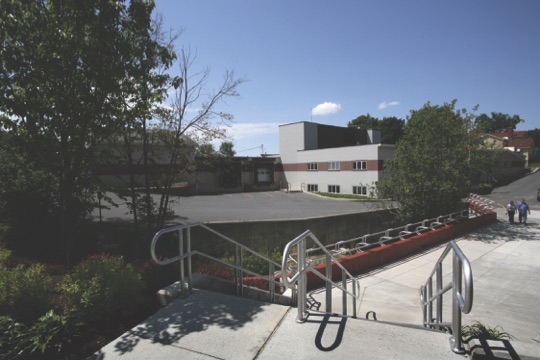 LISK has enhanced its operations by streamlining its supply chain and improving its planning processes. By Jim Harris
For 60 years, The G.W.LISK Co.'s customers have relied on the company to engineer and manufacture components that are critical to the operation of aircraft, cars and large machinery. In the past few years, the company – which rebranded in 2015 as LISK – has taken strides to become even more reliable by greatly improving the ways in which it works with its supply base.
"What we are trying to do is build closer relationships with our suppliers and get to know them," says Ruud Vullers, vice president of supply chain and quality for the Clifton Springs, N.Y.-based company. "Building relationships with fewer but better suppliers has been the key to our success."
Since Vullers arrived at LISK in 2014, the company has reduced its supplier base from 490 to 330 in an effort to maximize the quality of its inbound supply chain. Although the company performs engineering, prototyping, testing and many manufacturing services in-house, it works heavily with suppliers that provide secondary processes as well as raw materials. "When I started here, we had way too many suppliers, which became too costly and difficult for us to manage," he adds.
Under Vullers' direction, LISK engaged in a supplier segmentation process, which divided suppliers into four categories: transactional, commodity, strategic and bottleneck. "Depending on the category, our relationship is different," Vullers says. "We can now focus on working with the right suppliers at any given time."
Roughly 80 percent of LISK's suppliers are located within a five- to six-hour driving distance of the company's Clifton Springs headquarters. This makes it easier for Vullers and his team to regularly visit supplier sites to conduct audits and maintain the relationship. The company also regularly leads training sessions with suppliers at its headquarters or on supplier sites. Topics covered during these training sessions include failure mode effect analysis and root cause analysis. The company also conducts annual supplier summits.
LISK prefers to work with suppliers that can provide it with a finished product or service, as opposed to companies that add complexity to the supply chain by relying on LISK to manage the complete supply chain to complete LISK parts, Vullers says.
LISK's supply base includes both large national suppliers as well as regional niche suppliers such Badge Machine Products, a Canandaigua, N.Y.-based full service machining supplier. Badge Machine Products is intimately familiar with LISK product and quality requirements and is often treated like an extension of LISK's internal manufacturing operations.
The company's improvements to its supply base are paying dividends in terms of LISK's ability to obtain quality parts on time. LISK's supplier on-time delivery rate is 95 percent, an improvement from its rate of 88 percent just a few years ago.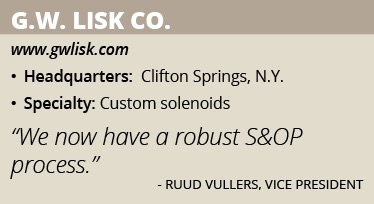 'A Robust Process'
One of Vullers' goals when he arrived at the company was to establish a formal sales and operations planning (S&OP) process. Vullers also used methodologies developed by consultant Gartner Inc. to assess LISK's supply chain organization before implementing the APICS CPIM program. In conjunction with APICS, LISK trained its supply/demand planners via the APICS-CPIM program to improve the planning and evaluation of production and inventory activities within the company, he notes.
"In July of 2015 we went live on a new ERP system," Vullers says. "Previously, we had an antiquated enterprise resource planning system with limited planning capacity. Now, we use an advanced planning and scheduling (APS) system, instead of a material requirements planning (MRP) system which most companies are using.
"In the past we were only looking a few weeks ahead," he adds. "Because our supply chain and lead times are so long, we need to look at least 30 weeks ahead. We are now able to actually look 18 months ahead, which has helped us get a better understanding of our future capacity needs."
The company plans to launch a supplier portal next year that will allow it to electronically link to its suppliers. The portal will link to the ERP system. "All of the things that we are now doing through e-mail, such as sharing purchase orders, drawings and scorecards, will be done through the supplier portal," Vullers says.
With its new ERP system in place, LISK is now ensuring that the data that goes through the system – such as cost information, lead times, cycle times and billing information – is as accurate as possible. "Many companies are facing the challenge of data quality," he adds. "If you have an ERP system and want to use it to your advantage, it's critical to have a handle on your data quality."
The company worked with consultant Hub Designs to manage its data quality before hiring a full-time data governance lead responsible for managing data across LISK's operations. "We are investing in securing good data quality," Vullers says. "It's like fuel; if you use poor-quality fuel, you'll damage your engine in the long run – it's 'garbage in, garbage out.'"
A Global Player
LISK is a global player in the design and manufacture of custom solenoids, solenoid valves, sensors and flame arrestors. The company is a global supplier to Tier 1, Tier 2 and Tier 3 OEMs in the aerospace, defense, heavy duty engine, and oil and gas markets, with which it regularly collaborates to provide "the most qualified, durable products that withstand even the harshest environments," LISK says.
The company's outbound supply chain activities are mainly coordinated by its customers, who generally arrange to ship or pick up products from LISK's locations in Clifton Springs, Ireland and China.
The company was founded in 1882 as a designer and manufacturer of cake pans. By 1910, LISK had added tin pails and spraying devices to its bakeware line. This growth spurred owner George Washington LISK to move the growing company to a sheet metal shop on a parcel of land in Clifton Springs, N.Y., which remains its U.S. headquarters.
LISK in 1946 transformed itself from a consumer goods manufacturer to a maker of custom engineered solenoids and solenoid valves in response to a post-WWII surge in the defense and commercial aerospace markets. The company added sensors and flame arrestors to its custom-engineered product line in the ensuing decades.
Pushing Innovations
The customization of the company's products sets it apart in the market. "We are not a supplier of off-the-shelf commodity parts that are pre-defined stock items that unsuited for a special application," LISK says. "We are a solutions company with expert engineers that are specialists in their field."
The company takes what it calls an engineer-to-engineer sales approach that it says helps its customers specify and procure the exact products they need. This approach ultimately helps customers reduce their costs and time to market and set their product apart from competitors. "It doesn't stop with the design," the company says. "We prototype, test and manufacture all under one roof with industry-renowned quality, consistency and dependability that has made us a preferred partner with the biggest names in the industries we serve."
LISK's in-house research and development division regularly works to find new ways to enhance its existing products. "We will meet the most recent and future industry certifications when necessary, and explore incorporating new ideals and materials to make better, lighter, more cost-effective parts without losing quality," LISK says.
The company's in-house manufacturing capabilities include machining, injection molding, welding, plating and winding. Some of its welding and plating services are NADCAP certified. LISK recently enhanced its machining capabilities with the recent opening of a new 80,000-square-foot machining center across the street from its existing facility in Clifton Springs, Vullers says.
LISK thrives on creating products that meet its customers' imaginations, challenges and goals. "As our customers push industry norms, we push even further to accommodate the most innovative designs on the market today," the company says. "With limitless customization, their options are virtually endless. And because there are so many options, we like our OEM engineer partners to know our capabilities and understand what we can do, not just what we have done."