Empire Petroleum Partners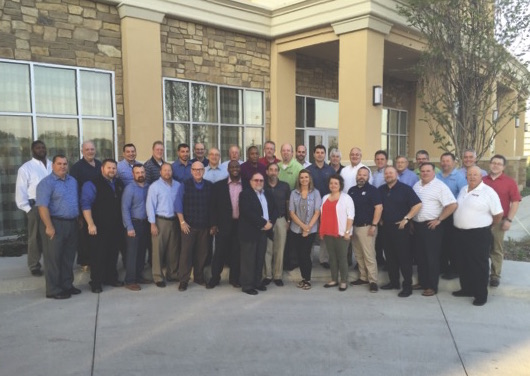 Empire Petroleum Partners develops programs to boost sales for independent gas station operators. By Tim O'Connor
Fuel distributor Empire Petroleum was founded in 1998, but today's incarnation of the company truly started in 2011 when it merged with Quikway to create a larger customer network. Since then it has grown more than five fold. The company now supplies more than a billion gallons of fuel to 1,200 independent filling station operators annually, making it one of the top gasoline distributors in the United States.
The company primarily serves gas stations in southwest Texas, Midwest, mid-Atlantic and Southeast, but brings its commitment to customer support to hundreds of new independent dealers every year. For many customers, Empire Petroleum is more than just a fuel seller. It is a partner who can support every facet of their business from store operation to credit card systems, insurance and equipment leasing.
Unlike some distributors, Empire Petroleum only operates a few of its own locations, which are mainly used as test sites for new programs and promotions. "We are 100 percent dedicated to servicing, supplying and interacting with independent dealers," CEO Hank Heithaus says.
Empire Petroleum distributes for several of the country's most well-known brands, including Shell, Sunoco, BP, Chevron, Texaco, Valero, Gulf, Marathon, ExxonMobil, Phillips, Crown and 76. The company also has its own labels, Empire's Fast Fuels and Solo. Fast Fuels targets higher volume customers while Solo is aimed at mainstay stores. Operators who rebrand their stores under the Fast Fuel flag also gain access to exclusive benefits, programs and promotions such as layout design assistance and fresh food products.
The breadth of its brands is how Empire Petroleum distinguishes itself from other distributors. "The competition is always different in every area," Heithaus says. "That's why we maintain the brand portfolio we have today."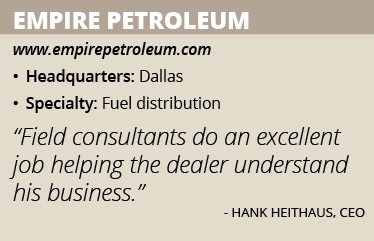 Food Focus
With larger footprints and more programs, the gas station is becoming today's general store. According to Empire Petroleum, 33 percent of millennials want a one-stop shop where they can buy food and cigarettes alongside fuel. "It's tailoring to the customer and the customer's needs," says Robert Spurgeon, director of marketing and food. "People don't want to stop into a gas station today and not have options."
As cigarette sales decline, food is becoming a more important part of balancing the retail equation. For those operators who want to handle food themselves, the company offers fresh chicken, barbecue, pizza, sandwiches and roller grill items. Empire Petroleum is developing a proprietary food program with Sysco aimed at giving dealers better pricing options. The Sysco program will have different tiers to suit every size of store. For example, a smaller station might require smaller ovens while a larger one can handle more equipment.
On the restaurant side, Empire Petroleum has vendor partnerships in place with chains such as Little Caesars, Subway, Dunkin' Donuts and Krispy Krunchy Chicken to co-locate at gas stations. "We want to diversify a little bit and get QSR (quick service restaurants) more than fresh case," Spurgeon says.
Through the preferred vendor program, clients can obtain a restaurant at a discounted or no cost franchise fee. Empire Petroleum offers financing for the equipment and provides ROI and margin data to help operators understand how long it will take to break even and begin turning a profit. Between Jan. 1 and Sept. 19, Empire Petroleum's customers adopted 763 food programs, compared to about 250 for all of 2015.
Because it is involved with each area of an independent gas station's business, Empire Petroleum can offer programs that bring the pump and inside retail together. The company recently introduced its Perks of the Pump fuel discount program. Customers who sign up can buy multiple products, such as two cans of Monster energy drinks, and save five cents a gallon on gas. The discounts stack, so if someone adds a Snickers bar to their energy drink purchase, the discount might rise to 10 cents a gallon.
Another new program continues those incentives at the counter. IMPULSE is a product that uses screens placed near the register to display promotions. When completing a transaction, customers swipe through the promotions and have the option of adding onto their order. It's another way Empire Petroleum helps dealers upsell during each visit.
Operators that switch to the Fast Fuels branding to take advantage of those programs often see immediate results. Fast Fuel stores, on average, see candy/snack sales increase 22 fold and three times the sales for dairy and edible groceries, according to Empire Petroleum's numbers. Locations that undergo remodeling have seen even more drastic results, with 391-times the sales of fountain drinks and 15-fold increases in muffins and donuts.
Empire Petroleum uses multiple avenues to inform dealers about its food and retail incentive programs. Field consultants are frequently update operators on their options, but the company also touts the programs at monthly dealer meetings held in various regions. Those meetings provide an opportunity for dealers to have direct access to Empire Petroleum's upper management and meet with vendors.
It is through such programs that Empire Petroleum shows it puts dealers first. The company's 23 field consultants – who average more than 20 years of experience in the industry – are the ones who work with gas station operators on a daily basis. "Field consultants do an excellent job helping the dealer understand his business and providing him with consultative services to help him improve the profitability of his business," Heithaus says.
Growing Footprint
Since the merger of Empire Petroleum and Quikway in 2011, the company has continued to grow primarily by acquiring smaller distribution contracts. This year, the company bought out the wholesale distribution rights of Keeman Petroleum Co. Inc., a Georgia-based distributor that supplied gas to stations in Georgia and Florida; and Triple a Fuels Inc., which served the Dallas-Fort Worth market. The company made two more acquisitions this fall: Arkansas Valley and Sunshine Fuel.
The gas station fueling business is a slow growth industry, Heithaus says, necessitating the buyouts. "If you want to grow you grow through acquisitions," he adds. In some cases, the smaller distributor wants to exit the market or has no succession plan in place. By buying those contracts, Empire Petroleum keep those gas stations supplied while expanding its market presence.
The aggressive purchase of distribution contracts has enabled Empire Petroleum to grow by about 50 percent annually. The company adds about 300 independent has stations to its customer base each year. "We want to continue to provide regional solutions for markets," Heithaus says. "Although we may have a more national landscape as a distributor, we want to help them respond to local competition better."