Kia Motors America's distribution and logistics help the car company become a leading player in the United States. By Eric Slack
From its headquarters in Seoul, South Korea, Kia Motors Corporation has grown into South Korea's second-largest automobile manufacturer. In the U.S., Kia Motors America (KMA) is the company's American sales, marketing and distribution organization, providing a complete line of vehicles to more than 700 dealers throughout the country.
"We currently we have 776 active dealers in the continental U.S. as well as Alaska and Hawaii," says Bob Kuntze, executive director, distribution and logistics.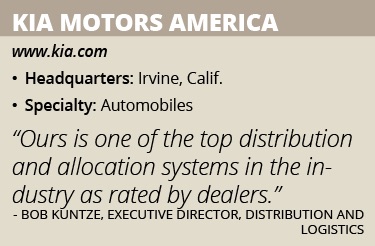 Serving Dealers
Fundamentally, Kia's distribution and logistics team in the U.S. is focused on getting cars to the dealers as quickly and cost effectively as possible. The challenge is the complexity of orderable configurations. The company has a plant in Georgia, brings in imports from Korea, and also is now bringing in products from a new plant in Mexico.
"We have a weekly allocation process, and we rely on our field offices to get feedback from dealerships," Kuntze says. "In recent NADA surveys, ours is one of the top distribution and allocation systems in the industry as rated by dealers."
The dealers are KMA's customers. Working with the dealers can be challenging, as there are many different kinds of dealers. Some may be lone operators, and others may have multiple dealerships in their portfolio. Kia has allocation and ordering systems that help make process as easy as possible for all.
"There is no single perfect way to allocate and order cars, but you must have a clear understanding of dealership needs and have systems that can accommodate times of both high and low demand," Kuntze says.
Key Partner
Kia works with Hyundai Glovis as its third-party logistics provider, and it does not have direct relationship with railroads, carriers and port processing companies. Kia works its Korean parent company to help define goals and objectives that are broken down by supply location and product type. That information is given to Glovis in advance to help them plan their business and requirements.
"We break it down by port, as we have three ocean ports on the West Coast, an inland port in Texas and two ocean ports on the East Coast," Kuntze says. "We have the plant in Georgia that ships via rail and truck, and we ship by rail and short sea from Mexico. We give production plans to Glovis by port location and they determine needs such as storage space and capacity for transports, and they advise their carrier, rail and port vendors on what will be coming their way."
That is the starting point, but things change throughout the year. As business ebbs and flows, Kia works to adjust production plans and communicates with Glovis constantly to keep on top of changes. From a day-to-day perspective, anything from weather, trucking or railroad issues to plant closures, storage situations and port congestion can cause plans to be adjusted.
"Production and allocation is comparably simple, but the day-to-day business can become challenging," Kuntze says. "Everything requires constant management."
Adapting to Change
Among the major changes that have taken place for Kia in the Americas is the new plant in Mexico. The plant started production in May and is ramping up. It will build more than 10,000 cars a month for the U.S. market and will eventually supply 80 countries and have a capacity of 400,000 cars a year. The plant coming online has led to a change in the way Kia has to do business in the U.S.
"Products from Korea come by ocean, and products from our Georgia plant are moved by rail and truck," Kuntze says. "Mexico is a little different because of the U.S. border crossing. Kia, Glovis and Kia Motors Mexico have had to integrate their systems to handle the border crossing. Documentation has to be timely and meet U.S. Customs Department requirements or it can lead to shipping delays and additional costs. The plant's location in Monterrey is close to the border, which is beneficial from a transportation perspective but puts pressure on documentation timeliness and accuracy."
Over the long-term, Kia is looking to grow in the U.S. Between now and 2020, the company wants to increase its volume and market share, and its logistics operations need to be able to support the growth in terms of capacity.
"We need to prepare for many situations, such as if we will require more storage capacity at ports, more ports in our system, consolidation of ports, if there will be more production in the U.S., or if we will see more or less imports," Kuntze says. "Those are all questions that will need to be answered. But we've seen growth in this market and Kia will continue to grow by offering products that are high quality and that consumers want."
Ultimately, the U.S. perception of Korean products has become more positive, and Kia's vehicles can stack up with anyone. In fact, J.D. Power and Associates ranked Kia number one in the entire industry for initial quality in 2016, making Kia the first non-luxury automaker since 1989 to be on top of the list.
The company wants to continue to offer good value and see growth in the American market, which remains fairly strong and relatively stable from a consumer standpoint. Kia expects to see more production taking place in the years ahead, and it must work with Hyundai Glovis to ensure that it can handle that growth in cost effective and operationally effective manners.
"Distribution and logistics is a giant puzzle, and you have to fit the pieces together and see what works best, planning for strong demand and low inventory and vice versa," Kuntze says. "Business changes and nothing is ever static, so you have to be prepared for different situations and be able to accommodate change."