Dupré Logistics delivers safe, diversified solutions for clients committed to increasing their competitive advantage. By Stephanie Crets
As a specialized carrier, Dupré Logistics enables manufacturers and distributors to eliminate the invisible costs that occur in their distribution and supply chain. The company manages anything that requires a high level of service for transportation and logistics, such as hazmat freight or time-sensitive products. The company employs approximately 900 drivers for 600 trucks running optimal utilization of its equipment and personnel. The Dupré Strategic Capacity Services group has also established a network of more than 4,500 preferred carriers through a stringent carrier-approval process to provide capacity for its customers and all of their supply chain needs.
"We utilize our equipment better and our safety programs and results both in dedicated transportation and our fleet are much better than any company I've seen in the past," Director of Supply Chain John Bilke says. "We are always concentrating on what's best for our customers and striving for continuous improvement in safety and all that we do. Our culture is driven through our mission, safe service that's profitable."
While the company got its start in the Gulf Coast area serving chemical plant and refinery clients, Dupré currently hauls bulk chemicals and general commodities in 48 states. Plus, it has been rapidly growing in the four years that Bilke has been with Dupré Logistics.
He says there are plans to grow each of the functional divisions of the company – such as growing the brokerage and 3PL logistics around the country – as well as expanding the dedicated logistics division 40 percent over the next five years. "If you're not growing, you're dying," Bilke says. "It's definitely time to gear up for us."
The crude oil division is a different matter when it comes to growth due to the fluctuating market. The price per barrel of crude oil has dropped tremendously, which led to some major changes in the way the company manages its fleet and optimizes locations, assets and personnel. "We're trying to maintain until the price comes back up and market conditions improve," Bilke notes. "We're holding our ground for now."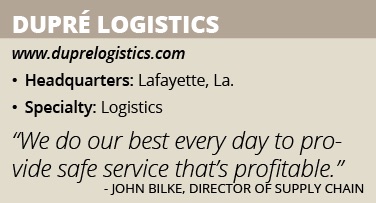 Optimal Levels
To keep operations running at optimal levels, Dupré Logistics invested heavily in logistics software to ensure the highest productivity from its drivers and assets. It helps the company monitor fuel and inventory tank levels and select the best routes for drivers. "We want to minimize the deadhead miles and give them the most productive routes each day," Bilke says. "Obviously things change when you're making 1,000 deliveries a day. But we have our first-out solutions that give us the highest productivity for the day."
Dupré Logistics' highly specialized crude oil division requires its own software. The company tracks and monitors well sites, tank levels, specific gravity, temperature, sediment and water levels in the oil. This information is reported back to the producers and buyers of crude oil so they know the quality and quantity of the barrels Dupré Logistics hauled.
For the Energy Distribution Services division of Dupré Logistics', "information is captured for specific deliveries and reported for inventory management purposes to determine when the next load of gas should come into that station," Bilke notes. "It helps us determine the optimal delivery times."
Safety remains at the highest level of importance for Dupré Logistics given the sensitive nature of product the company hauls and its dedication to preventing driver accidents and injuries. The company uses OmniTracs software, which offers many tools including predictive analytics to see which drivers may be at higher risk for safety issues.
"It uses a series of approximately 400 data points," Bilke explains. "If a driver goes from the day shift and is working for a one-week period, you can't just move him to the night shift the next week. We found many of our accidents were caused by inadequate rest. Switching a sleep pattern is not easy for anyone to do. There are many rules and the system looks at the data and work schedules to determine how and when drivers should work. We look at those factors when we dispatch and how drivers are evaluated."
"Every day we do our best to deliver solutions that move product safely and reassure customers; that is our main focus," he continues. "The tools we have in place really help us monitor and manage all aspects of the logistics process for the client. It's really about the people and culture and implementation of those systems to drive that culture toward safe service that's profitable. It really is where we have to drive the company. In my past 35 years, I've not seen a company so focused on safety and customer service."
Not only is Dupré customer-focused, but the company is tuned into driver satisfaction as well. Bilke says the company has among the lowest turnover rate in the industry because it tries to provide the "ideal place to work" for its drivers, along with offering competitive wages. "We really focus on the quality of driver jobs and we want Dupré to be a place the best drivers want to come to work," he adds.