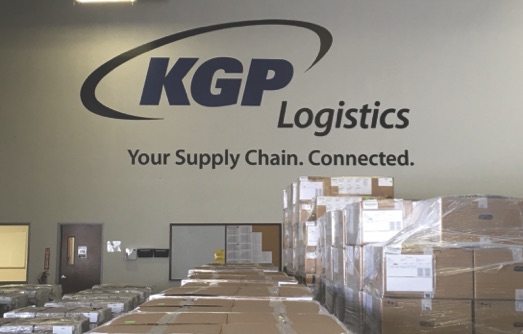 KGP Logistics' work ethic has made it a leader in service to the communications industry. By Alan Dorich
No matter the time of day, KGP Logistics is willing to "bend over backwards for our customers," Vice President of Procurement and Inventory Management Colin Campbell explains. "When our customers have a situation like a storm, we'll be here over weekends and over nights [to] support them throughout the situation."
Based in Faribault, Minn., KGP Logistics offers supply chain management and logistics services for telecommunications providers that serve wire line, broadband cable and wireless networks. Founders Dale and Kathleen G. Putrah started the company in 1973.
Today, KGP Logistics and its affiliate BlueStream Professional Services rank as the largest, single-source provider of communications equipment, supply chain and integrated services to the communications industry. "We're a leader in our segment of service," Campbell says. Clients include AT&T, CenturyLink and Verizon.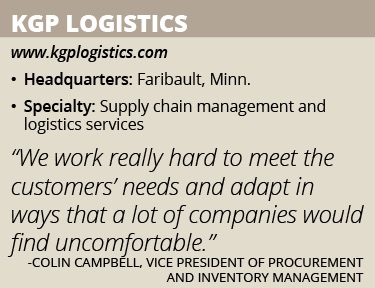 Meeting Needs
Campbell joined KGP Logistics two years ago after a diverse career that included roles at Premier Farnell, Gibson Guitar, General Electric, Zenith Electronics LLC and Quaker Oats Co. He was drawn to KGP Logistics by its commitment to the customer.
"It's one of the things that impressed me first about the company," he recalls. "We work really hard to meet the customers' needs and adapt in ways that a lot of companies would find uncomfortable."
In addition to working long hours, "We work very closely with the customers and very closely with the suppliers," he says. "If you ask just about anybody in the company what we do, 'We serve customers' is the mantra."
KGP Logistics also strives to hire employees that are intelligent, smart and proactive, Campbell says. "It's nice to have that kind of a team around you," he says. "That tends to produce [a culture where] you can get stuff done and we get stuff done.
"There's not a lot of bureaucracy here," he adds. "[We say], 'Let's get to the solutions, let's implement them and solve what needs solving.'"
Taking Advantage
Now is a good time for KGP Logistics to be in business, Campbell says. "The telecommunications industry is doing quite well," he says. "We're not seeing a bad economic climate.
"We're certainly taking advantage of it where we can," he says. "The secret is that you've got to stay in touch with the people who are buying from you and who you're buying from. We do that very well."
KGP Logistics also expects to stay busy, thanks to the expansion of fiber connections to homes, Campbell says. "A lot of those projects have been very significant in the past year," he says.
"Some of them are driven by industry forces and some of them are driven by [regulation]," he says. "From my perspective in procurement, that's the kind of material we'll be chasing."
A Streamlined Chain
Like many, KGP Logistics regularly faces the challenge of industry shortages in its supply chain. "When everybody is looking for a product of a certain type and it becomes a challenge to get ahold of, we work with our suppliers at all levels, relationships are critical," Campbell says.
"If a planner is contacting a supplier, we escalate right to the top," he says. "We have no qualms about senior people calling suppliers about how we can improve availability, and we try to do it very quickly."
KGP Logistics also is proactive when it comes to implementing improvements. "I don't think I can sit and say there's a single strategy we haven't implemented," he says.
Currently, the company is focused on improving its information flow. "We are always looking at different ways [of getting] what we need, whether it's forecasts or information from our customers or availability dates from our suppliers," he says. "We are pushing very hard in those areas to work smarter."
This has made the company cutting-edge when it comes to its technology, which has included the use of a variety of software, Campbell says. Although its supply chain is "pretty much state-of-the-art, we're always looking for opportunities for new stuff," he says.
Well Prepared
KGP Logistics provides extensive training to its supply chain employees, Campbell says. "They get trained in systems, trained in reporting [and] trained how to deal with our customers and suppliers," he says.
"We are making sure that they are well prepared for what they're doing," Campbell says, noting it provides them with autonomy. "As their capabilities increase, their level of responsibility increases.
"We find people who are very capable and very good," he says, noting that the procurement team has people in Faribault and Kansas City. "They work very closely together."
In the Right Place
Campbell predicts that KGP Logistics will continue to prosper. "We're in the right industry," he says. "We're always looking at new aspects for it, whether it's supplying fiber or equipment for mobile connections or new data centers for the Internet of things.
"We have a very exciting future in an industry that's cutting edge," Campbell says. "You can't get to Facebook without the fiber or the mobile device."