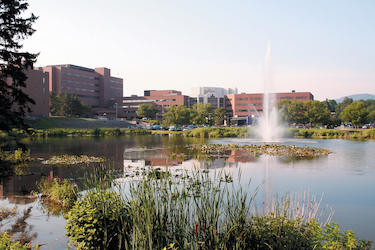 Guthrie is preparing its supply chain to take a more active role in the healthcare company's ongoing success. By Chris Petersen
There's no doubt that the healthcare sector has changed a lot in the last decade. Not only has healthcare reform changed the playing field for American healthcare providers, but a spate of mergers and acquisitions have changed the players, as well. In this new competitive environment, healthcare organizations can't take their supply chains for granted anymore. Many of the most successful healthcare providers are taking a more strategic approach to their supply chains, integrating them into their operations in a way that makes them more responsive and collaborative than ever before in an effort to drive down costs while remaining competitive.
One of those organizations on the forefront of the supply chain revolution is Guthrie, an integrated healthcare network in north-central Pennsylvania and south-central New York consisting of four hospitals and 32 regional provider offices serving 23 communities. The nonprofit organization manages more than 1 million patient visits every year, in addition to providing home care services and managing a research institute. With nearly 300 physicians and 175 mid-level healthcare providers within its network, Guthrie has a lot of activity to keep tabs on, and Guthrie has taken steps in recent years to ensure that its supply chain is as much a part of its success as those professionals. "Guthrie began a journey approximately two years ago, embracing the cost, quality and outcomes (CQO) movement with renewed vigor and enthusiasm," says Vice President of Procurement and Supply Chain Grace Jackson.
Jackson joined Guthrie earlier this year, bringing more than 30 years of experience in healthcare supply chain across the military and the private sector. She says her focus since joining the company has been on creating a more integrated and strategic supply chain culture, and the results so far have been very encouraging. She says Guthrie's laser sharp focus on supply chain improvement as a strategic imperative and its commitment to building and leveraging strong strategic relationships will be the backbone of the organization's continued growth and success. "We believe that our active reshaping of the supply chain is the best way to create value for our patients and to ensure the financial future of our organization," Jackson says.
Overhauled Operations

Jackson describes Guthrie's supply chain transformation as a journey toward alignment of all supply chain related activities into a seamless process. The health system is taking a systematic approach to executing the supply chain and to dismantling departmental and facility silos within their system. "From a macro view, Guthrie has always done well in terms of managing price and contracts, but recently we have intensified efforts to look at the total supply chain including practice variation, utilization and inventory management and really looking at all of the opportunities across the continuum of care to align them, and there's a huge movement here in terms of systemness to bring all supply chain activities together under one umbrella," she says.
One of the key enablers of this strategy is technology, and Jackson says Guthrie is taking a three-pronged approach to how it implements technology across its supply chain. The first is implementing automation as much as possible within the supply chain, especially in procure-to-pay process. The second element of Guthrie's technology strategy is to close the gap between data and analytics to create greater transparency and empower employees to make better-informed decisions. The third element, Jackson says, is using technology to enable more collaborative integration – integrating supply chain systems with other information technologies across all Guthrie operations.
Elevated Leadership
One of the most important and game-changing aspects of Guthrie's ongoing supply chain transformation has been elevating the supply chain leadership role to an executive-level position to recognize its strategic importance within the organization. Jackson says this has been important because executing the company's supply chain transformation plan requires leadership that is at the same level as the leadership in other areas of the company to ensure the vision is being carried out. "We have a plan, but unless we can turn that plan into action, it's just words on a piece of paper," she says.
Having an executive-level ambassador and promoter of the supply chain discipline also will help Guthrie attract, develop and retain the industry's best people to help drive improvement initiatives, Jackson says. "Just as other healthcare organizations that are starting to recognize supply chain as more of a strategic asset, we are looking for highly skilled and competent professionals to execute our supply chain plans and to move the organization forward."
Jackson says supply chain is no longer viewed as transactional, but rather something that requires supply chain professionals to be working side-by-side with other departments out in the field. This requires a new level of talent and experience than previously required in the supply chain field. In that way, Guthrie is preparing for a complete rethinking and reshaping of its supply chain for the future – a future where it is prepared to meet any challenge it faces along the way.