Northwell Health's GPO has streamlined its supply chain as it has supported its facilities. By Alan Dorich
Today's healthcare supply chains are integrated into almost all aspects of operations. They have become critical businesses that leading healthcare organizations rely on to ensure high-quality products, operational efficiencies and organizational awareness.
Northwell's supply chain is a differentiator and Northwell Health is a prime example of a system using its supply chain to leverage specialized functions, capitalize on aggregated data and secure competitive advantages as compared to its competitors.

Based in New Hyde Park, N.Y., Northwell is the largest integrated healthcare system in New York State with 21 hospitals, about 550 outpatient practices and a staff of more than 61,000. Its roots go back to 1992 with the founding of the North Shore Health System. The organization expanded further with North Shore's 1997 merger with Long Island Jewish Medical Center (LIJ).
This historic merger also established the centralized organizational structure that is the foundation of Northwell Health's shared-services operation today, notes Northwell Vice President and Chief Procurement Officer Phyllis McCready. "We wanted to have our back offices – legal, finance, procurement [and others] – operate as a shared service," McCready says. This seemingly simple concept has laid the foundation that has successfully supported the unprecedented growth that Northwell has experienced over the last 10 years.
In 2013, the health system outsourced its procurement operations to what was then called the North Shore-LIJ Alliance. A group purchasing organization (GPO) was formed to support Northwell Health's facilities as well as other affiliated hospitals, post-acute care facilities and skilled nursing facilities. McCready is also the president and CEO of the Alliance, which has a reach that goes beyond Northwell.
"The primary mission of the GPO is to reduce the overall healthcare costs for its membership and contract for what the providers are purchasing and not what the manufactures want to sell. It is a provider-centric GPO that adds substantial value to its membership," says Jessica Olphie, assistant vice president of strategic sourcing and contracting.
Today, Alliance relies on its strong understanding of healthcare provider business requirements and its history of developing technological solutions to drive analytics and operational efficiencies. This allows Alliance to differentiate itself from other traditional GPOs. "Alliance has a rich history of integrating 21 organizations and 550-plus off-sites into its shared-services support model by establishing common systems and business practices," McCready explains.
These add economies-of-scale to its member's organizations, and provide value-creation opportunities that drive costs out of its members' budgets.
A History of Innovation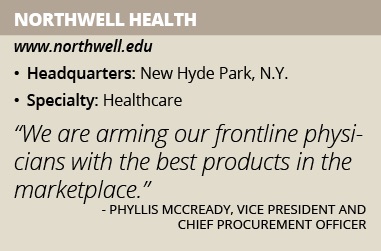 Before the Alliance was formed, Northwell used query-based systems that "didn't give us a consistent approach to analyzing our critical data," McCready says.
Assistant Vice President of Customer Services and Information Management Vikas Balani and his team led the effort of aggregating the disparate data and systems to form a single, central information repository and enterprise system. "We are very fortunate to have technologists that understand the nuances of our business and are able to develop applications that meet our unique organizational requirements," McCready says.
"We rely on our own tools and technologies" that enable the Alliance to "push the healthcare purchasing business into a data-driven operation," Balani adds.
The system also has taken the ordering process out of the hands of clinicians, Assistant Vice President for Data Analysis and Clinical Collaboration Ann Cronin says. "In the beginning, the nurses were very involved in the ordering process," recalls Cronin, who herself is a nurse.
"All of our data is aggregated and available at all levels of detail to everyone internally in the Alliance via a single overarching tool," McCready says. "We no longer execute individual queries; [we're all viewing] the same information in real time."
All of this data also allows the Alliance to study complex utilization patterns, which improves its purchasing, Vice President of Corporate Contracting and Alliance COO Brian Murphy says.
"It enables us to quickly and nimbly find clinical and non-clinical supply information related to our member's organizational needs, as well as specific physician buying behaviors," he explains. "This helps us to make informed decisions about future purchases."
The Alliance's analytical framework allows it to account for every dollar of Northwell's $2.9 billion spend. "We can track where every cent is spent, whether it's in purchased services, medical and non-clinical supplies, capital equipment or pharmacies," McCready says.
Triangulating Value
The Alliance leverages its strength in contracting and relationship management to achieve full value from its vendor partners.
The Alliance has a full complement of attorneys and category experts that work together to create both the legal terms and conditions of its contracts and to also bridge the gap between its customer's business requirements and the statements of work (SOW).
"As a provider-centric GPO, our work doesn't always end at the creation of the contract. We may also represent our members through every aspect of contract administration and compliance for products and services," McCready says.
Strong relationships with its vendor counterparts allow it to achieve its contracting and analytical goals, forming the "triangle-of-value" that the Alliance relies on to keep ahead in today's dynamic healthcare environment.
Growing Forward
The Alliance plans to continue developing its systems. For example, its homegrown technologies also include a mobile solution for materials management. "[We] believe the next generation of technology will put all of our data right in the palm of our hand," McCready says.
Alliance has developed a mobile application that allows its materials managers to "do inventory or order supplies on any particular floor in any of our hospitals and across all hospitals," McCready says.
"The mobile technology offers visibility that spans across the network and virtually removes the barriers of a multi-facility organization with respect to inventory management and product availability," Balani says.
In addition, "We're expanding our vendor risk management program to look at our vendors risk in a stratified manner," Murphy says, explaining that the vendor risk management (VRM) system will monitor and flag vendors differently based on the anticipated risk.
"For example, if you're a vendor that houses our protected health information (PHI), we're very concerned with your technical infrastructure and your internal controls. We have fewer, or different, concerns with our vendors that do not have any access to our PHI," he says. "We're categorizing our vendors based on the risk that they can bring, and make sure our security teams, our compliance teams and our insurance teams all weigh in and have a single way of looking at those vendors through our VRM system.
"And as we're doing all of this, we also have to look even further ahead," Murphy says, noting that the Alliance is also adjusting to healthcare's transformation to a value-based reimbursement model. "[Our systems are] going to help us to quickly adapt to the next set of regulations that come down. We believe we're positioned to continue to grow and change in a prompt and efficient manner to keep ahead of our members' changing requirements."
McCready agrees, adding, "The market is constantly changing – from the technologies we use to the reimbursement models we support. Our team and our technology will ensure the Alliance stays at the forefront of driving value in supply-chain."
Rewarding Work
Northwell Health's vice president and chief procurement officer, Phyllis McCready, has more than 25 years of procurement and management experience. She joined Northwell in 1999 and has taken part in several accomplishments, including closing the gap between clinical leadership, industry and supply chain with the establishment of Value Analysis Forums, creating Northwell's Self Distribution Operation, as well as securing over $25 million in savings year over year and building non-traditional revenue streams by developing the Alliance.
McCready is proud to be a part of Northwell. "I thought helping patients would be a great way to start a career." This is a principle that her colleagues share and is at the forefront of all they do.
"I am inspired every day by the ever-changing healthcare environment and opportunities that present themselves, and by the extremely talented team that I work with," McCready admits.