Lighting manufacturer Focal Point leverages supply chain efficiencies to provide superior service to its customers. By Tim O'Connor
In an industry that sources parts from all over the world and then demands shorter turnarounds, lighting manufacturer Focal Point LLC understands the value of having suppliers located stateside. "The market demands are continually reducing lead times," says Julius Tomei, chief customer and information officer and head of supply chain at the Chicago-based company. "The further away you source things the more you're at risk to meet those demands on a timely basis."
Focal Point uses a combination of offshore and near-shore suppliers to obtain the components it needs for its manufacturing processes. Some components, such as LEDs, are manufactured primarily in Asia, but wherever possible Focal Point works with vendors in Canada, Mexico and the upper Midwest. Most of the components the company needs come from a 500-mile radius around its factory. "We've been very successful at sourcing products around the Great Lakes region," Tomei says.
Suppliers such as OSRAM, a manufacturer of lighting technologies such as drivers that power LED boards, must also be able to commit to those tight timetables. Focal Point sees OSRAM and companies like it not only as manufacturers, but as collaborators who provide field support to ensure deadlines are met. "They have to feel the need and sense of urgency when we do," Tomei adds.
The Thornton family started Focal Point in 1994 with the plan to create sustainable, American-built lighting products that beautified architectural spaces and inspired the people who occupy them. The company's range of LED, recessed, downlight and linear products are used in commercial, educational, office and other areas where people gather.
Focal Point prides itself on being an American manufacturer. "It's part of our heritage, part of our corporate culture and part of our focus going forward," Tomei says. More than 500 employees design, manufacture and assemble Focal Point's lighting products at the company's three plants on Chicago's South Side, which combine to form a 333,000-square-foot manufacturing campus.
Service is a critical component of winning a job, but it's the product design that gets customers to take their first look at Focal Point. To stay relevant, the company continually develops new designs and products. Through Q3 of this year, Focal Point has launched four entirely new products and five line extensions. "This company prides itself on creating world-class products that are unique and make a statement," Tomei says.
Technology Upgrade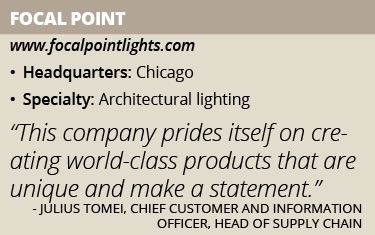 Tomei worked in the manufacturing supply chain of a global company for 28 years before joining Focal Point in 2012. The switch to a smaller company meant the supply chain had to operate leaner and with more agility than Tomei experienced at his last position.
Although the scale of the job changed, Tomei was able to introduce several modern supply chain management techniques to Focal Point. One of the most significant changes was to implement an integrated enterprise resource planning (ERP) system. Focal Point's Oracle ERP implementation was completed last year and is already making a measurable impact on the company's supply chain.
Tomei sees the supply chain as the hub of the organization and the ERP system is at the center of it. Since embracing ERP, the company has shipped 60 percent of its orders ahead of schedule and improved its on-time delivery from about 93 percent to 97 percent. The ERP system creates visibility into the entire supply chain, including inventory and work orders.
The data this new system provides enables Focal Point to make analytical and informed decisions, leading to further improvements. If an order is behind at any stage, Focal Point can work with the customer to determine priorities and what can be done to get it back on schedule. "It allows us the ability to look at our orders and get really granular in how we treat each one," Tomei explains.
In addition to the ERP system, the company instituted lifecycle management and bar coding to track production reporting and on-time delivery.
As the head of supply chain, Tomei is responsible for everything that touches the customer. To ensure each of those client interaction points goes smoothly, Focal Point measures, tracks and reports key data points such as on-time delivery. "The goal is to deliver a superior customer experience," Tomei says. "We have a laser focus on it."
Shortening Lead Times
Most of Focal Point's products are made-to-order, configured and engineered specifically for each customer. This creates a unique lighting aesthetic for each space, but can take longer to deliver than standardized lighting products. Some clients expect the same quick service that a major stocking supplier can provide. Long lead times can be a deal breaker, so Focal Point strives to deliver custom products in a comparable time frame to its competitors' standard items.
The lead time for Focal Points standardized products is typically five to 10 days, but its custom items, which often require engineering and design drawings, can take six to eight weeks. With improvements in the supply chain, Tomei believes the company can reduce that timeline to three to four weeks.
Lighting is typically one of the last components installed in a new building, so it's especially important that Focal Point meet deadlines to avoid holding up the final stages of a project. "We want our customers to be able to get the products they want, when they want them," Tomei says.
The fluid nature of construction schedules means that Focal Point must also be prepared to change its deadlines to accommodate additions to the project. "How quickly we can react to that will tell us whether we're going to get that additional work or change," Tomei adds. "You're only as good as your ability to execute on that moment. The next job it starts all over again."
Speed and anticipation go hand in hand. Knowing what customers need before they ask for it further cuts lead times. But because a significant portion of Focal Point's business is made-to-order products, it is difficult to accurately predict orders ahead of time. It takes a strong understanding of the market and demand to know what components to keep in stock to enable quick turnarounds. The supply chain team meets once a week with customer service and engineering leaders to go through a forecasting process, looking at each customer's order history and what parts are needed to assemble those products. The goal is to be ready to respond to any customer need.
Reducing lead times, leveraging a local sourcing model and the power of integrated ERP data allow Focal Point to live its value of "always be easy to do business with." The company wants to be the first choice in the customer's mind and have the last look at a job if it's out to bid. When given the opportunity, Focal Point finds it stands above the competition because of its beautiful designs and world-class product engineering. "We offer the whole package – unique and innovative products supported by superior customer service," Tomei says.