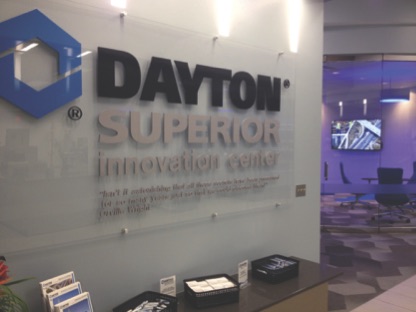 Dayton Superior's supply chain is optimized to produce its industry-leading concrete construction solutions. By Jim Harris
Dayton Superior Corp.'s focus on new product development has made it a leading single-source provider of concrete construction solutions to customers all over the world. "In manufacturing, if you're not innovating, you're going out of business as far as I'm concerned," says Pete Viens, senior vice president and chief supply chain officer for the Miamisburg, Ohio-based company. The products manufactured by Dayton Superior are distributed to dealers as well as directly to contractors.

The company offers 17,000 SKUs, a number that is rapidly growing. This year alone, Dayton Superior introduced 60 new products to the market; last year, it produced 50 new SKUs. "Our goal is to release one new product a week with the objective of helping customers increase productivity and profitability, and we've already exceeded that this year," he adds.
Product research and development is the main purpose of the company's Innovation Center, a 15,000-square-foot addition to Dayton Superior's corporate headquarters completed in 2014. The center includes 3-D printers used in rapid prototyping, as well as testing equipment, demonstration areas and state-of-the-art chemical and mechanical labs.
The company's products reach the four main segments of the concrete construction product market: forming, chemicals, paving and accessories. "We're the only company in the market that touches all four segments of this business," Viens says. "This puts us in the position of being able to bundle products and offer unique solutions to a variety of end markets including retail, industrial and commercial buildings; mid/high-rise buildings; parking garages; bridges and roadways; power plants, water treatment plants and recreational facilities."
A Structured Process

Dayton Superior gets its new and established products to customers through a network of 14 distribution centers, seven rental locations and 11 manufacturing sites across North America, as well as facilities located in Panama, Columbia and Australia. The company uses a fully integrated enterprise resource planning [ERP] system across all of its sites. "Our planning, logistics and procurement departments are aligned throughout the company, and we have a structured sales and operation planning [S&OP] across all of our segments," Viens says.
Aligning its processes allows Dayton Superior to meet the demands of contractors, who often require large amounts of material to be delivered to construction sites in short amounts of time. The company's customers are also looking for materials at a reasonable price, he adds.
The company manufactures products on both a make-to-order and make-to-stock basis. Demand for many of Dayton Superior's products shifts based on seasonality, requiring it to be flexible when it comes to staffing its manufacturing facilities. The company works exclusively with Kelly Services to provide it with seasonal contract labor.
Dayton Superior uses its own software program to track key performance indicators (KPI) across its manufacturing, rental and distribution operations. The Max Matrix program allows the company to set and measure six metrics – safety, quality, on-time delivery, efficiency, inventory and downtime – in all of its sites. The system also tracks EBITDA related to each metric. "This is a robust system that helps us keep our priorities consistent," Viens says.
Safety Culture
One of the metrics measured by the Max Matrix system – safety – was a particularly high priority for Viens when he joined Dayton Superior three years ago. He was selected for the position by CEO James McRickard, with whom Viens was familiar as both men previously worked for companies owned by the same corporation.
"When I came here, we had a weak safety program," he says, noting that one of his earliest actions was to hire a full-time safety director. "Since then, we've revolutionized the safety culture in the company, and that's one of the things we're most proud of."
Safety is stressed and reinforced on every level of the company. New and long-term employees go through a safety training program that includes video seminars as well as testing.
"We have a constant focus on safety; we start every meeting talking about it, and regularly invest in safety improvements," Viens adds. "We teach and reinforce a culture of safety awareness across our entire company, from our CEO down."
Dayton Superior's emphasis on safety is paying off for the company. "Between 2012 and 2016 we improved our safety record by 89 percent," he says. "In 2012 we had 70 OSHA recordable injuries; this year, we've had eight. Our OSHA total recordable incident rate is 1.03; the industry average is 7.8."
The Right People
Viens credits the company's safety improvement to its staff. "We're proud of our safety record and our people; we believe that having the best people will bring our company the best results," Viens says. "A lot of people talk about these values, but don't live them the way we do, and I think our results show that."
Finding qualified staff is another priority for the company. During Viens' tenure with the company, Dayton Superior has established a "Building Leaders" program for recent college graduates that includes a two-year management training program.
"We're focused on talent; we want to get the right people for the right job and set goals and objectives for them," he says. "We've done a good job putting the right people in the right positions."
Always Improving
Continuous improvement of its manufacturing and supply chain functions remains a high priority for Dayton Superior. The company recently added a new director of procurement, who is working on establishing a new supplier metric program. Dayton Superior is currently using a production part approval (PPAP) process to measure supplier performance.
"We're setting up supplier scorecards and doing a lot of formalized pricing agreements on our contracts, as well as measuring our contract spend to make sure we're meeting our commitments and consolidating our purchasing," Viens says.
Other priorities include reducing equipment downtime. The company within the last year reduced its downtime from 18-and-a-half percent to 8.3 percent, he adds.
Case Study
Dayton Superior recently demonstrated its ability to efficiently manufacture and ship concrete construction products to customers. The company in October 2015 was contracted to provide 4 million pounds of concrete forming products to engineering, construction and project management firm Bechtel, which is working on the massive Jubail Industrial City project in Saudi Arabia.
"This project required a cross-functional team from operations, engineering, sales, and logistics to design, manufacture, loading and ship containers to Saudi Arabia, which we were able to do on a 100 percent on-time basis and with no quality problems," Senior Vice President and Chief Supply Chain Officer Pete Viens says. "This was a huge success for us, and a good example of the success we've had in all of our functions coming together to manage a project."