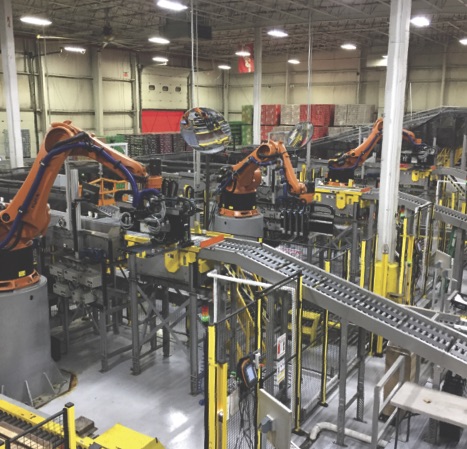 Coca-Cola ensures operational excellence by investing in a diverse, modern supply chain that can handle any challenge. By Eric Slack
There are not many brands that can match the universal recognition and market presence of Coca-Cola. With roots stretching back to 1886, the Atlanta-headquartered multinational beverage company operates in every country worldwide with the exception of two: North Korea and Cuba. With such an expansive footprint, it should come as little surprise that supply chain excellence is a major priority for the company.
"The Coca-Cola bottling business was built on strong franchise leadership," says Helen Davis, vice president, supply chain, for the U.S. region. "As we continue our strategy of refranchising our bottling system across the globe, it is imperative that franchise bottlers work together to leverage the opportunities within our supply chains."
Diverse Beliefs
As an organization, Coca-Cola is committed to continuous adjustments to meet consumer expectations. This is exactly why its portfolio continues to evolve, as well as why the company is focused on ensuring that its supply chain, logistics and strategic-sourcing activities contribute to the organization's overall success.
One key area of focus for the company is talent. Coca-Cola believes that capable people can build a good supply chain, but a great supply chain is built by diverse, innovative thinking combined with exceptionally capable people. As with many supply chains, the company is trying to further diversify the organization's thought leadership through effective succession planning and a mix of seasoned internal and external employees to ensure it can integrate industry best practices.
"We do these things while ensuring that we are integrating top female talent," Davis says. "I believe all supply chains should be challenged to do this, because diversity of thought and background furthers one's competitive advantage."
In fact, Coca-Cola fosters a number of female leadership programs and networks, which serve as a framework for networking, leadership development and coaching. These programs offered Davis the opportunity to interface with great leaders within Coca-Cola who provided mentorship in an extremely positive, non-gender-specific environment. These opportunities included the ability to live and work overseas, which helped accelerate her learning.
This experience has provided Davis with a great deal of insight into how to foster diversity and the role that diversity can play in building stronger organizations. For example, while supply chain remains a male-dominated area within all industries, the mentors like the ones Davis encountered are critical for diversification. She always advises her female mentees to persist with supply chain, as it is the way of the future.
Additionally, she encourages all of her protégés, regardless of gender, to be clear with their managers about their needs and expectations and to ensure they take the initiative to have this discussion with their direct managers. In conjunction with the discussion, she advises persistence in requesting that managers be clear in how they will assist in reaching professional goals.
"If you don't ask, you may never get the support or opportunities you need," she says. "I advise taking risks. If you want change and forward-leaning learning experience, don't stand and watch the fire. Jump in."
Setting the Pace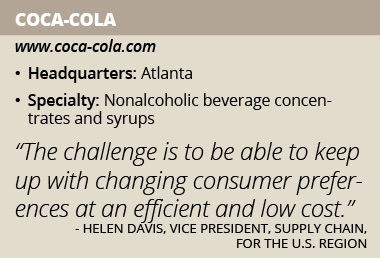 Coca-Cola understands that a challenge for all supply chains is to keep up with trends and adjust technologies and processes. The company recognizes that it is in an industrial revolution and does not want to get left behind. That is why it is doing everything from using state-of-the-art, validated modeling techniques that optimize finished product sourcing, leveraging supplier spending, sharing best practices, commercializing new products and packaging rapidly, and reinvesting in its supply chain with unanimity.
"Excelling in these areas impacts not only our gross profit margins but also our on-shelf availability, thereby positively impacting our net revenue," Davis says.
Davis says there are many different ways to optimize supply chains and that she uses highly diverse methods. For example, she has held supplier innovation days together with marketing and procurement teams to present the company's market needs. Holding these types of sessions provides unique opportunities to have its suppliers contribute to Coca-Cola's efforts to win in the market but also to present their own latest interesting innovations.
"Coca-Cola has a strong supplier relationship-management program," Davis explains. "This involves quarterly meetings with our major vendors."
In these sessions, Coca-Cola reviews supplier performance based on field feedback and develops action plans to address any issues. However, the discussions are not limited to just the supplier opportunities but also opportunities that Coca-Cola has on its side.
"For example, if we have locations not adhering to the supplier's lead-time-to-order policies or are taking too long to unload raw materials, then this is discussed at the table and an improvement plan is developed," she says.
Building on Strengths
Davis says that in addition to learning from others, there is much to learn within Coca-Cola itself. The company has formed a Global Supply Chain Council with both bottler and company participation. Its subcommittees in this organization are developed based on the company's strategy.
"Back in 2008, I designed a central portal called Supply Chain XChange, where best practices are posted," Davis says. "More importantly, if someone in our supply chain has a question, the question goes out to the field and a response usually comes back in a matter of minutes. The Coca-Cola system, including bottling partners, has more than 700,000 employees, so you can imagine the type of leverage that can be utilized through this strongly connected network."
Coca-Cola has made many key investments that have been essential to the company's strategic plans and initiatives. It has made great strides in automation to reduce costs but also increase agility and speed. These types of technologies include warehouse automation, as well as new block production lines. Investing in new technologies is an important element of Coca-Cola's strategic plans in portfolio diversification and personalization.
"As an example, everyone knows the Share a Coke promotional campaign, where names are printed on the can or label," Davis says. "We had to work with our suppliers quickly and efficiently to get into the market with a vast set of names. The success of these types of campaigns requires the company and the bottler to execute seamlessly and effectively from ideation to execution, in which supply chain plays a large role."
As the company looks forward, it sees a market that is shifting to smaller packaging within sparkling brands. Coca-Cola knows it must fulfill the market demands and increase its capacities in this space to keep up with these volume shifts. Therefore, it is crucial to use appropriate modeling programs and data to help the company shape the future of its supply chain.
"The market has shifted to an on-demand environment," Davis explains. "In the past, it was, 'I will tell you what you want.' Today, it is, 'You tell me what you want.'
"The expectation is that consumer demands are delivered with speed," she adds. "The challenge is to be able to keep up with changing consumer preferences at an efficient and low cost. I strongly believe that Coca-Cola is positioned to do just that."