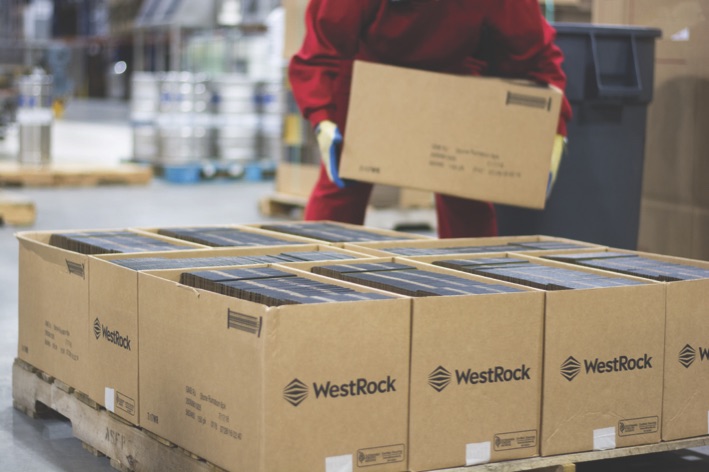 Consumer packaging leader WestRock continues to improve its relationships with suppliers as well as customers. By Jim Harris
WestRock's international footprint, experience and history of innovation have made it a go-to provider of consumer packaging to major manufacturers in a host of industries. Although the company already enjoys a market-dominant position in the products it provides, it wants to be more than just a supplier to its customers.
"We're looking to be true partners and not just have transactional relationships," says Shan Cooper, chief transformation officer for the Norcross, Ga.-headquartered company. "I really want us to be the customer of choice for our suppliers on both the logistics and the procurement side."
One recent example of the company's partnership approach is its work with Keurig Green Mountain. The beverage manufacturer and distributor was looking to better manage its folding carton inventory in the southeast United States by creating a deeper dialogue with suppliers. This included developing innovative working styles and tapping into WestRock's market knowledge, WestRock says.
Together, the two companies developed a new vendor-managed inventory program that includes embedding a WestRock account coordinator in Keurig's Knoxville production facility. In addition, WestRock and Keurig established a joint process improvement team and leveraged mutual Six Sigma black belt resources.
As a result of the companies' partnership, WestRock was able to transition items most commonly used by Keurig from a daily to a two-week production cycle. In addition, WestRock consolidated activities across multiple sites, reduced its total number of line setups, simplified SKUs and established flat pricing for Keurig regardless of volume.
"This is an example of how we are able to leverage our supply chain, procurement and logistics organizations to do business in a different and better way," Cooper says. "Going into our customers' facilities and working side-by-side with them is something we're very interested in and will continue to do."
WestRock's focus on partnering with its customers reflects its overall client strategy. "Rather than be a low-cost provider, we want to offer our customers differentiated solutions to help them be successful," she adds.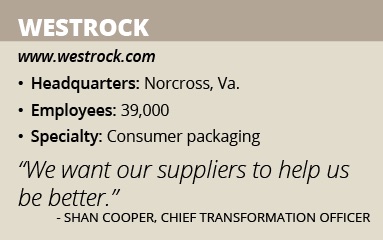 A New Vision
WestRock was created in 2015 following the merger of MeadWestvaco Corp. and Rock-Tenn Co. The company produces corrugated containers, folding cartons, paperboard and other packaging solutions to consumer markets including, beverage, commercial printing, food and foodservice, and retail.
The company operates more than 250 manufacturing facilities, design centers, research labs and sales offices around the world.
Cooper joined the company nine months ago after being personally selected for the position by CEO Steve Voorhees. "I was going to retire, but after meeting with [Voorhees] and hearing his vision for the new company, I wanted to come onboard," she says. "I think he is one of the most authentic leaders I've ever worked with."
WestRock has a goal of achieving a $1 billion cost savings between the two merged companies in the next three years. The company's supply chain and logistics organization are achieving this goal in part by establishing closer relationships with its own suppliers.
The company today works with 15,000 suppliers, a number it says it will likely reduce over the next few years. "We want to be with the best strategic suppliers and are looking for people who are willing to innovate and not just do the same-old, same old," Cooper says. "We want our suppliers to help us be better."
WestRock is strengthening its supplier relationships in part by hosting regular conferences. In September, it held its first-ever supplier summit, where it recognized and rewarded its supplier partners. The company has also hosted conferences in conjunction with industry associations including the Association of Suppliers for the Paper Industry.
Cooper credits the company's staff for its work in transforming the organization's supply chain practices. "I'm proud and excited about the talent in this organization," Cooper says. "When you first come into a company you're not sure what you're going to be faced with. I'm pleased with the level of talent we have and the expertise of our team – they know what they're doing and understand the products we make."