Unilever's supply chain transformation in North America helps it seek growth and sustainability at the same time. By Eric Slack
As the modern supply chain has changed for consumer packaged goods companies in recent years, Unilever has been one company pushing boundaries to transform its operations. Unilever sees supply chain as the company's beating heart, and it is focused on ensuring that its supply chain serves as a competitive advantage.
"Over the last five years as we've strategically shaped our portfolio, we realized that there had been under-investments in America and that transforming our supply chain infrastructure was a key component of ensuring that our supply chain is an enabler for growth," says Kees Kruythoff, president, Unilever North America.
"We have invested around $1 billion in our U.S. supply chain in manufacturing, factories, logistics and systems to make our supply chain more reliable and responsive," adds Reginaldo Ecclissato, senior vice president, Unilever Supply Chain Americas.
Fostering Growth
One of Unilever's priorities has been to accelerate growth in the U.S. To help support growth, Unilever has made investments into its North American factories to make them more reliable, building some new facilities while upgrading others. Unilever brought in updated technology that could also help the company to be more flexible in production. Additionally, it has invested in training as well as developing relationships with colleges and schools around its factories to upgrade skillsets.
"We've implemented world-class manufacturing in all of our factories in the U.S., and we've brought in best practices from around the world to help improve performance," Ecclissato says.
Investing in North American capabilities made sense for Unilever for a number of reasons. The U.S. market is actively looking to rebuild manufacturing, and this meshes with Unilever's investments into the region. Additionally, this is a large market with massive volumes, and producing domestically makes a lot of sense for Unilever's product categories while setting the company up for acquisitions, such as the acquisitions of Talenti and Seventh Generation.
"We have enough scale that it makes sense for us to produce here," Ecclissato says.
"Our focus has been on making sure our cost structure was set up to be competitive, and that we could provide better customer service, reliability and responsiveness while being able to innovate and make superior products," Kruythoff adds. At heart of our investment strategy for fostering growth has been the supply chain transformation, which led to our top ranking in Gartner's annual Supply Chain Top 25 for 2016."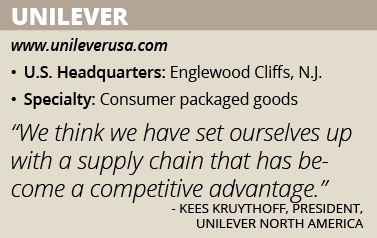 Sustainable Operations
Central to Unilever's operations – and a key aspect of the North American supply chain transformation – is the Unilever Sustainable Living Plan. It is the company's blueprint for achieving its vision to grow the business, while separating its environmental footprint from growth and increasing its positive social impact.
The three pillars of the plan are to improve health and well being, reduce environmental impact and enhance livelihoods. As it seeks to improve health and well-being, Unilever aims to help more than a billion people take action to improve their health and hygiene by 2020. Its effort to reduce the company's environmental impact centers on a goal of halving the environmental footprint of the making and use of its products as the business grows by 2030. Finally, it is focused on enhancing the livelihoods of millions of people as the business grows by 2020.
"There are obvious connections between the Sustainable Living Plan and logistics," says Wendy Herrick, vice president, Unilever United States Supply Chain – Go To Market. "For example, logistics is at the core of reducing our environmental impact. In North America, we've been ahead of our global average in that area."
Among the areas of focus is Unilever's zero-waste-to-landfill (ZWTLF) effort, an area where the company is making progress. Globally, the company committed in 2012 to achieving ZWTLF for non-hazardous waste across its global manufacturing network by 2020. In April 2013, seven years ahead of the 2020 target, Unilever North America became the first region to achieve ZWTLF across its manufacturing sites.
"We are also now working with customers, such as Kroger, on ways we can educate them on and helping their facilities to become zero-waste-to-landfill," Herrick says.
Additionally, Unilever has committed to becoming carbon positive in its operations by 2030. To do this, Unilever plans to source 100 percent of its total energy across its operations from renewable sources by 2030, source all of its electricity purchased from the grid from renewable sources by 2020 and eliminate coal from its energy mix by 2020. To achieve its target of being carbon positive by 2030, Unilever also intends to directly support the generation of more renewable energy than it consumes and make the surplus available to the markets and communities in which it operates.
"It is an ambitious area where we are looking to do things differently, stepping up with renewable energy and other opportunities that are out there to move the needle in that space," Herrick says.
Another important area is Unilever's effort to improve the lives of drivers and help to reduce the environmental impact of trucking. The company has partnered with Convoy on a multi-year trucking agreement to help advance Unilever's operations. Convoy offers guaranteed capacity and industry-leading reliability for the transport of freight by trucks, both scheduled or spot market. Unilever selected Convoy because of its commitment to superior service, driver safety and ongoing development of innovative technology solutions that streamline procurement, improve on-time delivery, empower drivers and deliver savings through operational efficiencies.
"We are very impressed with Convoy's approach to technology-enabled trucking services," Ecclissato says. "Equally as important, we share a focus on driver health and well-being. Convoy has put the driver experience at the forefront of their proposition and delivered a progressive app to address many of the long-standing issues facing the driver community. We are excited to build out this partnership."
Beyond that, Unilever piloted its Safe Haven program at its Newville, Pa., distribution center in 2015 with partners Kriska and DHL Supply Chain. Safe Haven provides safe, dedicated overnight parking at the distribution center, and it helps address the growing scarcity of available truck parking so drivers don't have to drive beyond allowable hours of service rules or park in undesignated or unsafe locations. Unilever has since made the Safe Haven program a permanent fixture at the Newville location, and it is looking to expand the program.
"We focused on making sure they were respected at our facility, and this dedicated overnight parking area allows them to optimize their time and to be safe," Herrick says.
Unilever plans to use its increased capacity to ensure growth, innovation and sustainability can continue. The transformation of its North American supply chain has been substantial, and the company has no plans to slow down."
"We think we have set ourselves up with a supply chain that has become a competitive advantage, providing flexibility in a more fragmented consumer environment," Kruythoff says.