Ransom Memorial Hospital's material management department helps the Kansas hospital meet its goal of providing excellent patient care.
By Jim Harris
As a facility that is not a part of a larger network or system, Ransom Memorial Hospital stands out in the modern healthcare world. However, the facility's lack of affiliation and relatively small size do not prevent it from giving its patients the best care possible.
"We are, as our CEO would say, a dying breed," says Emily Graves, director of materials management for the Ottawa, Kan., hospital. "By staying independent, we feel we can best adapt to our patients' needs for our specific region."
The 44-bed acute care facility offers most of the services the people in its surrounding community need, including cardiology, neurology and urology services; wound care, rehabilitation services; imaging, laboratory and pathology; maternity care and orthopedic surgery. The hospital also operates an express care clinic and cancer center, and regularly hosts visiting specialty physicians.
"We do our best to monitor what needs our community has in regards to the services we provide and make sure we remain competitive," Graves says. "I feel we are constantly changing; if we weren't, then we would be closing our doors."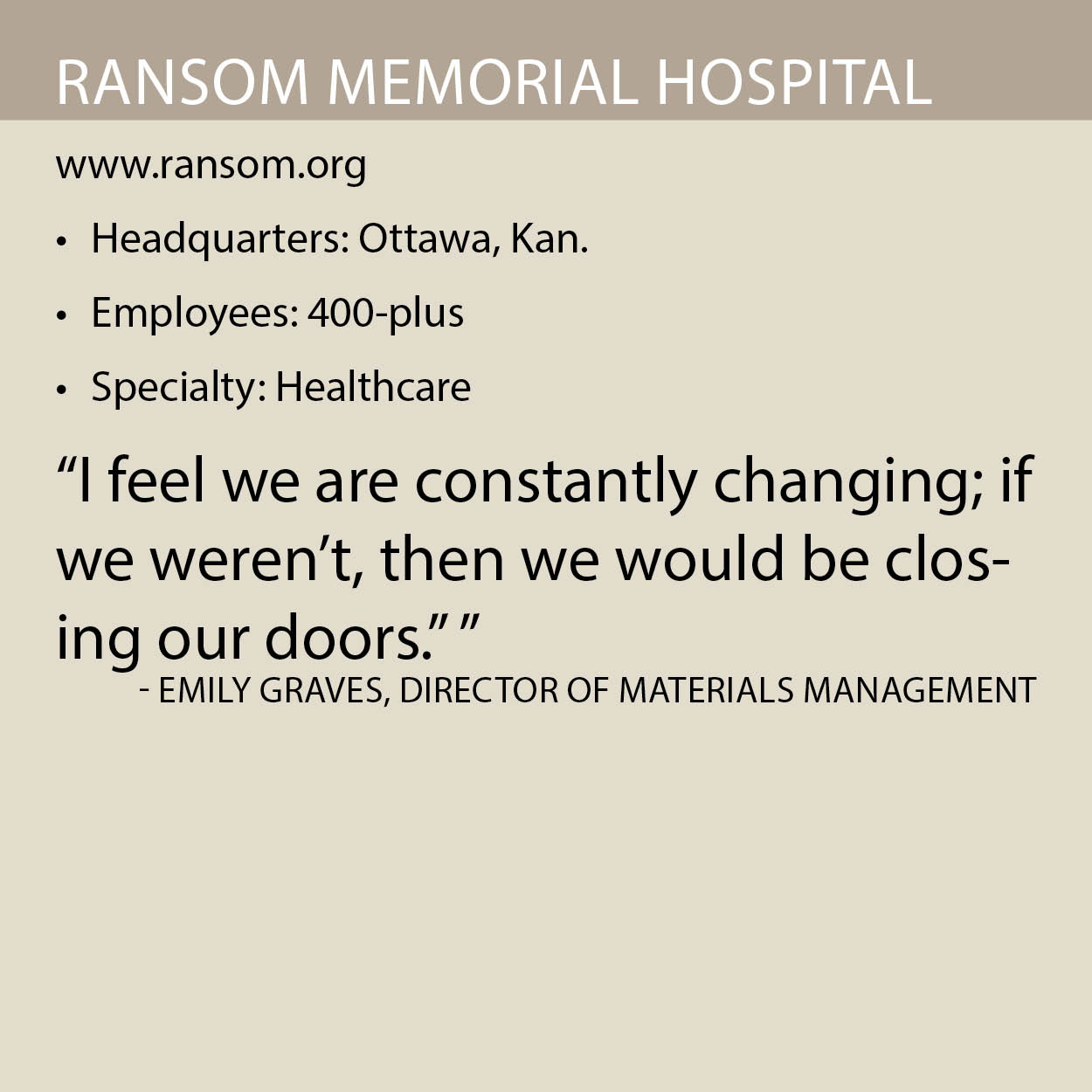 Ransom Memorial Hospital has served the area surrounding and including Kansas' Franklin County since opening its doors in 1931. "Our patients expect to receive high-quality healthcare, whether it be for themselves or for their loved ones," she adds. "They want to be seen in a timely manner by professionals who truly care about what they have going on and take ownership in helping them feel better."
Evolving Procedures
The hospital's supply chain operations play a major role in helping it live up to its motto of "Excellence, Every Patient, Every Time."
Graves has worked in the materials management department since 2012, moving up the ranks from buyer to supervisor and eventually to director. She has worked for the hospital since 2008, and has ties to it going back even further, as her mother has worked there for several years.
"When I moved into materials management, there wasn't a lot of structure or reasoning behind many of the practices in place," she says. "Inventory was managed in more of a `gut-feel' manner; whenever anyone thought the stock was low, they ordered. This led to a lot of stock on hand, out of fear of running out, and products that would expire before we could use them."
During the past year, the department has adapted a just-in-time inventory management method. This involves calculating the appropriate levels of products it stocks to ensure it has the right of amount of supplies to last four days, which is the usual length of time between major supply shipments. "This has reduced our inventory on hand by quite a bit, which in turn has reduced the expired products we have to write off on a monthly basis," Graves notes.
The hospital regularly adapts its stock to match its patients' needs. "We have recently added some new service lines and have had to purchase new products to provide these services," she adds, noting the hospital recently opened a wound care clinic. "We've had to research products, determine the best value while providing the best patient outcomes, ensure our distributor can meet our demands, sign documents to ensure the best pricing for these items and get the product on hand to meet patient demand."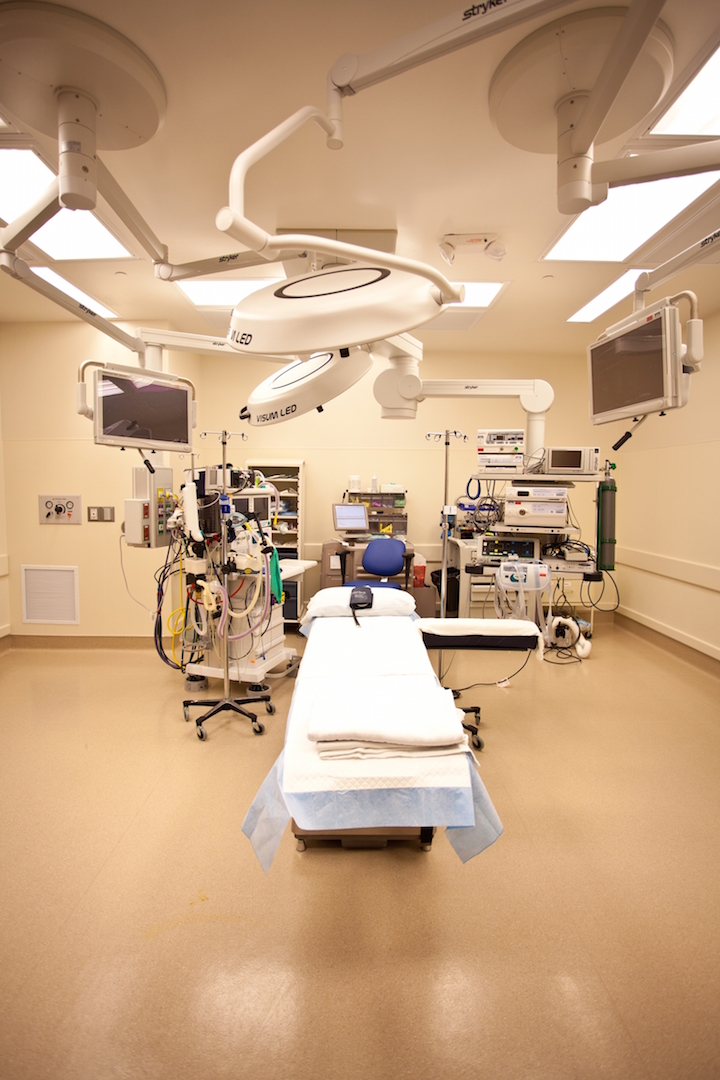 Ransom Memorial Hospital also recently reduced costs when it started using a third-party company for its freight management. "We found that companies would sometimes charge more for freight than the product was worth," Graves says. "Since we partnered with a third-party, we have seen a significant reduction on our freight costs."
Upon joining the department, Graves also noted that information and procedures were not shared evenly among staff. "There were a lot of practices and procedures that only one person knew how to do," she says. "I have since created some redundancy in knowledge among my employees in the department and have created policies and procedures that would allow it to still function if someone left our employment."
Employees are trained in most of the tasks needed to run the department. New procedures established by Graves include policies for less-frequent tasks such as year-end inventory.
Positive Growth
Continuous improvement to its materials management procedures and overall operations remains a high priority for the hospital.
"Over the past few years, I think that our organization has begun to realize how large of an impact a properly functioning supply chain can make, not only to our financials but the overall operation of the facility," Graves says. "We have been making it a priority to run more efficiently and standardize our products whenever possible, and have created better relationships with our suppliers and more strategic partnerships with our group purchasing organizations to stretch our dollar further."
Ransom Memorial Hospital's materials management and other departments will play a role in the ongoing operation of the facility's latest improvement. The hospital recently broke ground on a $7 million, roughly 16,000-square-foot emergency room that will include 12 new patient treatment rooms. "This is in response to a significant increase in our ER visits, and will really help satisfy a growing need in our immediate area," she adds.
The new ER and all other improvements to Ransom Memorial Hospital have come without compromising its most essential mission. "I am proud of the growth we have achieved without sacrificing our level of care," Graves says. "I have seen the hospital grow and change more than I could ever have imagined. We have gone through some uncertain times, and I am glad to see we have come out on the positive side of it all."