MGM Resorts International's procurement team is partnering with technology suppliers to improve the guest experience.
By Tim O'Connor
People are drawn to MGM Resorts International properties for the luxury accommodations, premium spas, world-class food and the thrill of pushing a button on a slot machine. Anything getting in the way of that enjoyment is a distraction. Even something as routine as checking in to the hotel room is wasted time. Which is why MGM Resorts, with the help of its procurement division, is focused on technologies that streamline and enhance the guest experience.
The company is rolling out mobile check-in, which allows guests to check in on their phone and pick up a key from a kiosk in the lobby. Other technologies also being looked at would allow guests to enter their rooms using a QR code or Bluetooth signal from their phones. "How do we really wow the customer and make it a much more seamless experience?" says Stacey Taylor, senior vice president and chief procurement officer for the company.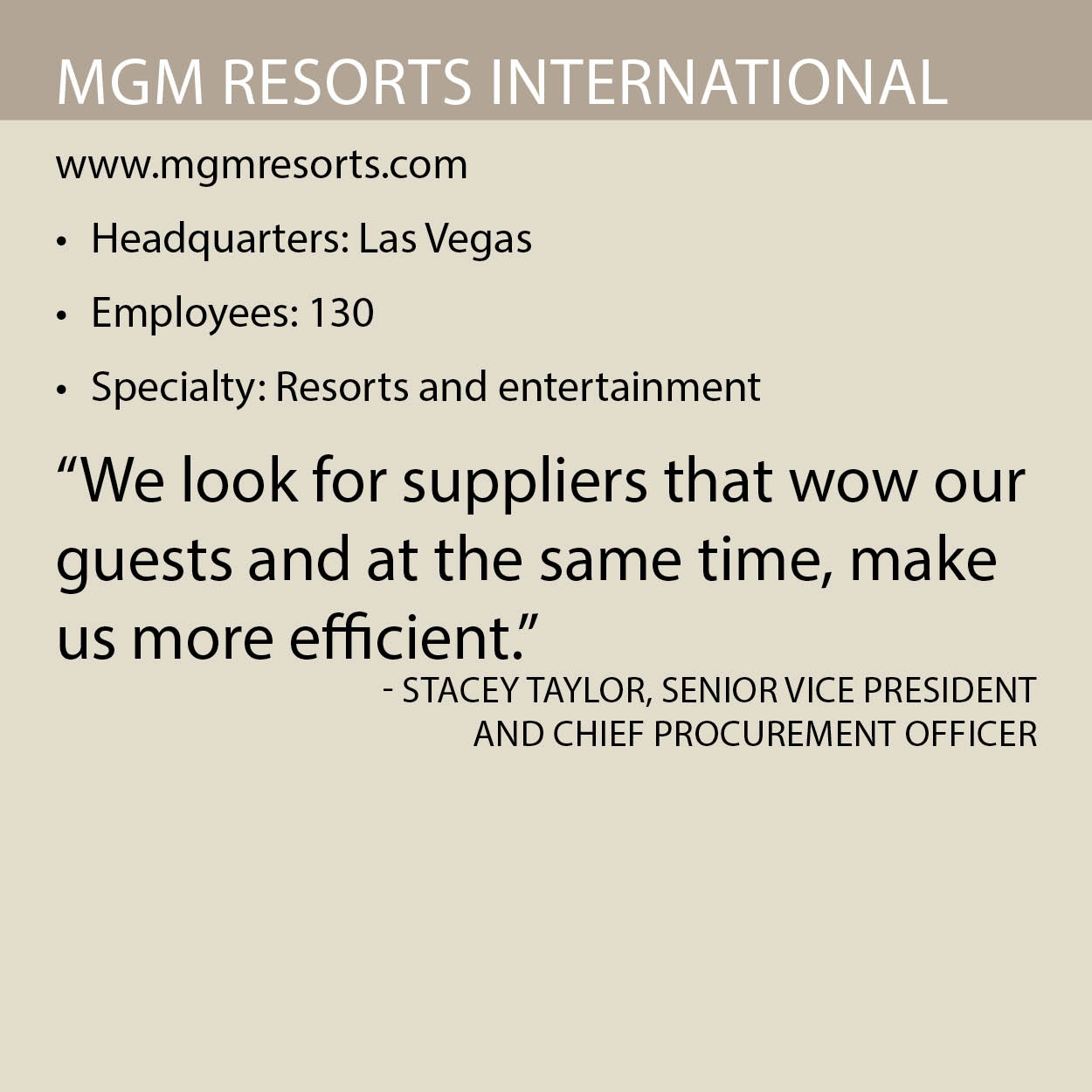 To help, MGM Resorts is looking at how geofencing can be used in combination with the mobile app to notify visitors of nearby events, restaurants or even if a blackjack table has opened up. "We want to tell them all about that without them having to seek it out," Taylor says. "And we're going to use technology to do it."
Taylor's team handles everything aside from retail and construction. That list includes furniture and fixtures; food and beverage; and operating supplies from pool supplies to thermostats and door locks, all the way to in-room amenities. Also under Taylor's purview are human resources, marketing, financial and legal services, and anything to do with technology. Additionally, her group is responsible for the company's supplier diversity programs as well as sustainable procurement practices.
The procurement division partners closely with the company's sustainability team to ensure MGM Resorts acts as a good steward of the environment. Taylor says the green effort within the company have been ongoing since at least the beginning of the century and includes recent initiatives such as a switch to all LED bulbs that was completed by the end of 2015. The conversion to LED comprised changing out 700,000 light bulbs and fixtures over a two-year process driven by the sustainability group and sourced by the procurement division.
Updating Technology
Taylor joined MGM Resorts about a year-and-a-half ago and already has seen transformations in how the company manages its supply chain. "The biggest changes that have happened since I've been here have truly been from a process and technology space," she says.
When companies find software that works they tend to stick with it as long as possible. MGM Resorts had been using the same system to manage procurement since 1983. The software received various updates over the years, but it had long passed its expected lifecycle. MGM Resorts wanted to implement programs such as catalog shopping and electronic invoice receipt.
To move forward with its procurement goals it was clear MGM Resorts needed to find a system that could support today's practices. In September, the company launched the first implementation phase of a new system from Coupa. The entire system will be rolled out over 18 months beginning with indirect purchases before being adopted by the food and beverage operations. The Coupa system is expected to enhance efficiency by automating much of the procurement process so buyers can spend more time where it counts and add value through the bidding and negotiation phases, Taylor says.
The change over to the Coupa platform requires departments to use both the new and old systems during the transition phase. Taylor says the company has embraced the switch and is managing the challenges well. Taylor acknowledges that the corporate culture is supportive of innovation and change, not just in word but in actions. "The change management culture here has really been quite good," she adds.
The new procurement technology will support other changes happening at MGM Resorts. Before Taylor arrived at the company, she says MGM Resorts was challenged due to a lack of resources in her division. Her team lacked visibility into inventory and was having trouble consolidating suppliers. Taylor helped MGM Resorts optimize its supply chain by building a project management office (PMO) team of 15 people. When the sourcing team finalizes a contract they hand it off to the PMO to ensure it is appropriately implemented across all 17 MGM Resorts properties. This ensures optimized spending and inventory management at the corporate level instead of leaving the individual properties to manage those implementations.
Allowing the individual resorts to handle their own implementation meant there was no company-wide run-out strategy for inventory, delaying the savings impact. If the company decided to switch the scent of its shampoo across all properties there had been no mechanism in place to allow for that transition, creating inefficiency in implementation, and higher cost at the supplier level.
By centralizing procurement and creating the PMO, MGM Resorts can now manage inventory between multiple properties. "Our consolidated programs give us a lot more flexibility by having things that we can share across the properties," she says.
As MGM Resorts continues to update the technology it uses to manage its supply chain, the company is discovering new ways to become more efficient. One of the next items Taylor wants to implement is a contract lifecycle management tool to automate the contracting process that will eliminate the amount of manual paperwork movement and allow for ease of internal and external collaboration over contracts, and move to digital signatures and one repository for all contracts. "This automation would be expected to dramatically change the dynamics of our daily operations," she says.
Supporting Local
Although she wants to consolidate the number of suppliers MGM Resorts works with, Taylor does not want to limit the company to working only with large vendors that can provide on a national or global level. Instead, she says suppliers don't always have to be big enough to serve all MGM Resort properties. "We are heavily vested in supporting the local supply base," Taylor adds.
"It's very important to invest in the communities in which all our employees work and live," she says. To that end, the company implemented a pilot mentorship program that matches four small Les Vegas suppliers with MGM Resorts executives. The executives – all of whom are at the vice president level or above and are not the suppliers' normal points of contact – provide introspective insight into their backgrounds to help the suppliers develop better business practices and broaden their thinking. The program also includes seminars on subjects such as human resources training, succession planning, financial reviews and talent development.
The mentor program began in October 2016 and will go through March, with graduation in April. Taylor says MGM Resorts has gotten good feedback from participants and plans to tweak the program before rolling it out to other regional markets such as Maryland and Mississippi.
Initiatives such as the mentor program highlight how MGM Resorts works to build lasting relationships with its suppliers. Having those good relationships also creates opportunities to help suppliers grow by increasing their capabilities.
Take for example the work on MGM Cotai, a new resort property in Macau, China with a 35-story tower and 600 rooms, a casino, spa and convention space. Taylor is collaborating with her colleagues in MGM Resorts' retail procurement division to identify reliable suppliers working on the Macau project who have potential to become suppliers for the company's Las Vegas resorts.
Encouraging Diversity
MGM Resorts was the first gaming company to voluntarily create a diversity initiative in 2000. The company has numerous initiatives to promote minority employees – such as sponsoring a women's leadership conference – but the commitment also extends to the businesses MGM Resorts works with. In 2003, the company adopted a policy requiring minority and women bid participation in all biddable commodity procurement contracts and purchases exceeding $1,000.
The program has been a major success, and in 2016 it ranked fifth on DiversityInc's list of Top 10 Regional Companies for diversity best practices. In 2015, MGM Resorts spent $139 million with certified minority-owned business enterprises, representing 8.5 percent of its total biddable purchases, according to MGM Resorts' 2015 Corporate Social Responsibility Report.
"A lot of companies talk about looking like their customer base and also about having diversity of thought and leadership," Taylor says. "Not all of them are very good when it comes to execution. We are very good at execution."
The procurement team has a supplier diversity team whose jobs are dedicated to co-hosting events with local organizations to find minority vendors and connect them with the appropriate sourcing manager for upcoming opportunities to bid. Diversity efforts and supplier outreach may tie into the company's corporate social responsibility goals, but by broadening its vision MGM Resorts ultimately finds partners that are innovating and advancing the guest experience. "We look for suppliers that "wow" our guests and at the same time, make us more efficient," Taylor says.