The materials team at Kansas Medical Center provides procurement support to the hospital's off-site clinic partners.
By Tim O'Connor
A group of physicians founded Kansas Medical Center in 2006 to provide the best care for patients without the interference of corporate oversight. "Our physicians really have that direct patient care because they're not trying to hit specific numbers," Materials Manager Amy Henning says. "They can be truly patient-focused and not worry about changes in administration."
Physician-owned-Kansas Medical Center is not limited by corporate agreements that dictate what suppliers it can buy from. The hospital, located in Andover, Kan., is free to cater to doctor preferences for equipment and medications. If a physician finds something that worked for them at another facility Kansas Medical Center usually has no problem procuring it.
Henning has served as the materials manager at the hospital for two years, but her history with Kansas Medical Center dates back a decade. Henning originally joined the hospital in 2007 as a materials handling tech. In 2009, she left to take a materials manager position at a local surgery center but was lured back to Kansas Medical Center at the start of 2015.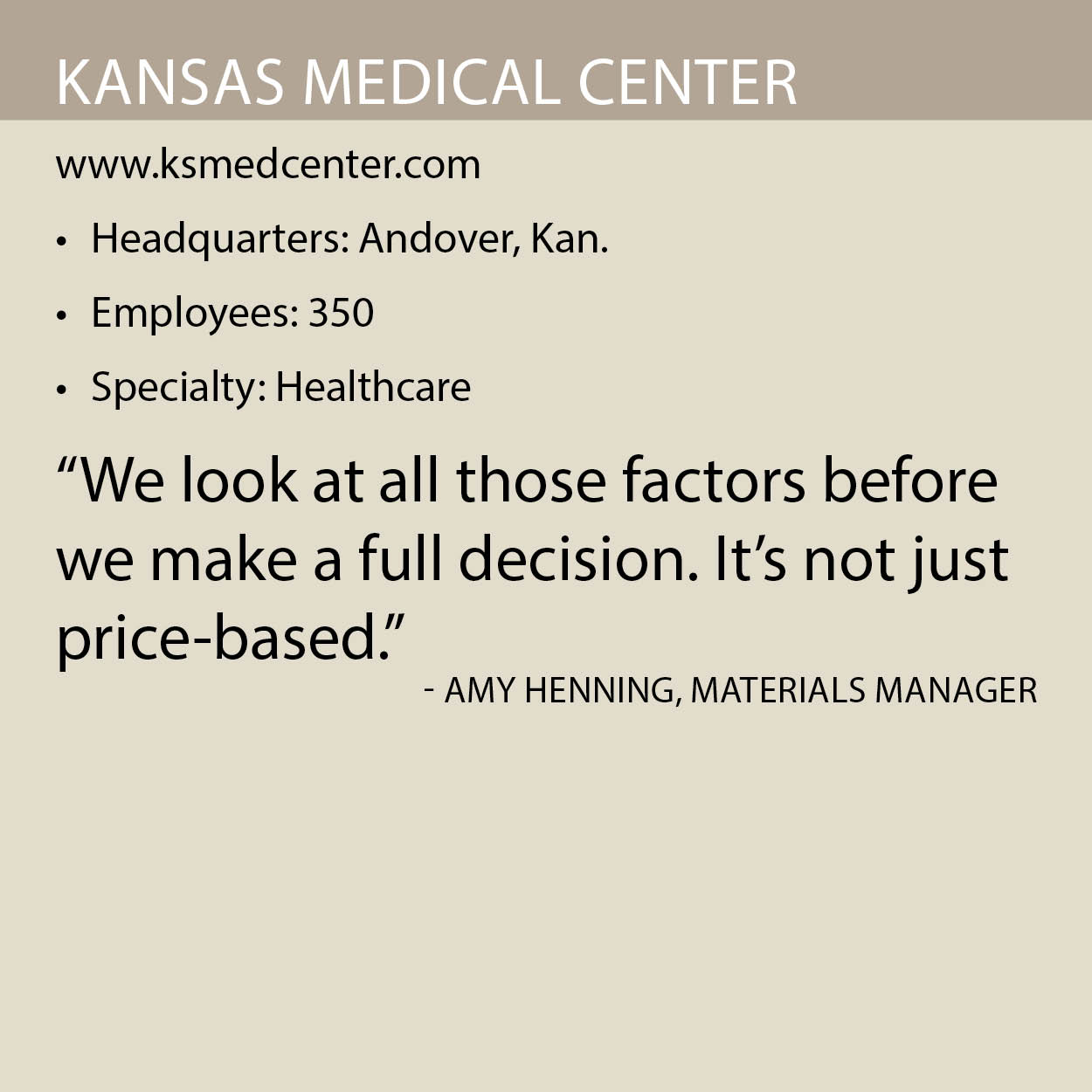 During her time away, the hospital advanced its technology with equipment such as a da Vinci surgical system, which gives surgeons a 3-D view inside the patient and enables them to make more precise movements. But the organization itself remained unchanged. "That's one of the things about being physician owned, we don't see a lot of huge swings in functionality," she says.
Expanding Role
Kansas Medical Center is a small organization – the hospital has only 60 beds – so it must be efficient in every way. The supply chain team consists of two people – Henning and a materials handling tech – who are responsible for nearly all of the hospital's contracts, ordering and dispensing of products to their stations. Only the hospital's catheterization laboratory and operating room departments manage their own supplies due to their large sizes.
Because of the materials department's limited manpower, other departments must be willing to help out with supply chain work or data entry from time to time. "It can be overwhelming," Henning says. "Thankfully we are so integrated within ourselves that if things are getting a little behind tasks there are other people I can ask to help me."
The materials team's role is expanding beyond the hospital. In the past year, several physicians clinics asked to become an extension of Kansas Medical Center. Henning and her assistant now manage the ordering for those off-site clinics. "Physicians offices have some unique items different from a hospital, so I'm learning more about that," she says.
To better accommodate the off-site clinics, Kansas Medical Group is inking agreements with medical suppliers such as Henry Schein to act as the distributor for those locations. Clinics will be able to order supplies on their own, but Henning will still have to approve the purchases. Any questions a clinic physician has regarding product information will still go through her office.
Prioritizing Efficiency
Kansas Medical Center is a relatively young organization, but Henning has found instances where equipment was out of date. The hospital's deep vein thrombosis (DVT) prevention devices have been in use for 10 years, for example. Past materials managers had not considered alternative equipment, so when the DVT devices came up for renewal again Henning deferred to the hospital's new model for review, which requires it to consider multiple manufacturers.
Instead of simply sticking with the same equipment, she identified potential devices from three different manufacturers and worked with doctors and nurses to set up a weeklong trial for each candidate. Nurses used the devices and completed an evaluation form that rated a device's performance, how patients liked it and its ease of use. "We look at all those factors before we make a full decision," Henning says. "It's not just price-based."
Once the hospital has chosen a product, it needs to determine how to distribute it throughout the building. Most items are kept in the central supply area where Henning's office is located, and nursing stations also maintain an inventory of high-use products.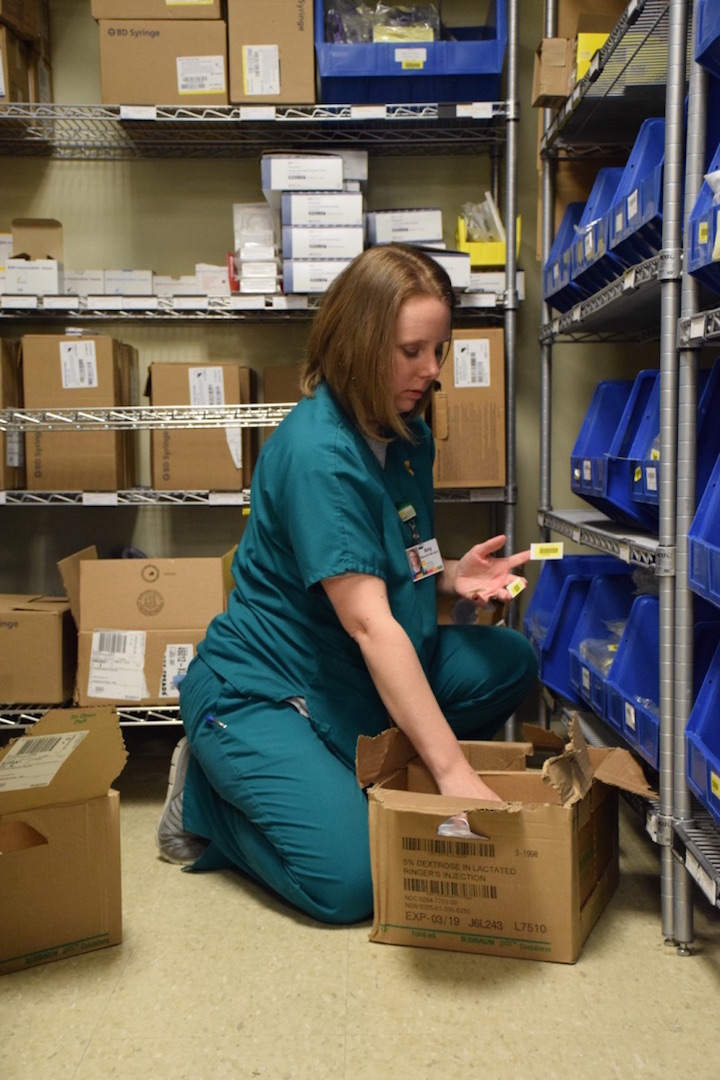 Last summer, the hospital changed its approach to give each nursing area more ownership over its stock. Nurses now must submit an inventory list to materials management every day and their stocks are refilled from the central location. The method ensures that nurses always have what they need on hand. "If they run out of a high-use fluid they know they have some back up on the floor instead of running to my office every time," Henning says. "It keeps them closer to their patients."
Henning sees opportunities to make Kansas Medical Center's supply chain even more efficient. She has already put a larger focus on maintaining target levels of stock and working with the hospital's group purchasing organization, Vizient, to improve its buying power and secure discounts. Those efforts resulted in $75,000 in reduced spending last year, even as the hospital partnered with off-site clinics.
That eye for efficiency will remain critical as Kansas Medical Center looks for other ways to expand its footprint. The organization is partnering with an emergency physicians group to build an off-site ER. Construction is expected to begin in Q1 of this year but the facility likely will not open until Q2 2018.
Henning and her assistant will work with both groups to secure all the equipment for the emergency room. "I'm looking forward to seeing what that does [for the hospital]," she says.