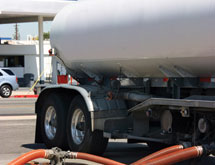 The world of fuel retail harkens back to the demanding days of living in the wild, wild West. It takes a hardy bunch with real grit to overcome the difficult and volatile conditions they encounter with fuel. Dramatic price swings, bad weather, intense competition, shifting demand and unanticipated events affect the survival of the retail station and ultimately the profitability of the chain.
Like life in the Western frontier, bringing order requires visibility into conditions that can affect fuel retail success, the ability to impose a set of rules that achieve business goals, and ultimately a strong measure of determination as every day presents a new set of challenges. For fuel retailers to gain better control over their part of a volatile supply chain, it means real-time fuel management software and services. This approach gives businesses the ability to anticipate business-impacting problems and take remediating actions before they become expensive ones. In fact, automation can enable businesses to turn volatility into a competitive advantage in the market.
Weighing the Variables
Dramatic changes in fuel prices are the new norm for retailers. Since 2004, the odds of seeing a price swing of 3 cents or more is nearly 50 percent and 5 cents or more 25 percent. In years prior, the odds were 6 percent and 1.5 percent respectively. This increased volatility can have a significant impact in terms of margin and requires a best-practice, technology-driven approach to fuel buying.
Weather and traffic can wreak havoc on both supply and demand. Inclement weather and traffic delays resulting from rush hour, accidents, or special events can hamper the ability for fuel to be delivered on time. They also can cause typical demand patterns to change impacting replenishment plans, volumetric and revenue goals, and resulting inside store foot traffic and sales.
Mechanical problems Ð either at the station or with delivery trucks – or mistakes, such as ill-timed deliveries or fuel dropped in the wrong tank, can result in stations running out of gas sooner than expected, not having enough room in a tank to accept a full order, or shutting down the pumps while fuel tanks are emptied and subsequently cleaned due to cross-product contamination.
Needless to say, for people who manage tens or hundreds of stations, and do so from a centralized location, it is difficult to take into account and adjust to the myriad of factors that could be playing into the day-to-day – or even minute-to-minute – operations at a single location. Part of the problem stems from the fact that many individuals who are in charge of fuel replenishment and pricing for retail gas stations are still using manual processes and spreadsheets to drive decisions and manage the supply chain.
For example, buying fuel at the best price requires a diversified portfolio of suppliers and carriers and a mechanism to forecast demand across a network of stations Ð each with unique replenishment requirements. In addition, buyers need to evaluate quickly sometimes hundreds of supply options with different terms, as well as freight and tax implications across existing supply contracts and a spot market. Spreadsheets and heuristics tend to fall short when faced with this complexity.
It doesn't end here though. Once orders are made, there is a window of 24 to 72 hours typically where even the best laid plans can go awry. Real-time telemetry on whether order plans continue to meet retail site needs is operationally critical. Once the fuel has been received, monitoring for margin-impacting events such as theft, leaks, inaccurate dispensing, and more are the final steps to gaining predictability and control.
Even pricing at the pump requires operational attention. Retailers have a process and tools to set pump prices for each store location, but the trick is making sure those prices are implemented in a timely fashion and those conditions on the ground – such as mid-day price changes from local competition – are evaluated against pricing directives.
Gaining a Competitive Edge
There are several problems with outdated methods of managing fuel replenishment and pricing. They lack real-time visibility into site-specific or unanticipated variables that could impact supply and demand. And they are not robust enough to enable operations personnel to turn on a dime, adjust plans when change is required, and determine if the plan is profitable.
So, how are companies – both large and small – at the edge of the supply chain able to manage all the moving parts and still remain ahead of the competition at the end of the day? The key for many of these buyers is fuel management software that enables them to optimize their plans in real time and have control up to the minute that fuel is consumed or sold.
These sophisticated software solutions provide improved visibility and control, giving insights into local weather and traffic patterns, analyzing inventory trends, and projecting when fuel will need to be replenished. With this information in hand, businesses can determine if their management and pricing plans are working or need to be altered on the fly.
Greater visibility at the frontier of the supply chain also enables users of fuel management software to better understand their profit margins. Typically this information is difficult to ascertain quickly because volatile fuel prices, greater supply optionality, and financial accounting timing mean the true cost of fuel is often not readily known. In fact, it could take as long as a month to determine if the business made money or not on fuel.
Fuel management software can provide profit analysis, which gives operators a real-time view into their volume, revenue, and margins enabling them to refine pricing decisions, seek better deals on fuel from suppliers, and ensure their inventory is properly managed to maximize profitability and gain a competitive edge. Some companies using fuel management solutions report that they have been able to save as much as 6 cents per gallon, compared to using manual processes and educated guesses about factors impacting supply and demand.
With the proper tools in place, business of any size at the frontier of the fuel supply chain can benefit from real-time optimization – gaining a needed advantage and more visibility into all factors impacting their operations, and ultimately improving their profitability in a highly competitive market. With fuel management automation, business can better regulate and tame the wild, wild West of the retail fuel market.
David Zahn is vice president of marketing for FuelQuest, which focuses on reducing the cost of procuring and managing fuel for retail, fleet and transportation companies through technology-based solutions. For more information, visit www.fuelquest.com.