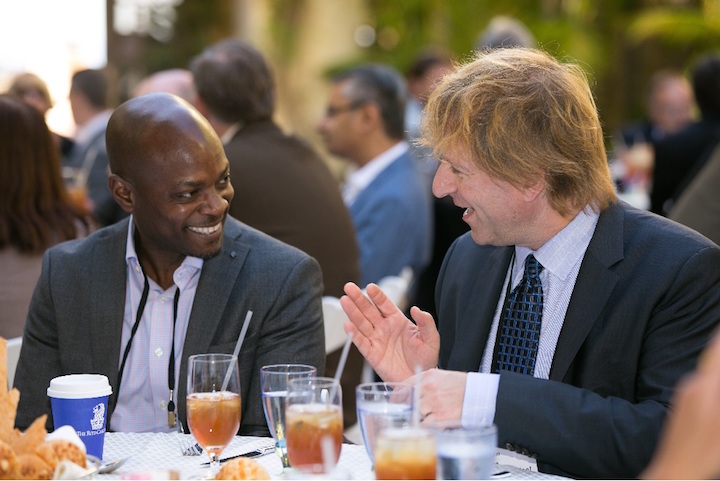 The LogiMed Conference Heads to Austin in the Midst of an Unpredictable New Year
As 2017 begins, a global environment of unpredictability combined with a need for savings on the part of medical device manufacturers places an even higher premium on the unique learning opportunities present at LogiMed, taking place March 7 – 9 at the gorgeous Hyatt Regency Lost Pines Resort and Spa, Austin, Texas.
The supply chain is often regarded as a prime area for reducing overhead when businesses are under pressure to become leaner. For medical device manufacturers, a host of technologies and strategies are being rolled out in order to uphold the goal of patient satisfaction while protecting margins. The challenges of balancing these two critical priorities aren't easily overcome; in order to build the lean efficiencies that top healthcare businesses need, executives need to cast a wide net for information and stay on top of developing solutions.
To meet this need, the LogiMed conference convened for the first time in Europe in 2011. Today the event has grown into the premier forum for sharing expertise among executives in the medical device logistics industry. In 2017, changes to the political landscape, and to the conference itself, promise to make this year's event a vital part of the calendar as businesses orient themselves in a suddenly much less predictable healthcare environment. By overwhelming popular vote, last year's conference attendees selected Austin as their venue of choice for this year's event. With the advantage of a central location nationally, it provides an opportunity for the best and brightest from both coasts to enjoy the relaxed, intimate networking that is the calling card of the LogiMed series. Austin, known as a culturally rich crossroads of Texas tradition and cutting edge artistic expression holds a symbolic meaning in 2017 as well, the perfect city for a conference that will take place during what is already a historically unpredictable year.
While due to the ongoing presidential transition, the fate of the Affordable Care Act hangs in the balance, medical device logistics as an industry has already had to react to the forces brought about by this legislation on the market. According to benchmarking data gathered from the attendees at last year's conference, in 2016, 58 percent of medical device supply chains were facing pressure to reduce costs as a direct result of the ACA. In response to that pressure, many supply chain executives have already adopted shared warehousing or 3PLs in their search to cut costs, while exploring the benefits of stronger ERP software and tools for optimizing product lifecycle management. Technology for lean supply chain management has been far from static. In response to the market, new solutions are continuing to build efficiencies and offer increased visibility into product movements and inventory, and the latest will be on display in Austin this March.
Even in the event that the ACA is repealed, medical device manufacturers have entered an era of lean supply chain as the gold standard and other forces will continue to push the need for savings. On Dec. 5, 2012, the IRS and the Department of the Treasury issued final regulations on the new 2.3 percent medical device excise tax that manufacturers and importers began to pay on their sales of certain medical devices. A moratorium was issued and the medical device excise tax does not apply to the sale of a taxable medical device by the manufacturer, producer, or importer of the device during the period beginning on Jan. 1, 2016, and ending on Dec. 31, 2017. The supply chain is seen as a point of major opportunity to conserve costs once this tax hits, adding another layer of sensitivity to an already acute focus on value and efficiency.
Beyond legislative forces, activity within the healthcare market itself has demanded a response from supply chain managers. Mergers and acquisitions are increasingly common, with 3PL providers and manufacturers alike consolidating with their competition in an attempt to leverage shared resources and dominate market share. Partly, this trend is influenced by the need to expand into new markets. By absorbing complementary businesses, major companies can better position themselves to penetrate beyond their home markets by coopting toeholds as well as in-house expertise. That stated, M & A activity could add another unpredictable variable to the efforts of logistics managers. Breaking down the strategic silos between different corporate entities and forging them into single, optimized approach to global supply chain is no easy task. Acquiring even a small business and bringing its operations into the fold can necessitate reworking their supply chain practices from the ground up. When that is added on top of the already difficult task of keeping up to date with geopolitical realities, regulatory demand and patient expectations, visibility into a consolidated source of truth becomes a must-have for success.
The future is unclear, and with healthcare a top concern on the national and global stage, medical device supply chain managers would be wise to leverage their collective experiences. By attending LogiMed this March 7-9, you'll be putting yourself in the midst of the brightest minds in the industry, not to mention taking a golden opportunity to enjoy the best the Southwest has to offer. Learn more about the event and visit logimedusa.wbresearch.com/agenda to check out the world-class speakers and entertainment we've set up so far.