Best Western's Canadian Supply and Studio Design group helps shape the hotel company's seven distinct brands.
By Tim O'Connor
Every year, Best Western® Hotels & Resorts holds a convention for its North American members as well as a Global Conference for its international offices. During these events, attendees have the opportunity to meet with a diverse array of global suppliers.
Priscilla Nesbitt, director of Supply and Studio Design for Best Western's Canadian market, has made it part of her mission to promote and endorse suppliers from all across Canada and ensure adequate representation at Best Western's events. These efforts are to enhance support for Canadian members by providing them with increased options and to conduct business in Canadian currency.
The result of that effort is best represented at the Annual North American Conference, which now includes about 40 Canadian companies annually. "I try to make sure the offering I have for the Canadian members is equal to the U.S.," Nesbitt says. "Although we have a smaller portion of hotels, I want to ensure Canadian members have a wide variety of local suppliers to choose from."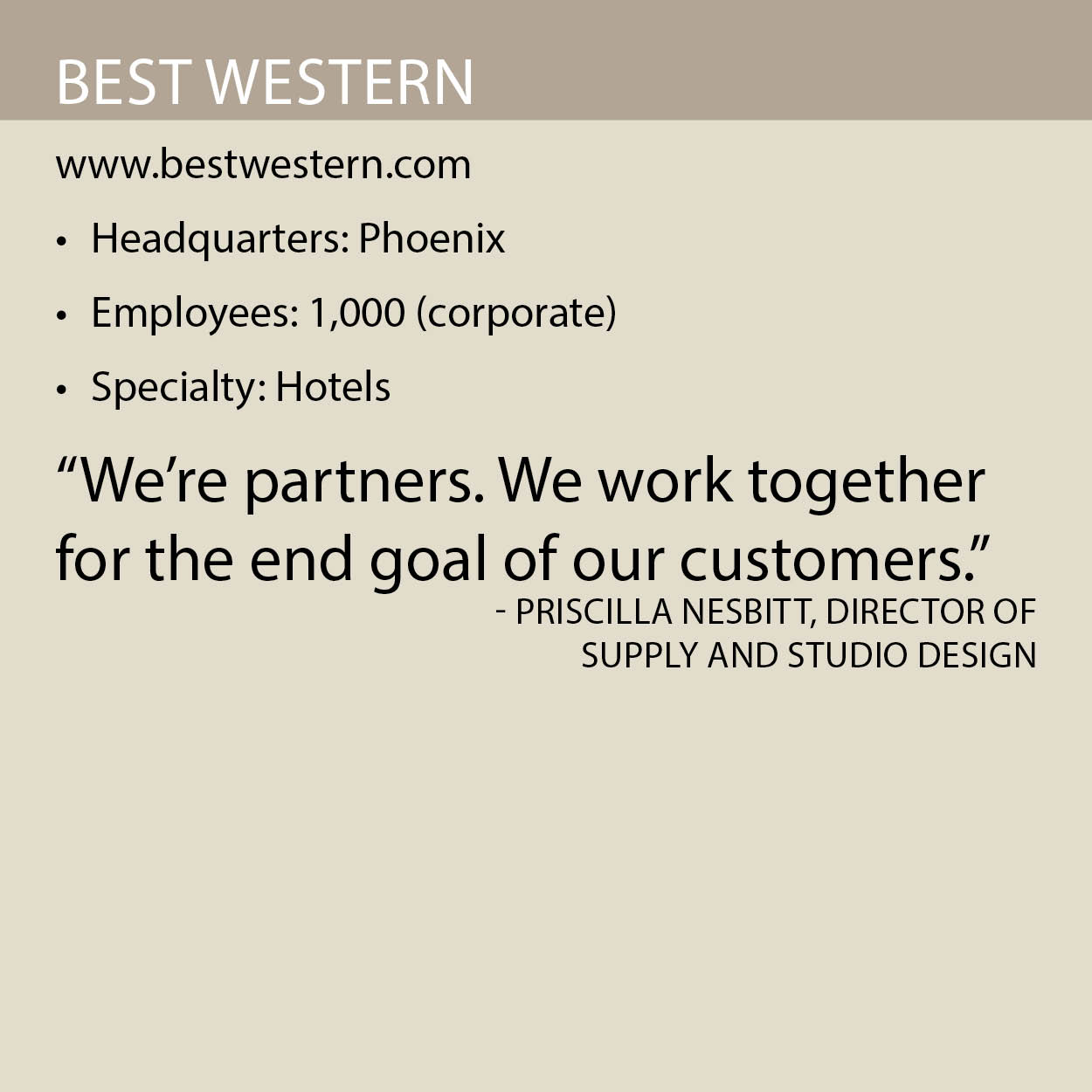 Having a strong local supplier base is about more than Canadian pride: It's a necessity for the world's second-largest country by land area – a nation where natural geography and climate differences create semi-isolated regions. Best Western is committed to balancing the need for a robust supplier base with its ability to give each vendor enough business to foster loyalty. And Nesbitt is hard at work to ensure this balance.
"With the size of Canada, you can't have one supplier for everything," Nesbitt says. "I try to make sure I don't have more than three suppliers in any one category. For me, I work for my suppliers as much as the hotels. So I can't have 100 suppliers competing for one product because it diminishes the value of the relationships."
Setting Standards
When Nesbitt joined the company as a supply manager in 1998, it was made up of only one type of hotel brand: Best Western®. Since then, the company has expanded to seven hotel brands: Best Western, Best Western Plus®, Best Western Premier®, V?b®, Gl?®, Executive Residency by Best Western® and BW Premier Collection®.
The growth of the Best Western family of brands has been the most significant change Nesbitt has seen for the supply chain in her nearly 20 years with the company. "It gives you more buying power because you have different brands to purchase for," she says. "It's a little more difficult because you need to know the standards for seven brands instead of one."
The nine members of Nesbitt's Supply and Studio Design team support about 200 hotels in Canada by procuring food and beverage items, and furniture, fixtures and equipment. The group also offers design services. "Our customers are our member hotels," Nesbitt says. "They expect us to work on their behalf to ensure that they have the tools to meet their customers' needs, assist them with meeting our brand standards and connect them to suppliers that offer approved products for their specific brand level."
The overall concepts for new brands are developed at the executive level, but it's the Supply and Studio Design department that finds the finishes and design elements that fit the desired image. V?b, for example, caters to the connected traveler that appreciates technology integration. Reusing the basic showerheads found in a brand such as Best Western for Vib's bathrooms would not fit the concept for the ultra-stylish hotel.
Standardization around those items is vital for the consistency of each brand. A guest who prefers staying at Best Western Plus should have the same experience in Calgary, Alberta, as in Toronto. "Based on what suppliers tell me, we're very particular with exactly what is required," Nesbitt says. "We're able to tell the suppliers, 'These are the standards you have to meet.'"
Members can also go above those standards to address the norms of their markets, but each Best Western and Best Western Plus must still use 6-ounce, 100 percent polyester top covers on every bed. "There are various items like that we specify that there's no flexibility," Nesbitt explains.
The Supply and Studio Design division is constantly seeking ways to elevate those standards. Two years ago, the team assisted in tackling breakfast. At the time, properties had to offer a basic breakfast of cereals and a few other items but guests were asking for more options.
The Supply and Studio Design team worked with regional services and developed eight different build-your-own-breakfast programs that allowed guests to make a breakfast sandwich, oatmeal bowl, waffles, french toast, pancake stack, omelet or yogurt parfait. Hotels had to select at least two of those build-your-own options and implement a grab-and-go breakfast that offered guests in a rush a bag packed with a drink, fruit and energy bar.
Building Relationships
Best Western engages its suppliers to support its standardization goals. "We're partners. We work together for the end goal of our customers," says Priscilla Nesbitt, director of Supply and Studio Design. "When we are doing research on a product we meet with our suppliers and get their input on what the industry is looking at."