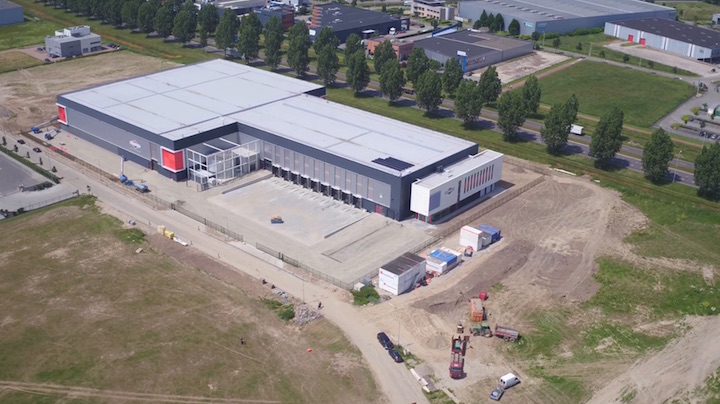 Briggs & Stratton achieves the best on-time fill rates because of its proactive, agile supply chain and a team that embeds itself in every part of the business.
By Janice Hoppe-Spiers
Tim Wild was introduced to Briggs & Stratton's small gas engines at just 10 years old when he began mowing his family's lawn. Today, he is the company's vice president of global supply chain and confidently fulfills each order with products that are engineered to "last."
"Right there on the top of the lawnmower was a Briggs & Stratton engine and that lawnmower engine still runs today," Wild says. "We have the highest-quality products and we have the best on-time order fill percentage, which holds steady at or near 100 percent. Quality, innovation, broad product lines and supply chain agility is our secret sauce."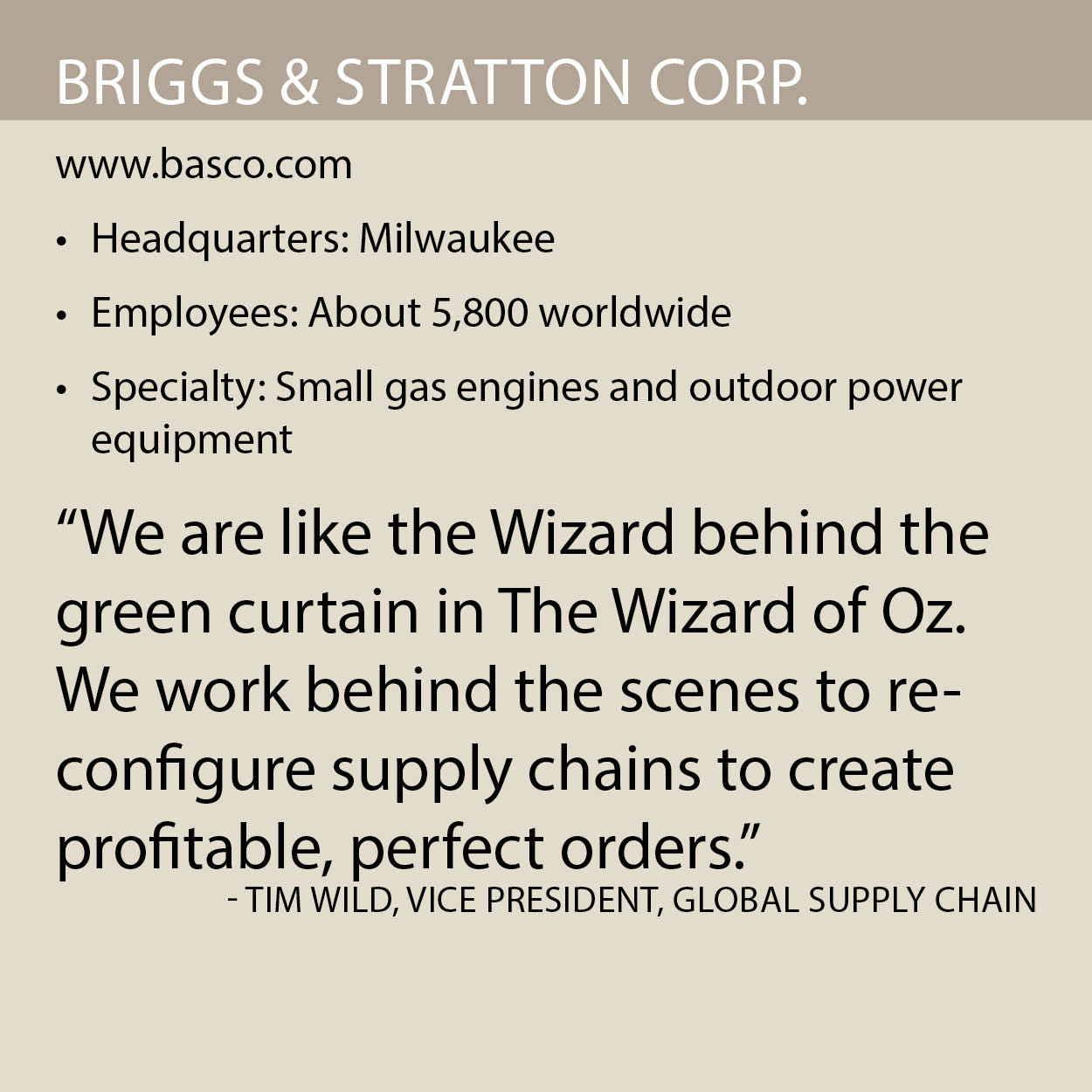 In 1908, inventor Stephen F. Briggs and investor Harold M. Stratton formed an informal partnership. The partnership developed into Briggs & Stratton by 1920, providing power for agricultural and military applications. More than 30 years later, the company developed the first lightweight aluminum engine and revolutionized the lawn and garden industry.
Between 1960 and 1980, suburbs around the country began to flourish and lawnmowers powered by Briggs & Stratton engines became a must-have. Innovation continued as the company developed Easy-Spin® starting, Lo-Tone Mufflers and an automatic choke.
Briggs & Stratton continues to develop new products and acquire companies that allow it to expand its product lines even further. Recently, the company organized into four business verticals: Global Engines and Power, Global Turf & Consumer Products, Global Standby & Job Site Products and Global Support.
Three years ago, Briggs & Stratton acquired Holdrege, Neb.-based Allmand Bros., a leading designer and manufacturer of high-quality towable light towers, industrial heaters and solar LED arrowboards. "It made sense for us because Briggs & Stratton is a provider of power. There are many synergies across power applications and operations," Wild explains.
In 2015, Briggs & Stratton acquired Lee's Summit, Mo.-based Billy Goat Industries, a leading manufacturer of specialty turf equipment including aerators, sod cutters, overseeders, power rakes, brush cutters, walk-behind blowers, lawn vacuums and debris loaders.
The acquisitions resulted in Briggs & Stratton's Standby & Job Site vertical, featuring large generators that power all the electricity to either a home or light commercial business in the event of an outage. "These are all opportunities to diversify the business. Again, these are opportunities to exploit synergies across power applications and products," Wild adds.
Today, Briggs & Stratton serves mass retail, original equipment manufacturers, dealers and e-retail customer channels. "We have more than 40,000 service dealers worldwide," Wild notes.
Integrated Business Planning
Several years ago, Briggs & Stratton adopted a demand-driven supply chain strategy. Although the company has a track record of excellence in customer satisfaction bolstered by industry best fill rates, there were opportunities to optimize inventory and cost/efficiency in balance with agility and responsiveness.
The essence of Integrated Business Planning (IBP) is to harmonize people, process and technology with the goal of matching supply with demand. The cornerstones of IBP are talented planners who excel in statistics and modeling, a planning process and a software application that creates planning scenarios. "We have a three-phase business process that spans a 24-month planning horizon," Wild says.
The first phase focuses on the long-term from four to 24 months. "Sales gets the best information from our customers, market intelligence, our competition and really from any data source we can pick up from," Wild says. "If we believe this is the truth as we know it from the demand signal, we go to our more than 5,000 suppliers and own manufacturing plants to ask, 'Do you have the capacity in terms of people, tooling and raw materials to build our demand plan?'"
Briggs & Stratton's goal at this stage is to identify constraints early enough to develop and execute action plans to remedy future obstacles. "The goal is to have a long-term view and eliminate supply chain risk in terms of what customers need from us for the next two years," Wild says.
Another important process in the first phase is to reconcile supply and demand plans with annual financial plans, which is evaluated and presented at a monthly management business review meeting with the division president.
The second phase of planning focuses on the one to 90-day planning horizon called Sales & Operations Execution. This process focuses on near-term events, constraints and other trends that were not reflected in the four- to 24-month plan.
"Sometimes logistic providers have driver shortages or a quality issue occurs because a tool fails or a hurricane interrupts port operations along a coast," Wild explains. "We talk about all the short-term issues that could interrupt our supply chains, from the supplier to the plant to the warehouse and to the customer, and develop action plans to resolve them. We never lose focus on the 100 percent on-time fill rate differentiator."
Briggs & Stratton's third phase in the planning process is a daily operations meeting where the supply chain team is briefed on everything that has happened in the past 24 hours. For example, the team will check fill rate percentages for all customer orders, new demand and new operational issues, as well as review key metrics that serve as leading indicators. "It's all about maintaining situation awareness and putting ourselves in a position to be proactive," Wild says.
The company's integrated business planning program allows it to tackle long and short lead times based on demand. "For example, it is typical for Briggs & Stratton customers to place orders six months in advance of delivery because this order flows through the process hands-free," Wild says. "Everyone in the supply chain executes standard tasks in the order to cash process without deviation. This order will be 100 percent on-time, in full. It's the perfect order."
On the other hand, the spring and summer seasons and associated weather patterns create circumstances for more challenging orders. For example, Briggs & Stratton knows it will receive short lead time orders for engines based on when the season breaks. "A short fuse order can stress our supply chain, but we manage it by taking advantage of our U.S. footprint to rapidly meet customer demand. Usually, the culprit is a long lead-time component. This is why we review demand history at the component level and why we have a plan for every part. In these cases, we invest in the right amount of component buffer stock as a hedge against extreme demand variation," Wild says. "It's the science of supply chain that makes it all work. We love any order – big or small."
Professional Development
Managing talent in the supply chain is one of Wild's biggest challenges. "How do you motivate professionals, keep them competitive and satisfy their expectations while meeting the needs of the business?" Wild asks. "How do you prevent a person or an entire workforce from becoming complacent and sucked into a routine where months and years tick by until suddenly folks are five years older and less competitive than their peers outside the company?"
Wild's solution was to develop a professional development and leadership program for the supply chain team to ensure each person is in the best possible place to reach their full potential in their career and life. Professional development means continuous learning, gaining contemporary skills and maturing individual emotional intelligence. The goal is to create a "top two" resume.
"I hire a lot of people. Usually, I get a stack of 30 to 50 resumes to work through. I narrow it down to the top two and they get the call for an interview," Wild says. "You have to keep looking at your resume to be sure you are doing something professionally in order to get to the next level. Maybe go back to school for an MBA or APICs certification. Or go get experience in another department. I require that everyone has an individual development plan and they are working on something to make their resume of the 'top two.'"
In terms of personal development, Wild wants to see everyone "be the best person they can be" by participating in Briggs & Stratton's wellness program. The company provides a free annual physical and biometric screening to all employees and gives a $400 bonus for participating. "I've encouraged our entire team to take advantage of this great benefit. Why wouldn't you take a free-of-charge physical and walk away with $400?" Wild asks. "I believe you were given three things for free in this world when you were born, your mind, your body and a soul. It's up to you to take care of them."
Other key pieces of this program provide each person a mentor, access to a full supply chain curriculum and courses for self-paced education and Briggs & Stratton performance management system. Every employee in the supply chain has goals supported by metrics and they receive mid-year and annual reviews.
All supply chain managers and supervisors have a personal performance goal to conduct 100 percent of mid-year and year-end reviews on time. "I believe it sends a strong message when a manager delivers quality feedback on time. On the other hand, a late review indicates other things are more important. How can leaders ask for and expect stretch performance, innovation and excellence and then at the same time miss reciprocal commitments to employees? I believe these little misses erode trust and motivation over the long haul," Wild says.
Paperless Supply Chain
Moving forward, Wild's vision is to achieve a paperless supply chain at Briggs & Stratton that operates and executes in real-time. The goal is to create a supply chain control tower with global visibility. "When I arrive each morning, I want to walk into an operations center and be able to see real-time key performance indicators updating in real time, weather maps, port congestion, container and rail cars with customer orders and inventory positioning as examples. I'd like to leave the morning meeting with a clear sense of risk and how our global supply chain is operating," Wild says.
The other key point is the need for efficient back office operations with over 5,000 suppliers. The linchpin of supply chain execution is an affordable and capable supply chain technology roadmap. Wild believes that Briggs & Stratton needs to be easy to do business with.
Often, companies think about this concept in terms of customers but not suppliers. Wild comments, "Our supply chains extend outside our company back to suppliers. We have to provide intuitive, easy to use, web-based processes that allow for a paperless transaction environment. We have to shift work away from chasing transactions and fixing errors to more time spent on value added interactions with suppliers. Discussions should be on innovation rather than chasing down purchase orders, invoices and payments."
Wild wanted to talk about many other areas of his global supply chain to include sourcing, purchasing, contract manufacturing, logistics and trade compliance. He believes all of these have to be managed in an integrated fashion to optimize supply chains. But, that will have to wait for next time.
Suffice it to say, the Briggs & Stratton supply chain is an exciting place to be and makes a positive difference for customers, employees and shareholders. Wild has a sign hanging in his office that says, "Lead, follow or get out of the way!"