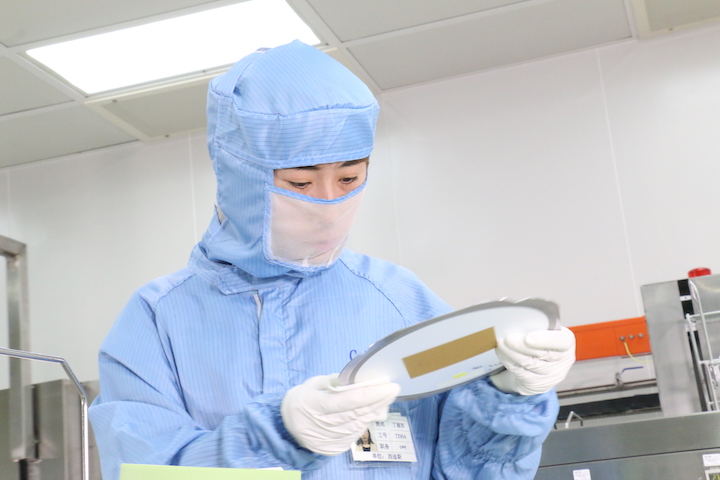 CTS Corp. revitalizes its operations to become more efficient and innovative as it supplies components that sense, move and connect in critical applications.
By Janice Hoppe-Spiers
CTS Corp., a leading designer and manufacturer of sensors, actuators and electronic components, is a partner and smart solutions provider to original equipment manufacturers. The company is in the process of revitalizing and modernizing its operations while remaining a trusted source for many industries in a digitally connected world.
"The company was founded in 1896, which means we are more than 120 years old and a company with very deep roots with a deep technical knowledge and expertise across multiple technologies and markets," CEO Kieran O'Sullivan says. "Customers come to us and say, 'We need a solution, can you design it for us?' We make robust designs; our products simply work. Customers often come to our Ceramic operations because of our quality reputation of the material formulations we use."
About 90 percent of CTS's business is directly with OEMs in the aerospace, communications, defense, industrial, information technology, medical and transportation industries. "We are the supplier for products that sense, connect and move," O'Sullivan says. "We have a fantastic array of products that have powerful impacts on our world and we are proud of that."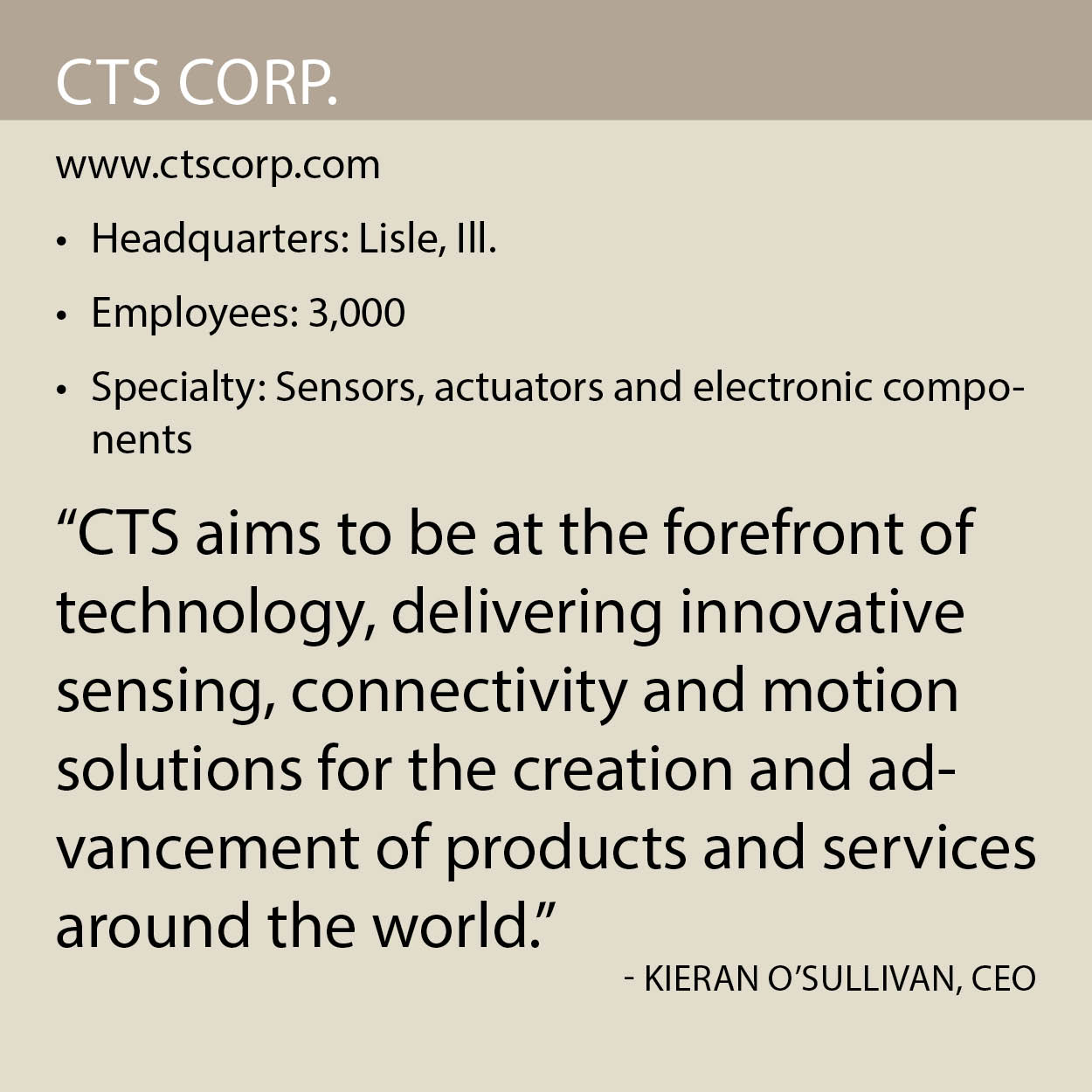 As a trusted source for products in safety-critical applications, CTS is the leader in providing components for medical ultrasounds and applications in vehicles that improve the environment by reducing emissions. "We operate in the cleanest environments, work in the harshest environments at elevated temperatures, are found in large engines that conquer tough terrain and are in applications used to look along the ocean bed," O'Sullivan adds. "CTS aims to be at the forefront of technology, delivering innovative sensing, connectivity and motion solutions, enabling an intelligent and seamless world."
Strategic Journey
In 2013, CTS reduced its manufacturing locations from 22 to 12. "We have become smaller, more focused and profitable," O'Sullivan says. "It has led us to reinvest in the business. Even though we are smaller, we are in the strategic markets our customers want us to be in."
For example, in fourth-quarter 2016, an OEM chose CTS to manufacture components for its accelerator module. The company was chosen not just because of its technology and expertise, but because it is globally in all the right regions of the world to fulfill the client's needs, O'Sullivan says. "We focused on becoming more efficient, expanding our regional customer and product base. Recently we reduced our working capital from 18 to 12 percent," he adds.
Headquartered just outside of Chicago in Lisle, Ill., CTS also has locations in Indiana, Massachusetts, New Mexico, Michigan and Mexico, as well as facilities in Europe and Asia. "We are very focused on the localization of initiatives, which is not something we had been in the past," O'Sullivan says. "We are trying to expand our design capabilities and build business in the regions we operate."
The reduction in manufacturing facilities and focus on becoming smaller and more efficient came as CTS's leadership team developed a new strategy around its products that sense, connect and move. "We actually sold about one-third of our company in late 2013," O'Sullivan says. "There were certain markets we felt we shouldn't be in, so we refocused and acquired some businesses, too."
In March 2016, CTS acquired Bolingbrook, Ill.-based CTG Advanced Materials, the leading designer and manufacturer of single crystal piezoelectric materials that serves OEMs in the medical industry. The materials enable high-definition ultrasound imaging – 3-D and 4-D – as well as intravascular ultrasound technology. Other applications for the materials include wireless pacemakers, implantable hearing aids and defense technologies.
"CTG Advanced Materials' market leadership, technological expertise and winning spirit are a perfect fit for CTS," O'Sullivan said at the time of acquisition. "The acquisition of CTG-AM increases CTS's involvement in the medical industry and expands our portfolio of products and technologies in the sensing category."
Today, CTS is the leading provider of single crystals around the world. "We have blue chip OEMs that depend on the materials and quality of materials for applications that are very important to people's lives," O'Sullivan adds. "The materials are used in medical imaging, which is a very powerful thing in terms of diagnostics. We are proud of what our products do."
Playing to Win
CTS is in the early stages of implementing lean manufacturing. "How do we become more efficient?" O'Sullivan asks. "Very simply, the first thing is we are more ambitious for our customers and ourselves and set targets in critical areas. It effectively comes down to our core values as a company, which are very important to us in supporting our strategy."
The company looks at its values from a "play to win" strategy, O'Sullivan says. "We don't play just to be in the game," he adds. "We are relevant in our products, our responsiveness is extremely important in terms of customers and our supply chain in terms of how we move and adapt. The overarching thing that helps us with efficiency is the core value we work off: simplicity. Don't come to a meeting with a big complicated idea, keep it simple!"
CTS's changes have resulted in the development of a new company culture, which O'Sullivan says is a challenging journey. The company looks to add team members that are solutions-oriented, willing to learn and curious. "We need to learn to help our customers get to the next thing and not just sit and wait," he adds. "Learning is a continual process and being curious is an integral part of that."
In addition to assessing a person's fit within the company based on its core values, CTS also looks for someone who is smart, humble, resilient and will act and lead with humility while working for the good of the company. As the company further develops its culture, it is also working to implement a continued education program for its employees. "I'm proud of our people in terms of their support in the company as we reposition and transform it," O'Sullivan says. "We have smart people who work for the good of the company and are resilient to go through the changes. I'm really proud of our team and how they have enabled us to change."
Moving forward, CTS will continue innovating around products that sense, connect and move. Its goals are to be the leading provider of sensing and motion devices and enable an intelligent and seamless world. "I think about the way we started off, founded in 1896 as Chicago Telephone Supply, and we have lived through the analog era, digital era and now we are in a world even more connected," O'Sullivan says. "We strive to be the relevant supplier around products that sense, connect and move in our world."