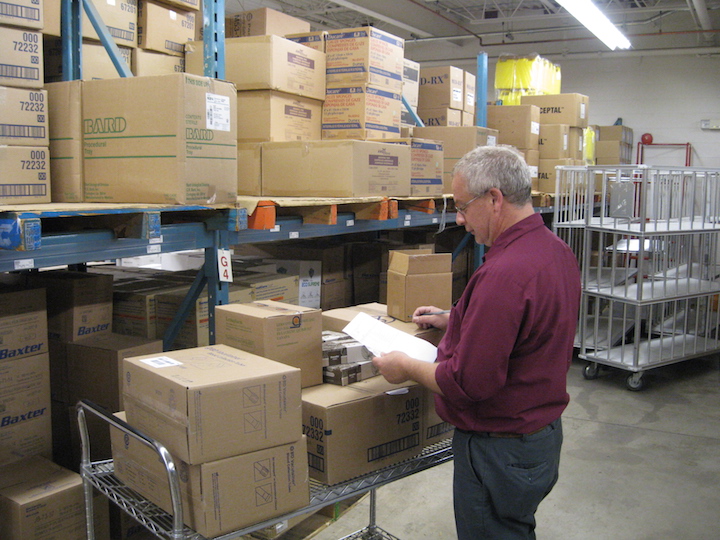 New Brunswick is taking steps to improve its healthcare supply chain.
By Alan Dorich
When providing support to the healthcare system for a province, you need quality facilities and equipment, along with a driven staff to provide quality care. Service New Brunswick's Health Services division makes sure it follows through on that mission, Ann Dolan says.
"The keys to success are the people involved in the department – our team – who are very dedicated not only to their respective positions, but the clients they serve: the patients of New Brunswick," she declares. "By understanding the vision of the organization and the connection of the strategic plan, the team is able to execute their work plans successfully."
Dolan is the executive director of strategic procurement for the Health Services division, which supports New Brunswick's two health authorities. The Horizon Health Network serves the cities of Saint John, Moncton, Fredericton and Miramichi and the Upper River Valley, while the Vitalité Health Network also serves Moncton, as well as the Acadian Peninsula, Bathurst, Campbellton and Edmundston.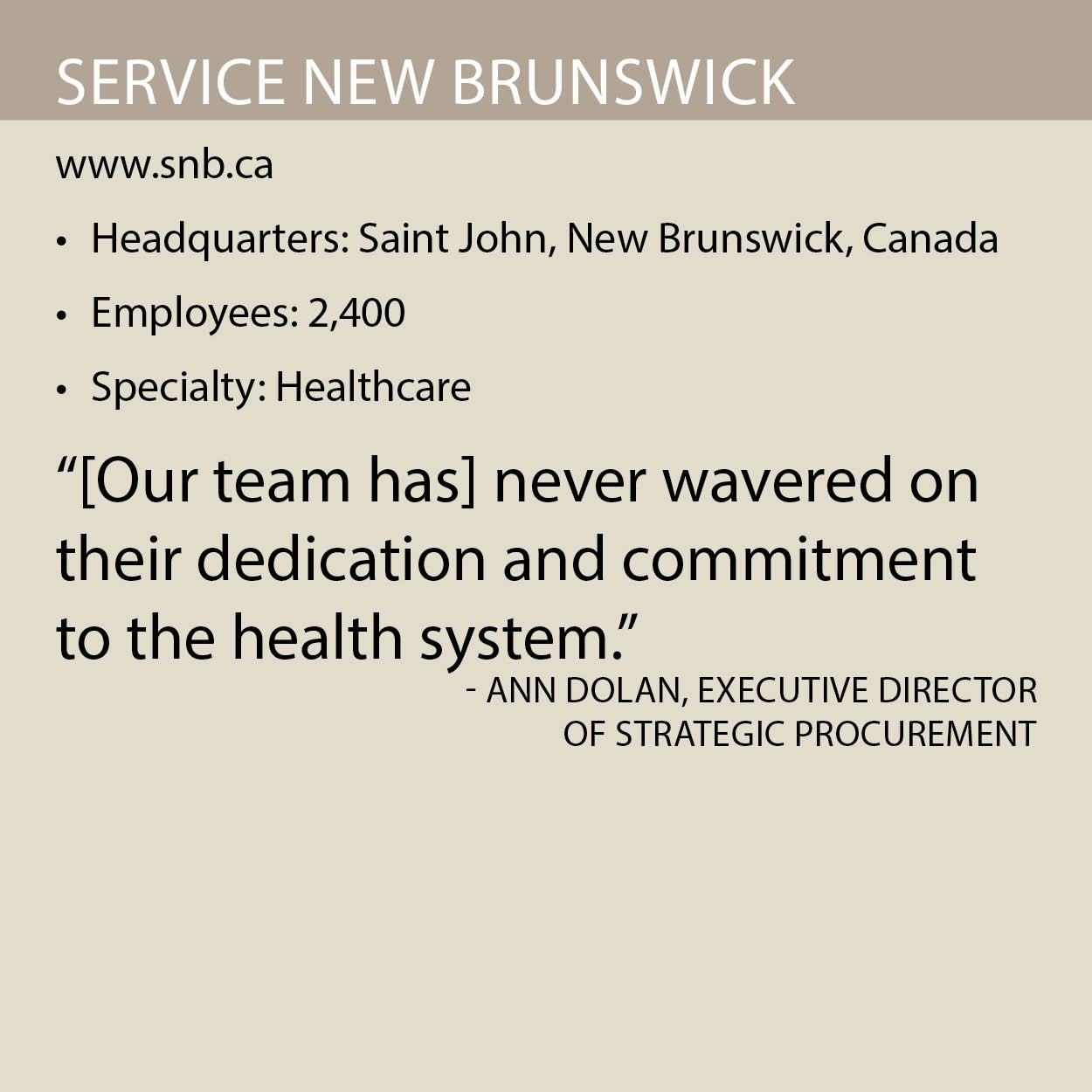 Achieving Savings
Dolan has been in the healthcare supply chain profession since 1992. "I have held various executive-level management positions in hospitals, shared services and group purchasing organizations," she says.
She takes pride in how her department took $14 million out of its supply chain costs, which helped the government of New Brunswick reach a $20 million savings goal. "We were able to achieve the mandate by collaboratively working together with our clients – the regional health authorities – as well as the organization to identify areas of opportunity," she recalls.
"These opportunities came from the Clinical Engineering group by completing businesses cases to insource the service component of the hospital medical equipment," she says, adding that IT contracts also were consolidated and reduced.
The department analyzed large supplier spending to ensure that the lowest price was being applied across the board. "A review of all existing contracts and suppliers was done to determine opportunities," she adds, noting that the department also held town halls with suppliers to generate ideas.
Modernized Delivery
The Health Services division recently undertook a three-year project to transform its supply chain, Dolan says. "After the savings target was achieved, we needed to focus time modernizing how we delivered our services to the customers, both internal and external," she says.
Ultimately, the division determined that moving into strategic sourcing using a category management approach aligned with its clients' structures. "We separated the department into Daily Operations and Strategic Procurement, and created a new business department called 'Business Performance,'" she says.
Today, the Health Services division focuses its work on people, processes and technology. "We have created four category teams focusing on corporate services, health professional services, surgical services and operating room, and secondary, tertiary and community care," Dolan says.
Each also concentrate on planning sourcing activities, developing strategies with clients, contract and supplier management, client relationship management and group purchasing relationships. "The teams procure everything from security services to MRIs to cardiac suite imaging chains to hip and knee implants," she explains.
"Each category has responsibility for the province, which gives them a 360-degree view of the suppliers, products and services," Dolan says. "We also have a governance model that we use with the regional health authorities that allow us to have focused conversations on large complex projects, build cooperation and achieve the changes that we have made."
Service New Brunswick has enjoyed many successes since its reorganization, including the award of a $32 million, five-year provincial security services contract to a national supplier with a local presence in New Brunswick. "The team was able to reduce the annual spend through negotiations and increase the deliverables," she explains.
It also completed 174 projects during the fiscal year 2016/2017, ranging from low to high in complexity. "[The projects] can take from three to 12 months to complete, based on the number of stakeholders and the degree of product evaluations or supplier site visits that are required to validate the product or service," she says.
Above and Beyond
Dolan is proud of how her team has adjusted to the changes over the past five years. "They have never wavered on their dedication and commitment to the health system," she states.
"They go above and beyond to assist the client," she continues. "They have been asked to wear many hats before moving into a category model and are willing and eager to take this journey with me, and I am proud to call myself their leader."
The Health Services division plans to continue evolving. "I see our division moving into more value-based outcomes and more collaboration with the client – in the sense that we will become ingrained into their business and seen as an extension of their division," she predicts.