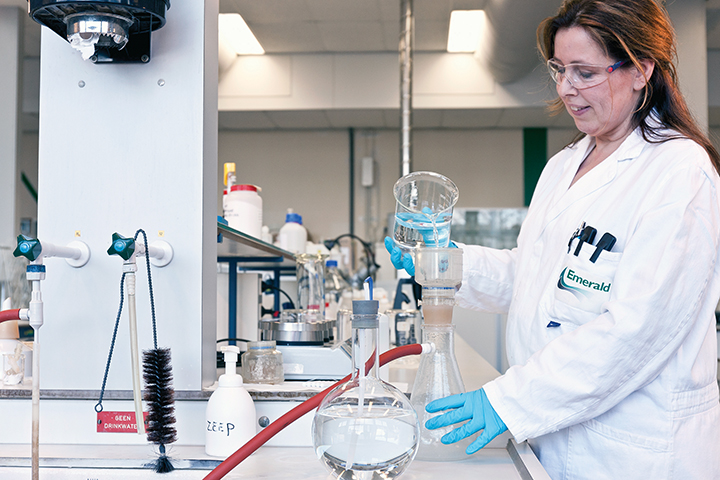 Emerald Kalama Chemical combined 13 independent supply chains into one global operation.
By Tim O'Connor
Implementing a fundamental change for a company always comes with some skepticism – even more so when the shift impacts global operations. So when Emerald Kalama Chemical decided it wanted to implement a global supply chain operation that would better serve its worldwide customer base, the company knew it had to get out ahead of its messaging to create buy-in.
"You have to be able to communicate the change and why you are doing the change," explains Claudia Knowlton-Chike, senior vice president of global supply chain.
Knowlton-Chike, with the backing of CEO Edward Gotch, communicated upfront the value having a truly global supply chain would create for the chemical manufacturer. In other situations, a person whose role was shifting from a local scope to a global one might put up resistance. The unknowns that come with change are a reason for hesitation.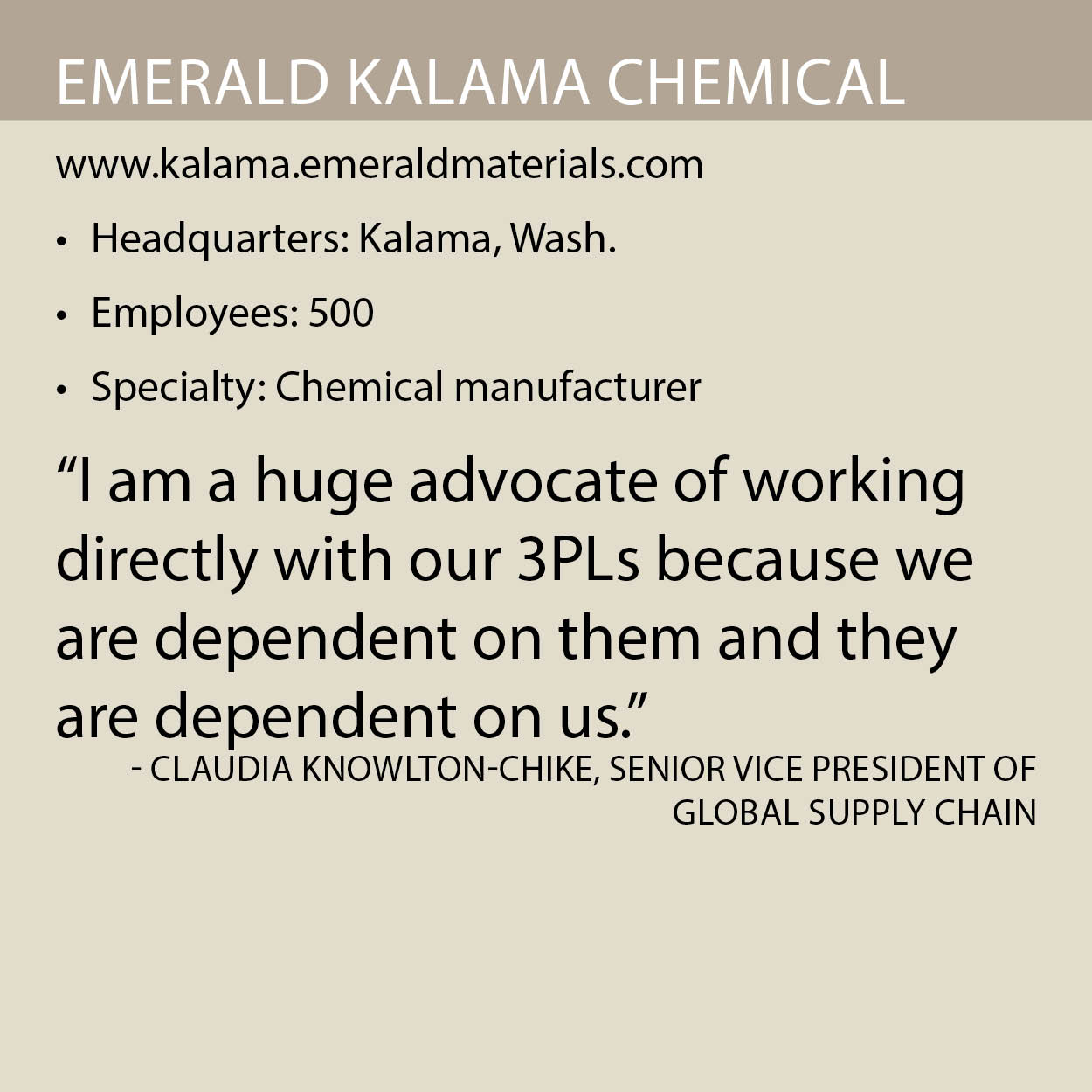 But Emerald Kalama's openness with its employees made them more open to the transition. "From a change-management perspective, this really went very well," Knowlton-Chike says. "People saw that as an inspiring challenge so there really wasn't any push back or negativism around it."
Merging Supply Chains
Emerald Kalama Chemical owns and operates the two largest toluene oxidation facilities in the world, located in Kalama, Wash., and Rotterdam, The Netherlands. It also operates a third plant in Widnes, United Kingdom. Those facilities have enabled Emerald Kalama to become the planet's largest producer of benzoic acid and hexyl cinnamic aldehyde (HCA).
The company's chemicals have a range of applications in the food and beverage, personal care, household goods, pharmaceutical, agrochemical, packaging and construction materials markets. Its benzoic acids, for example, are used to preserve freshness in food, beverages and personal care items. "We're viewed as a leader and the quality that we provide in our products makes us a formidable company in the goods we produce," Knowlton-Chike says.
Emerald Kalama's impressive production capabilities are matched by its extensive supply chain network. The supply chain team manages products from inception and raw material procurement all the way through to delivery to the customer.
Knowlton-Chike joined Emerald Kalama two years ago to bring her supply chain expertise to the company, but her background is actually in package engineering. For the first 12 years of her career, she was an engineer at IBM before moving into supply chain.
Although they are different fields, Knowlton-Chike says the skillset and critical thinking she developed as an engineer translated well to supply chain management. "What was the great springboard from engineering to supply chain is, at the root of it, I'm a problem-solver," she says. "I'm a change agent. Engineers like to solve problems."
After 30 years in the high-tech industry, a shift to a chemical processor was not the most natural career progression for Knowlton-Chike on the surface. But the move put her in position to oversee a modernization of an entire supply chain. The consumer goods, retail and high-tech industries have been enhancing supply chain operations for over 30 years.
Experienced professionals from those industries are invaluable to companies trying to move up the curve. "They've perfected many of the practices, processes, technologies and talent," Knowlton-Chike says. "Bringing that supply chain expertise and best practices into the chemical area has value. "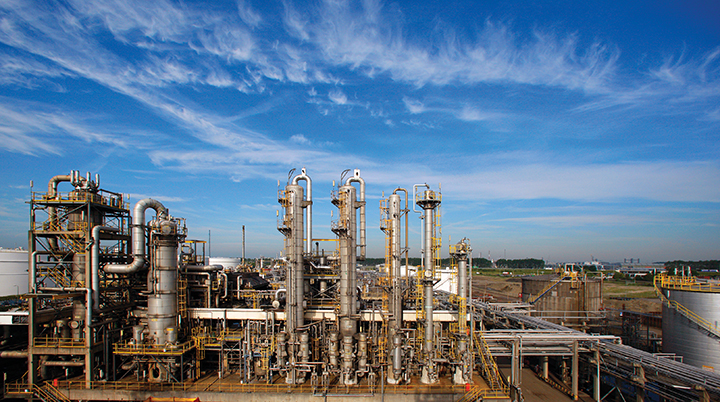 Knowlton-Chike inherited a segmented organization when she joined Emerald Kalama. She was brought in to create a global supply chain that could better leverage its buying power and supplier base, but before she could implement her strategies, Knowlton-Chike needed to document the existing operations. What she found was that Emerald Kalama was split up into 13 independent supply chains that each focused on a specific market.
The goal was to merge those separate supply chains into one cohesive unit. Knowlton-Chike began to map out a new supply chain organization that introduced a global mindset with a focus on fulfillment and the customer experience. The new organization started in April 2016 and was designed to enable growth through capacity and capability. Emerald Kalama developed strategic sourcing agreements with suppliers to support the change and completed key logistics upgrades to its facilities, such as dock improvements, additional truck loading facilities and a new rail line.
A new logistics strategy called for outsourcing warehouse, transportation and freight payment activities to core competency 3PLs. "We take those relationships very, very seriously," Knowlton-Chike says. "We view them as an extension of our company. I am a huge advocate of working directly with our 3PLs because we are dependent on them and they are dependent on us."
Emerald Kalama looks for logistics providers that go beyond meeting its basic warehousing and transportation needs by supporting the company's continuous improvement efforts and bringing forth ideas on how to enhance its network, node and service levels. "I love when one of our 3PLs will put their resources toward helping us optimize our network," Knowlton-Chike adds.
Going 'Glocal'
Even as Emerald Kalama has restructured its supply chain team into a global organization, the company must still be able to operate on a local level. Each country and market has its own list of chemical regulations that manufacturers must track. "We are doing all we need to do in the global trade compliance arena," Knowlton-Chike says.
Emerald Kalama is always looking around the corners to be prepared for any supply chain disruptions. A workers' strike or natural disaster in one region can disrupt the entire global supply chain, so Emerald Kalama's local teams work to ensure the company always has access to its network. "That's one that keeps us all very busy because at any given time there's a capacity issue – whether it's the driver shortage in the U.S. or ocean capacity issues in Europe," Knowlton-Chike says.
Getting people to think "glocally" has been the most difficult part of the transition, Knowlton-Chike admits. Still, adapting those global methods on the local level leads to larger overall efficiencies and more advantageous pricing. "While they may think they have a great process, there's always something to learn by looking at the best of the best," she says.
Support Services
The supply chain is focused on the paying customer, but Knowlton-Chike believes the company's internal customers – its divisions and facilities – must also be satisfied with the support her team provides. "Ultimately, we want our commercial team to talk about our supply chain as a competitive advantage," she says.
Support is measured primarily through communication and collaboration. During Emerald Kalama's implementation of a global order management system last year, it formed a global customer service team to investigate ways to take time out of the ordering process. The standardizations and simplifications that came out of the collaboration resulted in driving 540 hours out of the global order management process annually.
The company's customer service model transformed alongside its supply chain. In the past, Emerald Kalama utilized three customer service groups that each managed customer relationships in their own way. "When we looked at best practices and talked to our sales team, we knew we needed to have better connectivity with our customers," Knowlton-Chike says.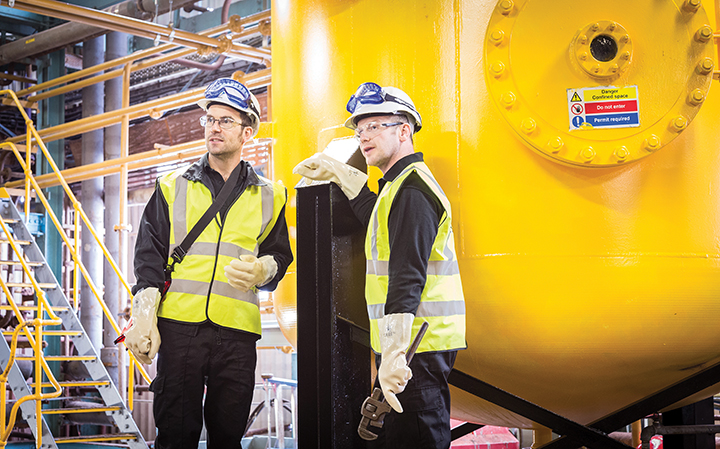 Emerald Kalama rethought its customer service model to more closely link clients with its commercial teams through a single point of contact. That change is in the final steps and the global model is expected to roll out across the entire company in May.
The numbers speak to Emerald Kalama's success in implementing a truly global supply chain organization, but the company has also managed to change how its employees think about supply. The implementation forced its employees to come together on a worldwide level, review best practices, make systemic changes and become comfortable with the idea of being uncomfortable as they learned new things.
"What I see in our team is, the higher you set the bar, the harder they are working toward it," Knowlton-Chike says. "It is a team that rises up to the high expectations of a growing business and we are energized by it."
The next phase in Emerald Kalama's supply chain improvement is the simultaneous deployment of new ERP and TMS systems. Both initiatives are still in the early stages and are likely several years away from implementation but represent the company's evolving vision for its supply chain. "We got a bunch done last year and we're doing even more this year," Knowlton-Chike says. "There's no stopping us now."