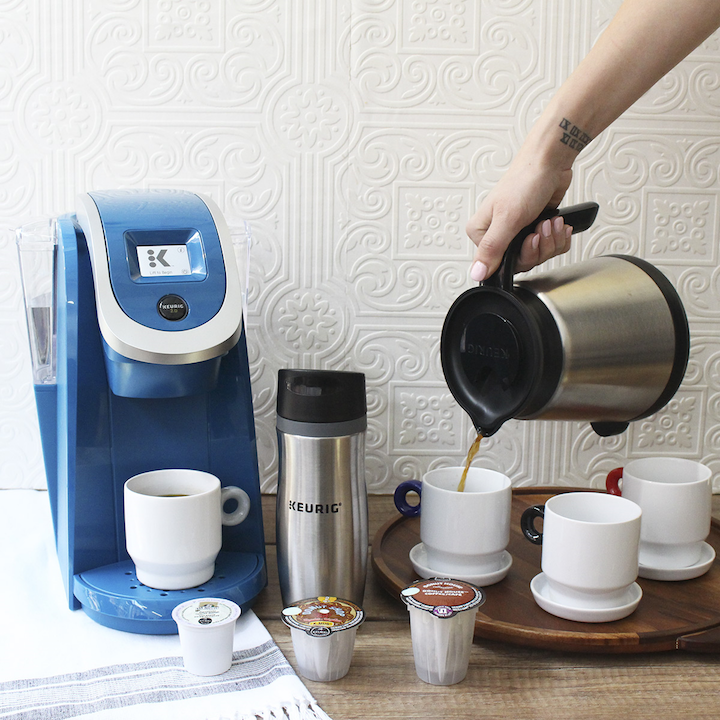 Keurig Canada's supplier management program and negotiation tool pave the way for productive partnerships that result in greater success.
By Janice Hoppe-Spiers
Keurig Canada attributes its ever-increasing household penetration rate in a highly competitive landscape to being both a disruptive, leading-edge technology company and a leader in specialty coffee that is "extremely loved" by its consumers. To maintain its position in Canada's single-serve beverage market, the Montreal-based business unit of Keurig Green Mountain invests heavily on relationships throughout its supply chain.
"It's about finding the right suppliers and working with them," Director of Procurement and Logistics Joseph Souaid says. "It's a two-way relationship – one party can't succeed without the other and we recognize that."
Keurig Canada offers a wide range of premium coffees in a variety of formats, as well as Keurig® Single Cup coffee makers and Keurig® brewed coffees, teas and other beverages. Van Houtte® and Timothy's® are Keurig Canada's flagship brands, but it offers the Green Mountain Coffee® brand coffee, as well.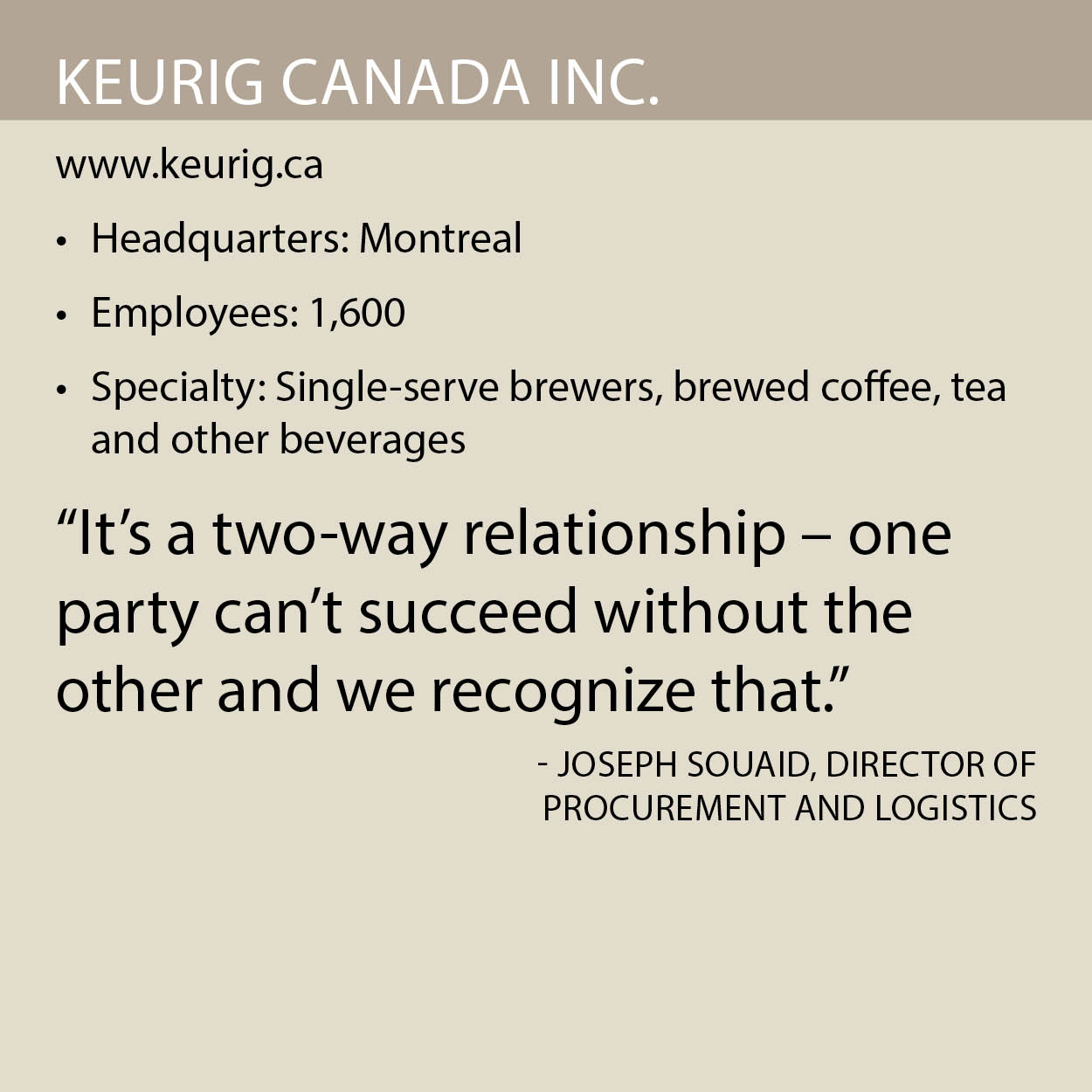 "Canada is a bit of a unique market and a lot more competitive," Souaid says. "The distinction of Keurig in the single-serve platform is that we offer 180 different K-Cup® pod varieties and 35 brands, including Starbucks® and Folgers®. One of the things we are going to embark on now is the roll-out of the recyclable K-Cup® pod."
By 2018, Keurig Canada's objective is to make all its K-Cup® pods recyclable, which Souaid says will be a huge milestone for the company. "We are going to polypropylene No. 5 plastic for K-Cup® pods because it works the best for our brewing system," he explains. "It has excellent oxygen and moisture barriers and is accepted for recycling in the majority of communities."
At ProcureCon Canada in April, Souaid moderated a sustainability and procurement panel. "At Keurig Canada, we have a lot of initiatives in terms of reducing the carbon footprint and looking at energy consumption and waste diversion," he says. "For example, we have a program in place now where we repurpose used K-Cup® pods. They are sent to a cement kiln and used as an alternative fuel in the cement production process. That's a great program we put in place years ago."
Supplier Relationships
Keurig Canada's main focus will always be on providing consumers with the best cup of coffee. That starts by sourcing the highest-quality materials and developing long-term partnerships in its supply chain.
A couple years ago, the company put in place a Supplier Relationship Management (SRM) program to ensure it maintains close collaboration with its vendors. The first step in the process is to ensure internal stakeholders and company leadership are aligned when it comes to the procurement strategy. "What's our strategy for each category?" Souaid asks. "When we look at each category, we drill down to look at what we spend annually and with whom."
Step two in the process is segmenting suppliers to ensure the company puts the right focus on each relationship. "An appliance supplier, for example, is an alliance partner so we invest a lot of time and resources into managing those relationships," Souaid explains. "Transactional suppliers on the other hand, may provide us with more off-the-shelf-type products so we devote less time and resources to them."
The third step is to ensure its suppliers are capable of meeting Keurig Canada's expectations. A risk assessment is done, focusing on financial health, quality and geography to determine a risk rating. Based on the risk levels, mitigation plans including on-site assessments are done to better understand suppliers' capabilities, processes, policies and procedures.
The fourth and ongoing step is to create scorecards for each supplier to rank their performance in quality, service, delivery, cost, supply chain sustainability and innovation. "An alliance partner will get scored much more frequently than a transactional supplier, but we make sure all suppliers understand and meet our expectations," Souaid says.
The fifth and final step is to develop continuous improvement plans, which assign appropriate actions to improve any performance deficiencies as measured by the scorecard.
Keurig Canada rewards its top-performing suppliers with more business to motivate them to continuously improve. "We have a top-100 supplier conference in April that we host in the U.S.," Souaid notes. "At the conference, we have a lot of communication in regards to where the company is going, our strategy, and present awards based on scorecards. The suppliers who have given the best performance get recognized for their work."
Improving Negotiations
Keurig Canada recently launched a negotiation tool that works with its SRM program to create a competitive advantage by leveraging its supply base. As the co-creator of the tool, Souaid says the main idea is to generate productivity with its suppliers. "We want to reduce our cost, but to do so we need our suppliers to reduce their cost without compromising quality and service," he explains. "Our ability to do that is key to developing great partnerships."
The company's one-page negotiation tool allows it to take a systemic view of the overall relationship with its suppliers. "Negotiation by design is more than a training program, but a framework to consistently improve performance," Souaid says. "Instead of zooming in during negotiations, we take a step back and look at the entire landscape. It is only once you understand the landscape that you can develop effective negotiation strategies."
Keurig Canada's negotiation tool allows Souaid to ensure his team is well prepared for a negotiation and measure their performance over time. Although the tool has been in place just over six months, Souaid says he has seen a significant amount of progress. "One of the key aspects of the tool is the use of multiple equivalent simultaneous offers [MESO] for more complex negotiations," he explains. "You don't go in with one offer; you go in with three and it's a way to ensure that you end up with more creative deals in the end, that there is openness and it speeds up the negotiation cycle."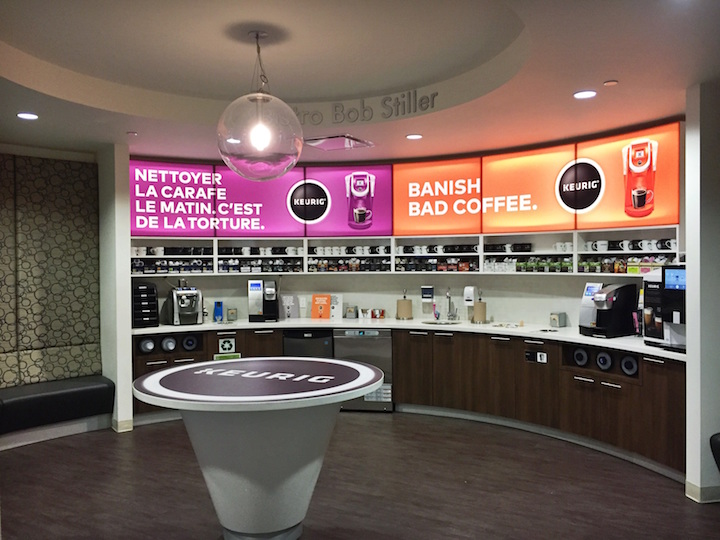 Keurig Canada's procurement staff went through a three-day, complex negotiations training. The goal for the staff is to avoid leaving value on the table during negotiations. "It's nothing new to the industry in terms of interest-based negotiation where we look at both our interests and theirs," Souaid says. "But there are certain things, that if you work enough ahead of time, you can do to increase power, have more leverage and influence the negotiation."
Although the negotiation tool is just being launched at Keurig Canada, the company expects that over time it will become part of its DNA and provide a competitive advantage in the market. "We plan to roll it out to Keurig Green Mountain in the U.S.," Souaid notes. "The tool is very simple, but in order to successfully roll it out, everyone has to understand the process."
Logical Logistics
Keurig Canada invested $60 million over the past five years to upgrade its roasting and packaging plant in Montreal. In addition, the company consolidated its distribution network over the past few years to a single omnichannel distribution center in the Toronto region. "That has been huge for us in terms of increasing on-time delivery and reducing our inventory levels across the network," Souaid says. "It has also simplified our lives tremendously."
The company previously used multiple distribution points that grew to be too complex as the organization expanded. A third-party logistics company manages its new distribution center. "They have been a strategic partner and a key part of our success because we wouldn't have been able to do it on our own," Souaid admits. "We have everything in one facility, which makes it extremely efficient to manage and ensure we have the right inventory and the product delivered on time when the customer wants it."
Moving forward, Keurig Canada will continue to focus on taking cost out of the supply chain and using its SRM and negotiations programs to achieve better numbers and partnerships. "If you have the right partners and strong relationships, then they will be the ones to come to the table and say, 'This is where we can potentially get more value and increase efficiency,'" Souaid adds. "The core question is: 'Are we doing business with the right suppliers?' If not, we may change at some point."