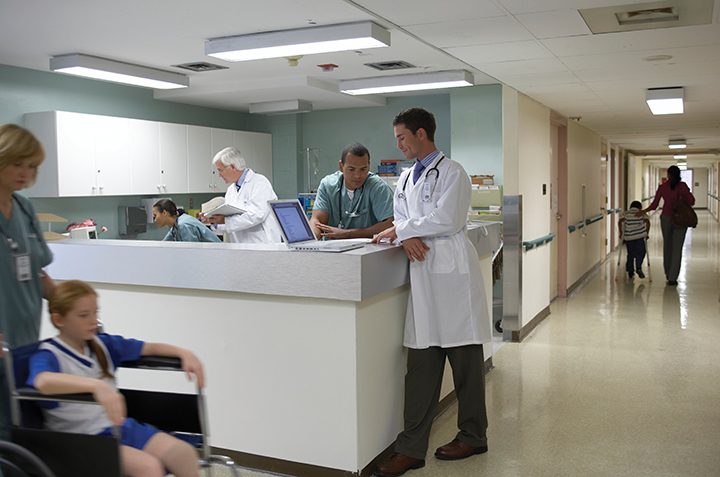 MedStar Health consolidated its supply chain operations to increase buying power and improve consistency in patient outcomes.
By Tim O'Connor
When John Wright joined MedStar Health in 2014 he found the healthcare provider had a large but fragmented supply chain system. The organization had consolidated its purchasing process, but there were still opportunities to improve its approach to contracting, logistics and services. MedStar lacked a clinical value analysis, and decisions around product utilization were being made at the entity level instead of the system level.
In the past three years, MedStar has expanded its supply chain contracting department so it could execute system-level agreements and negotiate contracts for the organization as a whole instead of through separate divisions. "We run on extremely small margins, and the rising costs of medical equipment and medical supplies forces us to look at standardization," says Wright, MedStar's vice president of system supply.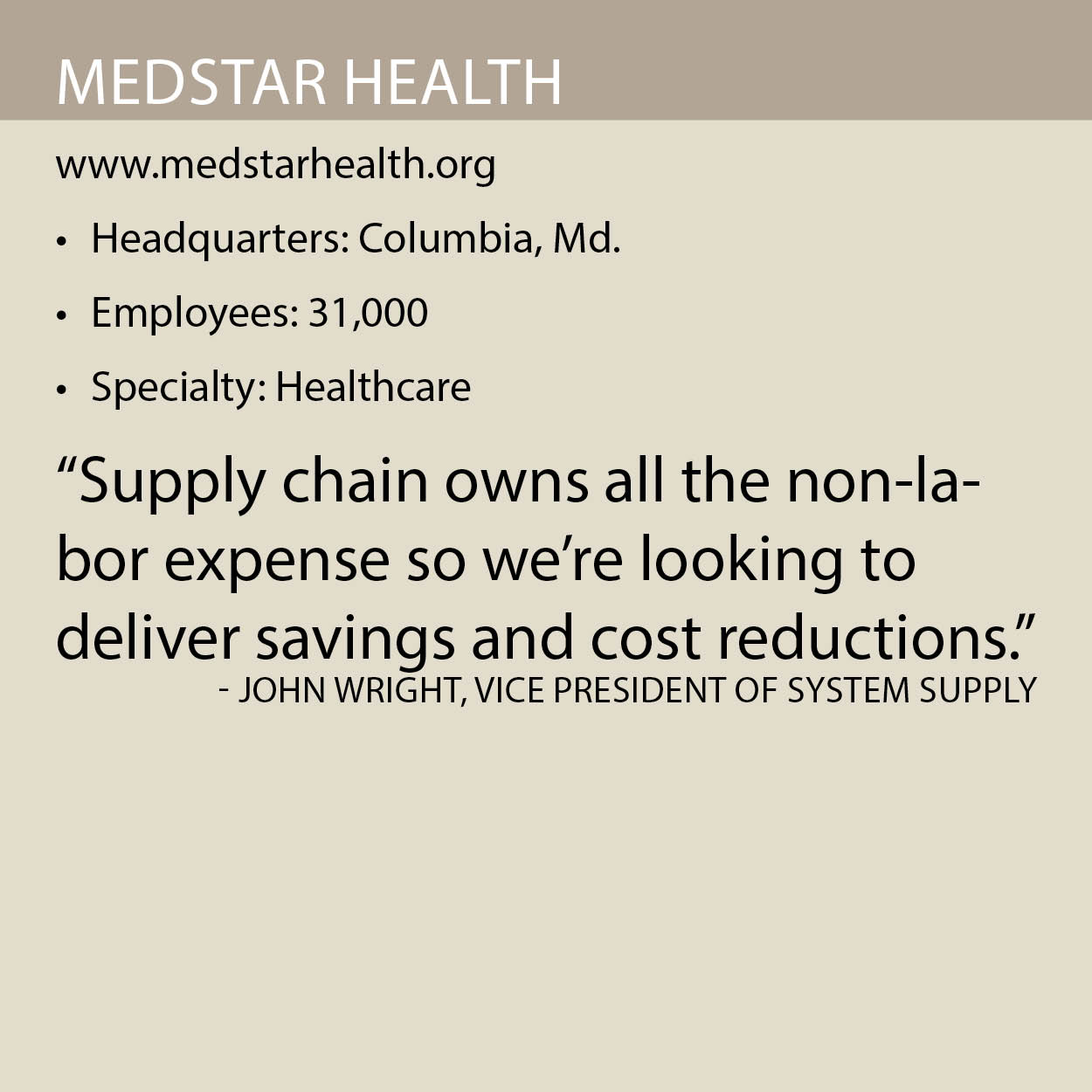 Upfront purchasing costs are only part of the consideration. The supply chain team also considers whether each product lowers overall costs and assists in reducing the use of ancillary products or the length of hospital stays. "It's not just the pricing we pay for the product but how it contributes to the overall patient experience and an improved outcome," Wright says.
MedStar's supply chain team has rolled out that consolidated approach to all 10 of the organization's hospitals in Maryland and Washington, D.C., and its 300 ambulatory care sites throughout the region. Keeping the orders and deliveries straight for all those locations requires a fully integrated ERP platform with a supply chain module from PeopleSoft.
To simplify that tracking, MedStar shares a common item file across the entire organization to allow pricing to be universally applied regardless of which department or location submits the order. Additionally, MedStar utilizes electronic requisitioning and order placement to gain visibility into its system-wide spend.
Visibility is another area where centralization improved MedStar's supply chain functions. Four years ago, the organization had several ERP systems in place, each of which may have had their own pricing and selection of items. The transition to a single ERP platform took nearly three years, but all of MedStar's hospitals and ambulatory locations now use PeopleSoft.
Even human resources, grant applications and the rest of the business administration are tied into the platform. "It was through that consolidation to PeopleSoft that gave us that complete visibility," Wright says. "Prior to that, there was not one platform people were using."
Embracing Specialization
Introducing a new item into medical care requires a great amount of caution. Hospitals must not only ensure that the product works as intended but also that support and delivery processes are set up to get that item to the patient without delay. Previously, MedStar's entities each handled that process on their own, creating an excess of redundant products and overly complex processes throughout the healthcare system.
Wright sought to simplify the problem by centralizing product utilization. MedStar now has five system-level committees that review all new production coming into the organization. Those teams are oriented around service functions to create specialization and expertise.
One group is focused on heart and vascular products, another surgical services, a third on orthopedics, the fourth on patient care, and the last deals with imaging and laboratory. Instead of having procurement generalists who might negotiate an MRI service one day and a landscaping contract the next, the setup creates expertise among each team.
The proficiency of those teams is further bolstered by the inclusion of six registered nurses to the supply chain group who act as liaisons between supply chain and the clinical departments. "This gives them a degree of credibility when they talk to clinical practitioners about new products because they have that nursing background," Wright says.
Making Data Actionable
With the ERP transition completed, MedStar has moved on to integrating a new medical records system from Cerner. Beyond keeping better track of patient histories, the Cerner system will give the supply chain team access to more detailed information such as what products physicians are using. That data will enable MedStar to identify where there is variation among the medicines and equipment individual doctors utilize.
From there, the supply chain team talks to physicians about moving onto the preset standardized medication or finding an alternative pharmaceutical that is a better fit for the entire organization – resulting in greater buying power for MedStar and improved patient consistency.
The data generated from medical records and hospital operations are tied into MedStar's ERP system to make ordering and tracking as simple as possible. Hospitals use an RFID two-bin system from Logi-D while pharmacies have cabinets from Pyxis to track inventory levels. The two systems are integrated with PeopleSoft to process pharmaceutical orders through an electronic data interchange.
The success of MedStar's consolidation has only raised expectations for the supply chain team. "The biggest change really is because the organization has made the investment in resources and infrastructure the expectation for our value proposition has increased," Wright says.
MedStar spends $550 million annually with suppliers and another $250 million on pharmaceuticals. Historically, Wright says the supply chain's savings goals were in the $10 million range annually. Since the consolidation, that target has grown to $25 million. The team achieved its objectives through greater buying power, reducing variation and by ensuring physicians use the right product for the correct applications.
"Supply chain owns all the non-labor expense so we're looking to deliver savings and cost reductions," Wright says. The role of supply chain as a cost reducer is only becoming more critical as MedStar and other healthcare networks prepare for political unknowns that could trigger changes to the Affordable Care Act.
To compensate, MedStar is reviewing areas it has not historically focused on, such as printing, waste management and capital expenditures. "Every category is scrutinized to a much higher degree than we have in the past," Wright adds.
"The key thing here is really seeking technologies that allow us to get real-time data," Wright continues. Being able to access information on product availability and utilization allows the supply chain to react appropriately and avoid risk that a location will run out of inventory.
The key, Wright explains, is mining that data to create meaningful reports. "The ability to make that data actionable is the challenge I think healthcare organizations and supply chain organizations face today," he says.