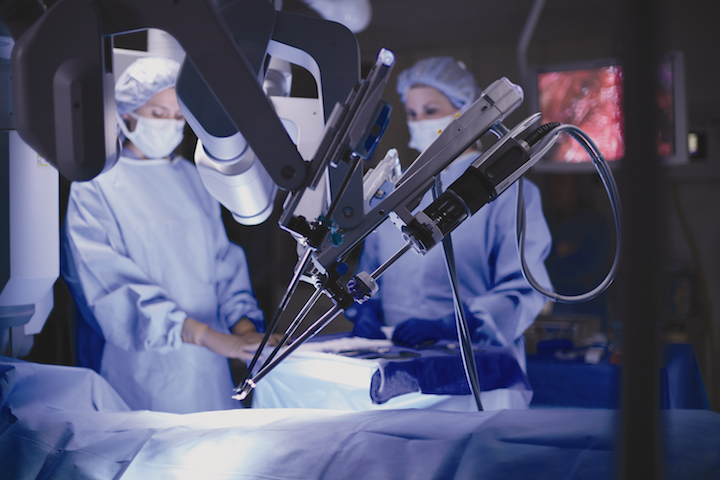 Northside Hospital is undergoing a major transformation initiative to optimize and leverage its supply chain to support rapid growth.
By Bianca Herron
The Northside Hospital system consists of an extensive network of state-of-the-art facilities that include three nonprofit hospitals in the Atlanta metro area: Northside Atlanta, Northside Forsyth and Northside Cherokee. With 868 licensed beds, Northside operates more than 150 hospital-affiliated outpatient centers and medical office buildings throughout the state of Georgia. Northside's supply chain department is an enterprise-wide function that is responsible for the acquisition and flow of goods and services throughout the network.
There are more than 2,500 physicians on staff and over 15,000 employees at Northside. In addition, the hospital logs 2.5 million patient encounters annually and is recognized for its expertise in maternity services, women's health, cancer care, surgery and radiology.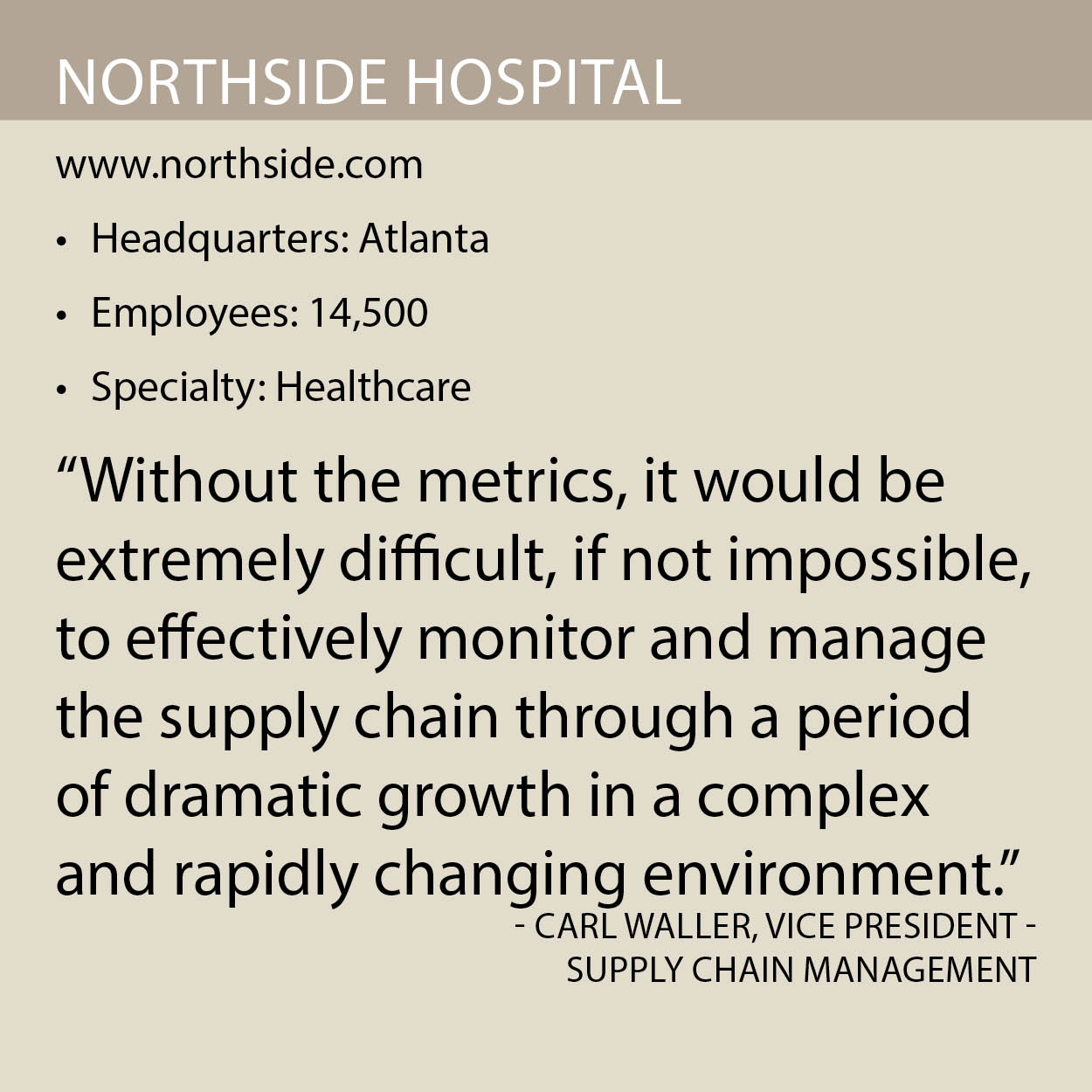 "Our Atlanta facility delivers more babies than any other hospital in the United States," Vice President – Supply Chain Management Carl Waller says. "We have more than 20,000 system-wide deliveries, diagnose and treat the most cancer cases in Georgia and the most breast cancer cases in the southeast. In addition, we rank in the top 1 percent in all robotic surgery programs in the country. In a typical year, we will perform nearly 60,000 surgeries."
Experiencing Rapid Growth
Northside has experienced significant growth over the last several years. Much of the growth is the result of the acquisition of outpatient facilities, and construction of medical office buildings, which has fundamentally shifted in patient mix from inpatient to outpatient. Approximately two-thirds of patients are served through Northside's physician office network, surgery centers, imaging facilities or infusion centers.
Northside's acute care hospitals have also experienced solid organic growth from the referral network created by the outpatient facilities coupled with the expansion of key service lines. "We are opening a new hospital to the replace the existing Cherokee facility in the spring as well as constructing an eight-story tower on the Atlanta campus, which will be completed at the end of 2018," Waller says. "We have also just completed a vertical expansion at our Forsyth facility."
Enhancing A Supply Chain
To manage the current and anticipated growth in an increasingly complex healthcare environment, Waller and his supply chain team embarked on a major transformation initiative several years ago. "We wanted to optimize our leverage from a cost standpoint to fund growth by achieving synergies in the supply chain to generate free cash flow," he explains.
To guide the transformation, a supply chain strategy was developed that directly linked to Northside's corporate mission. "Essentially, the strategy established the direction for the supply chain organization in the context of the corporate goals and objectives," Waller says. "The strategy was the catalyst for the development of action plans to fundamentally restructure supply chain processes and technology to accommodate growth and meet increasing stakeholder demands."
Waller says that no matter how good a strategy is, it cannot be achieved without effective implementation. "So the critical question becomes 'how do you know whether the strategy is working,'" he says. "To answer the question, we needed to be able to dynamically measure progress towards the achievement of our strategic objectives. It's often been said, "If you're not measuring, you're only practicing." To that end, the team developed a set of key performance metrics that allows the organization to measure the progress towards achieving the following supply chain objectives:
+ Streamlining and integrating the supply chain process;
+ Optimizing decision-making;
+ Achieving the "best delivered" pricing for supplies, capital and services;
+ Optimizing standardization of the portfolio;
+ Retaining and enhancing supply chain expertise; and
+ Procuring high-quality products that facilitate positive clinical outcomes.
Once the key metrics were developed, targets were then set for those metrics that reflected the desired outcomes given the current environment and strategy. The development of metrics and targets requires a disciplined analytical approach that focuses on financial and operational levers that significantly influence process performance and align with the achievement of objectives.
"The result of this exercise is the establishment of a balanced set of metrics and targets that are aligned with the supply chain strategy," Waller explains. "It is important to note that there is no one right group or number of metrics, however the set should have the following characteristics:
1. Have a direct link to strategic objectives;
2. Quantifiable;
3. A manageable number;
4. Easy to understand;
5. Relatively easy to calculate and report;
6. Assigned a metric owner(s) who has the responsibility, accountability, and authority to significantly impact performance
7. Balanced across the dimensions of the strategy (e.g. financial, operational, customer); and
8. Include both predictive and outcome measures.
Both short-term and long-term targets were set for each metric. "Short-term targets are those that are a stretch, but achievable in the near future, while long-term targets reflect the level of performance desired to be achieved in the next three to five years," Waller says. "In addition to setting targets, performance thresholds were set for each short-term target. A threshold is a defined level of performance that indicates the rate of progress towards the achievement of the target."
While the metrics and targets were being defined, Northside's Business Analytics team was busy designing a supply chain performance dashboard so that metrics could be reported in an automated fashion. "The dashboard application is called the Organization Health Monitoring System or OHMS. OHMS was implemented soon after the metrics were defined," Waller notes. "Performance data is gathered for reporting through the system on a monthly basis. Much of the metric data is sent via automatic feed or upload, minimizing dashboard maintenance. The dashboard not only includes metrics that measure internal performance, but also the performance of vendor partners such as distributors."
Organizational performance is communicated to the entire supply chain team on a periodic basis through town hall meetings at each hospital campus. This has been an effective mechanism in helping each team member understand his or her role in the achievement of the overall strategy.
"Without the metrics, it would be extremely difficult, if not impossible to effectively monitor and manage the supply chain through a period of dramatic growth in a complex and rapidly changing environment," Waller says. The key metrics and targets are not set in stone and have been tweaked over time to reflect changes in the environment or strategy. The continuous monitoring of performance has allowed management to proactively make corrections when performance is trending in the wrong direction and celebrate success when targets are achieved. The transformation to a Performance Driven Supply Chain where resources are tightly aligned with the achievement of strategic objectives doesn't happen overnight, but is well worth the effort."
By focusing only on what is important, results have exceeded expectations, Waller notes. "For instance, contract compliance has increased over 35 percent, EDI by approximately 50 percent, and targeted savings by over 50 percent," he says.
Ultimately, Waller is most proud of Northside's supply chain being able to support the overall corporate entity in a period of rapid growth. "Northside is providing unmatched patient care and we can contribute to that by providing our employees high quality supplies, equipment, and infrastructure to optimize outcomes for our patients in a cost-effective manner," he concludes.