Recreational Equipment Inc.
REI sets the standard for one-touch omnichannel systems and environmentally sustainable distribution centers.
By Tim O'Connor
Building a supply chain nimble enough to handle an item as small as an energy bar or as large as a boat demands flexibility and efficiency. That's the challenge facing Recreational Equipment Inc. (REI), a Washington state-based retailer of outdoor gear and clothing.
REI adheres to a consumer co-op financial structure that differs from most retailers. Instead of working for shareholders, REI sells lifetime memberships for $20 and treats those members as its owners. This organization allows the company to put the members first.
Vice President of Supply Chain Rick Bingle says that everything the company creates, from the member experience to the products it sells, is in service to the outdoor experience and its members. As a result, REI returns as much as 70 percent of profits each year back to its members and the community.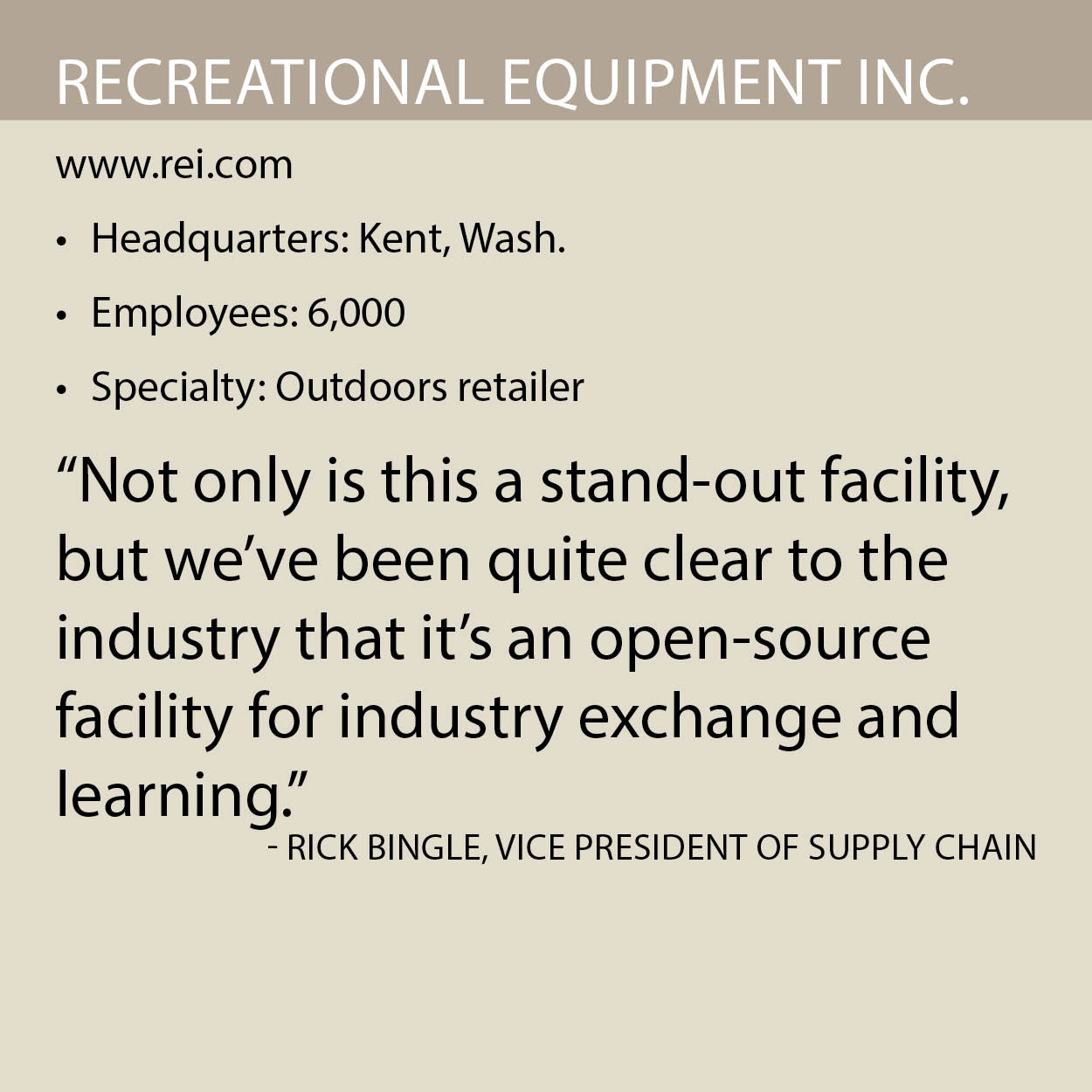 REI began as a group of 23 mountain climbers in 1938 and has grown to become the largest consumer cooperative in the United States with 5 million members. It specializes in gear and clothing for outdoors activities, from camping tents to backpacks, rain jackets and even underwear. About 20 percent of the products REI sells are through its own private brands and the rest is sourced from partners in the outdoors industry.
Members can purchase gear online through www.rei.com or at the organization's 149 retail locations. Those retailers are supported through REI's three distribution facilities, located in Sumner, Wash.; Bedford, Penn.; and Goodyear, Ariz.
Although it is structured as a cooperative, the supply chain organization is similar to any other retailer's. The difference is that REI has the freedom to operate its supply chain with its members' interests at heart. "Because we're not carrying capital debt we can make different decisions," says Bill Best, divisional vice president of supply chain integration.
REI does not have any debt. The company tends to utilize an asset-based supply chain, investing in land, facility and material handling designs that provide a long-term benefit to members and customers, Bingle says.
Without access to the capital markets or reluctance to use debt, REI must run a very disciplined business on behalf of its members, he adds. "Our members either expect us to return our profits back to them or invest in their future experiences of the outdoors."
Modernized Supply Chain
The ability to make those investments has enabled REI to transform its supply chain during the past decade. The company was still a low-automated operation nine years ago. Picking was done by hand and information tracked using pen and paper. Deliveries to replenish stores occurred only once a week, and executing direct-to-consumer orders often took two to four days after receipt. "In many cases we were following paths that other retailers have achieved," Bingle says of the company's approach back then.
REI knew it needed to address its supply chain operations to keep pace with its members and competitive retail landscape. "REI entered a journey of transformation in 2007 by asking a few fundamental questions," Bingle says. The company considered four primary areas: What are its capacity requirements as the organization grows? How should it service customers and stores? How can technology enable those service levels while driving out costs? What role does sustainability play?
The company began to answer those questions when it opened its 525,000-square-foot Pennsylvania distribution facility art the end of 2007. The warehouse incorporated many of the supply chain advancements REI needed, such as the ability to use barcodes to send shipments to automated receiving platforms and automating packaging stations. Further, the facility paved the way for REI to increase its shipments to store to three times a week – a necessity to maintain stock in stores that often only carry one of a specialty item at any given time.
Environmental stewardship was an important concept in building the warehouse. Prior to its opening, stores from the Midwest to the East Coast were served by the distribution center in Washington. The Pennsylvania warehouse took over support for the eastern half of the country, bringing REI closer to those retailers and greatly decreasing the company's carbon footprint during transportation.
The facility itself was designed with sustainability in mind, earning recognition as the first LEED Silver-certified distribution center in the United States. It has since become a model for many other warehouse projects across the country.
Not knowing what you don't know can be a barrier for improvement. To overcome that challenge, REI looked outside its organization for answers on how to enhance its supply chain. The company hired experts who had experience setting up and managing modern distribution networks. Bingle says REI reached out to vendors and other retailers to learn how their supply chains were set up and tour their facilities.
Once it had an idea of where it wanted to get to, REI brought in consultants to rate its supply chain and help the company develop a road map for improvements. "It's really about creating the space and making the investment to understand what could be," Best says.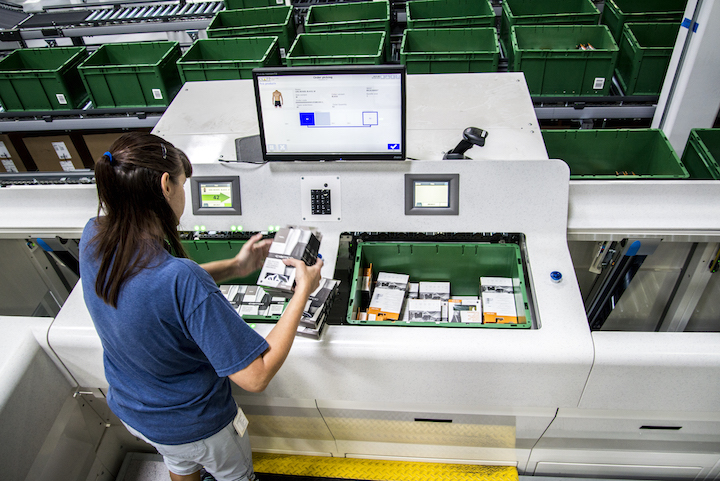 By 2013, REI realized that its base processes and ability to address ebbs and flows in the supply chain were starting to meet industry benchmarks. Still, there was room for further improvements. Distributing to its customers and retail locations in the southwestern states carried high delivery costs. REI realized a distribution center based in the Southwest would better serve that market.
The resulting 400,000-square-foot facility opened in Goodyear, a Phoenix suburb, in July 2016. Designed to take advantage of the latest in automation and efficiency, the distribution center can accommodate both retail and direct-to-consumer orders while pulling from the same inventory at the same goods-to-person station. Bingle says it effectively acts as a one-touch omnichannel solution. "That is an industry-leading technology and process design," he adds.
"The advancements that led to a one-touch omnichannel fulfillment system started with a value stream mapping mindset," Best says. REI identified its most latent processes and realized that every touch point in the supply chain was adding time and costs to delivery. By organizing its online and retail operations in the same place, REI streamlined picking and order assembly, reducing the number of touches before delivery. "We get the product to the shelf and serve our customers better, faster and cheaper," Best says.
The Goodyear distribution center added 40 percent more capacity to REI's supply chain and dropped delivery cost by more than 25 percent at the unit level. In all, the company took two days out of the time it takes to replenish stores and deliver online orders to customers. "The combination of the proximity to customers and the delivery of the operation is what provides the business case for the investment that pays for itself in nine years," Best says of the $73 million building.
Environmental Stewards
When it built its Pennsylvania distribution facility, REI made sustainability an integral part of the building. In Arizona, REI put sustainability at the forefront. The facility is designed to have a net zero energy footprint. A 2.2 MW solar system consisting of 6,700 panels produces enough energy to power the entire building, and a non-evaporative cooling system keeps employees cool in the desert while saving millions of gallons of water annually. "We have zero energy cost right now," Bingle says. "Our investment in solar was not only about environmental sustainability but also a disciplined approach with an amazing ROI."
Investing in sustainability made financial sense – the ROI for the solar system is only five years with a 25-year lifespan – but, more importantly, it fit REI's values. As a company specializing in outdoor recreation, one of REI's missions is to promote conservation wherever possible. "We wanted to build a building that represented the REI brand," Bingle says. "We wanted our employees and visitors to connect with our brand from the moment they arrived in our parking lot. It is our brand and our culture that earns the discretionary effort of our employees on a daily basis."
REI sees its Arizona distribution center as an example to the rest of the supply chain industry. It regularly welcomes other companies to tour the facility to take inspiration from its design. "While this is an industry leading facility that could be viewed as a competitive advantage by others, REI's ethos and its members expect that we engage the industry in sustainable operations and therefore we've been clear to the industry that this is an open-source learning environment," Bingle says
"We're trying to be consistent to share our path with others and to invite the industry to challenge and learn from each other," Best adds.
REI's commitment to lessening its environmental impact goes beyond its net zero energy effort. Seventy miles north of Goodyear, REI is helping the Bonneville Environmental Foundation and the Nature Conservancy to restore the Verde River, a project that benefits the entire region and offsets the distribution center's water footprint. "Entering the Arizona market, we knew how important fresh water is to the community and designed the facility around lower water usage," Bingle says. "Additionally, we wanted to give back to the community and chose to invest in the Verde River project. It's incumbent on us to influence the industry that business is about community and that or business decisions can have a bigger impact than what we do on our site."
"These investment choices all had a return and we were responsible," Best says of the company's sustainability efforts. "We're not just throwing money at things because of the culture. It's because of the culture we choose to do things differently and we did it responsibly."