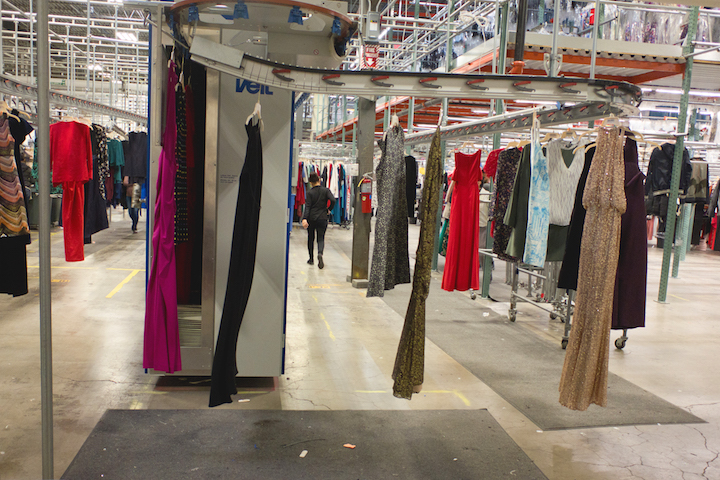 Rent the Runway allows customers to affordably rent designer apparel and adds value by making it convenient.
By Bianca Herron
Rent the Runway offers more than 250,000 designer dresses and accessories that can be rented for four or eight days at a fraction of their full retail cost. The New York City-based company also offers a subscription service, Unlimited, where subscribers can have a portion of their closet on constant rotation for a monthly fee. In today's world, rental is perfect for weddings, proms, black tie galas and other special events for women who do not want to spend a lot of money – or be seen in the same outfit twice.
Two Harvard Business School classmates, Jennifer Hyman and Jennifer Fleiss, started the fashion technology company in 2009. The idea came about when Hyman's younger sister had a closet full of dresses, but splurged on a gown for a black-tie wedding that put her into credit card debt. That sparked the idea of a dress rental company that they would rent coveted designer dresses and gowns at an affordable price point. Rent the Runway took off and today has 6 million members, more than 1,000 employees and five retail locations, and has raised over $190 million in venture capital funding.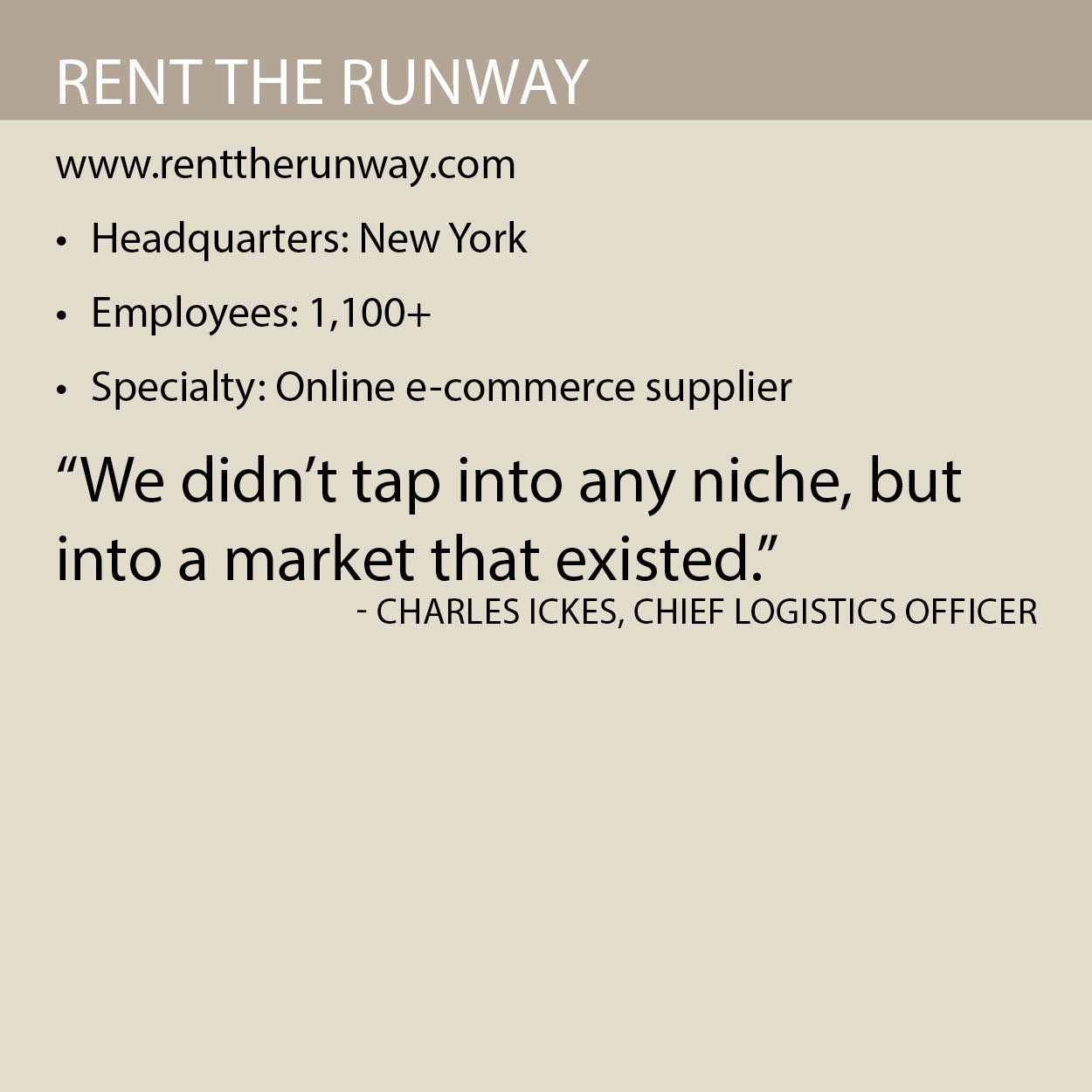 "We didn't tap into any niche, but into a market that existed," Chief Logistics Officer Charles Ickes says. "For example, some people go to retail stores to buy a dress, wear it and then return it the next day, or a few days later, after the event. All we have done is give people an opportunity to do it the right way."
The Netflix Of Fashion
Customers can either rent apparel or select a subscription option, choosing an array of apparel and accessories from more than 450 designers. "Our specific business, which we call on-demand service, allows customers to rent for four or eight days," Ickes explains. "In early 2016, we beta-tested subscription service, which is now like the Netflix of designer dresses. Today, we not only have designer dresses, but also outerwear, separates and accessories. So you can rent a leather jacket or a really cool handbag, for example.
"With our monthly subscription, which costs $139, customers can choose three pieces and rotate those units as many times as they want," Ickes continues. "This has been extremely successful for us and we have seen triple-digit growth because of it."
Ickes says the company expects to continue that fast growth thanks to not having any competition for its on-demand business in the United States. "We are the only company doing this," he says. Our model is pretty unique, which gives us a lot of opportunity to test new things."
Rent the Runway certainly uses that flexibility to its advantage by fostering a learning environment in its operations. "We talk through every idea and can try whatever we want to figure out what works," Ickes explains. "We don't want to make any mistakes, but because there really is no other model to compare to, we have to try things on our own and learn from them."
On Time Model
As the world's largest dry cleaner, as Ickes describes it, Rent the Runway's 200,000-square-foot facility in Secaucus, N.J., is designed to clean 6,000 apparel units per hour. Operating 24 hours per day, Monday through Saturday, the facility is a key part of the company's success. "We also have a dark storage facility that is 60,000 square feet," Ickes says. "Ultimately, getting the apparel cleaned and ready to ship out as fast as possible is essential to our model."
Rent the Runway provides customers with two sizes of the apparel ordered so that they can have another in case the original size ordered is too big or small. "In the event you cannot fit either, you can call our customer service and they'll overnight additional garments so you can still make your event," Ickes says. "So we really aim to please."
Rent the Runway also pays for all the cleaning, shipping and insurance for its customers. "That includes any type of normal wear and tear, or staining," Ickes explains. "We do that for all of our services."
Ickes notes that the company not only ships order via ground, but also by air. The goal is to have all apparel back within seven days to ship right back out the same day it arrives in the facility. "For example, if we ship an order on Wednesday it's so it can be delivered on Thursday," he explains. "The customer then tries it on and has four days to use the garment. Depending on where they are located, it could come back to us between the following Tuesday or Wednesday."
All of Rent the Runway's returns start flowing into its facility between seven and 11 a.m. "We have until 8 p.m. to turn around 50 percent of those units for shipment the same day," Ickes says. "Some of those units go courier so they have to be out the door by 3 p.m. to be in the city for delivery before our evening deadline. In between meeting that deadline is the refurbishment period, which is the cleaning, repairs and quality assurance. So it's all about just-in-time reverse logistics for customers in our model."
Spotting Success
Rent the Runway's operations team has over 900 employees, 100 of whom work in the company's repairs department. "We take training very seriously and have an apprenticeship program," Ickes says. "When we first started the company we hired nothing but expert seamstresses. However, as we progressed we realized we could create talent from the inside. Today, if you join our company as a line staff member, you have an opportunity to train for the apprenticeship program. The program is basically learning skills sets with repairs, spotting or stain removal, which also has an apprenticeship track. So they get training and take skills tests, and that is how we create skilled employees."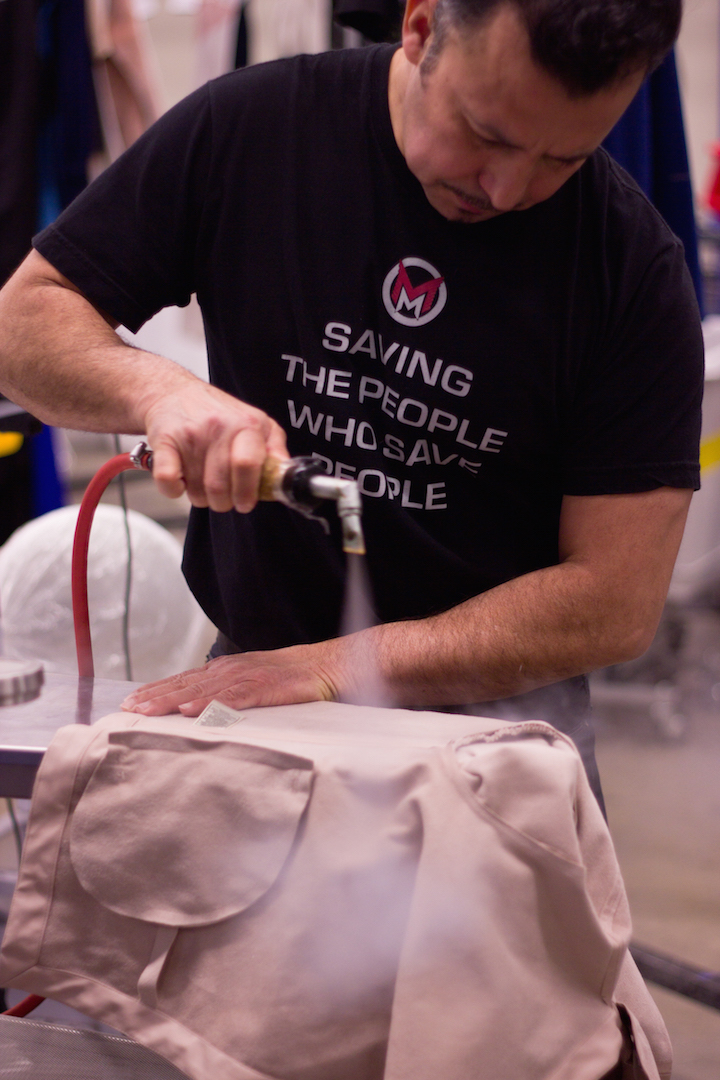 Rent the Runway tries to create processes that are easy to train and error-proof as much as possible. "We build our own software in-house and tweak it to assist the employees in making decisions," Ickes says. "For example, every unit is tested when we get it in for the first time. The dry-cleaning process can be very complex because there are wet sides, dry sides, and there are different types of solvents and mechanical actions that can be done. We categorize every style by the best cleaning method. So as the apparel is being put through our process, we sort them appropriately so they can go through the correct cleaning process, which is all data driven."
Originally, the company wanted employees to know that information off the top of their heads. "There was a lot of memorization as far as what cycles should be used for certain apparel and how stains should be removed," Ickes explains. "As we grew we had to implement software to ensure everything was stored correctly and easy to access, which makes our operation faster and training easier."
Ultimately, Ickes is most proud of the growth the company has had in such a short time span. "I started with the company six years ago and there was about 20 people in operations, half of who were temporary," he says. "So going from 20 to more than 600 employees in six years is impressive. Also, being able to grow our operations is a feat, too. Originally, we were in 9,000 square feet. Then we jumped to 40,000 square feet to 160,000 square feet and now we're in our present facility that's larger. In the next year, we'll be adding another 400,000 square feet. So being able to successfully scale this business and grow with it is phenomenal.
"Our goal is to have a second distribution center by 2018 and have three to five more by 2020," he concludes. "I work with a great team and we just want to continue the fast growth and double the business."