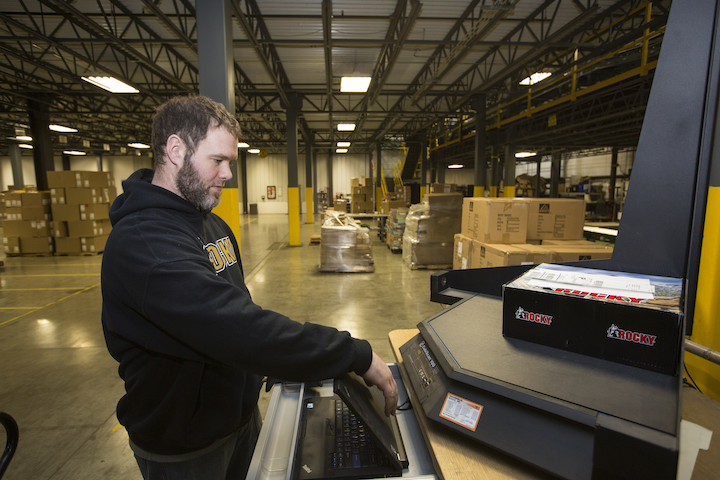 Footwear manufacturer Rocky Brands steps up its supply chain planning and distribution efforts to meet increased product demand.
By Jim Harris
Durability, innovation and quality have been hallmarks of Rocky Brands Inc.'s products for more than 80 years. The Nelsonville, Ohio-based footwear manufacturer prides itself on making highly durable footwear using advanced materials and features.
For the company, sourcing the materials used in its products and producing and distributing them in a timely and efficient fashion to consumers is a high priority. To do this, Rocky Brands closely aligns its supply chain planning, distribution, transportation and manufacturing efforts. Each of these departments is overseen by an executive who works closely with his counterparts as well as other company executives, giving the company a collaborative approach to its supply chain, Director of Supply Chain Planning Dewey Diamond Jr. says.
Diamond has been in his current role since 2013; he previously worked as director of product acquisition and manager of direct operations for the company's distribution center in Logan, Ohio. Since assuming the role, Diamond has worked to improve the company's demand forecasting process. This includes more frequent meetings with manufacturing and sales staff to plan out the amount of products the company needs to produce.
"We are being more proactive when it comes to planning our lead times with our vendors," he says. "We are focused on our goals in the here and now, such as quarterly sales goals, while also looking ahead into the future."
Improving its demand planning processes allowed the company to greatly reduce its inventory. From 2014 to the end of 2016, Rocky Brands eliminated roughly $22 million worth of inventory, which Diamond credits to his department's closer collaboration with sales staff.
The company also has increased the frequency with which it orders materials from its vendors. Rocky Brands' sourcing activities are overseen by Vice President of Sourcing Mike Roundhouse, a 12-year veteran of the company. "In the past several years, we have consolidated suppliers and manufacturers to help promote better communication and partnership," he says. "We continue to see the benefits from those efforts both in our own factories and our sourced vendors."
Distribution Capabilities
Rocky Brands has nine websites dedicated to sales, including sites for each of its outdoor, work, western, duty and military footwear products. The company's brands include the Rocky, Georgia Boot, Durango and LeHigh brands as well as the licensed Michelin brand.
The company in late 2013 added to its product portfolio when it purchased the Los Angeles-based Creative Recreation upscale sneaker brand.
Rocky Brands ships products into the United States from factories in China, Puerto Rico and the Dominican Republic. In addition to operating a 200,000-square-foot fully automated distribution center in Logan, the company partners with third-party logistics providers in Sumner, Wash., and Mississauga, Ontario. The Logan distribution center has been given Foreign-Trade Zone status by the U.S. Customs and Border Protection department. The status – which requires a rigorous auditing and inventory-tracking process – allows the company to bring foreign goods into the distribution center without paying duty fees.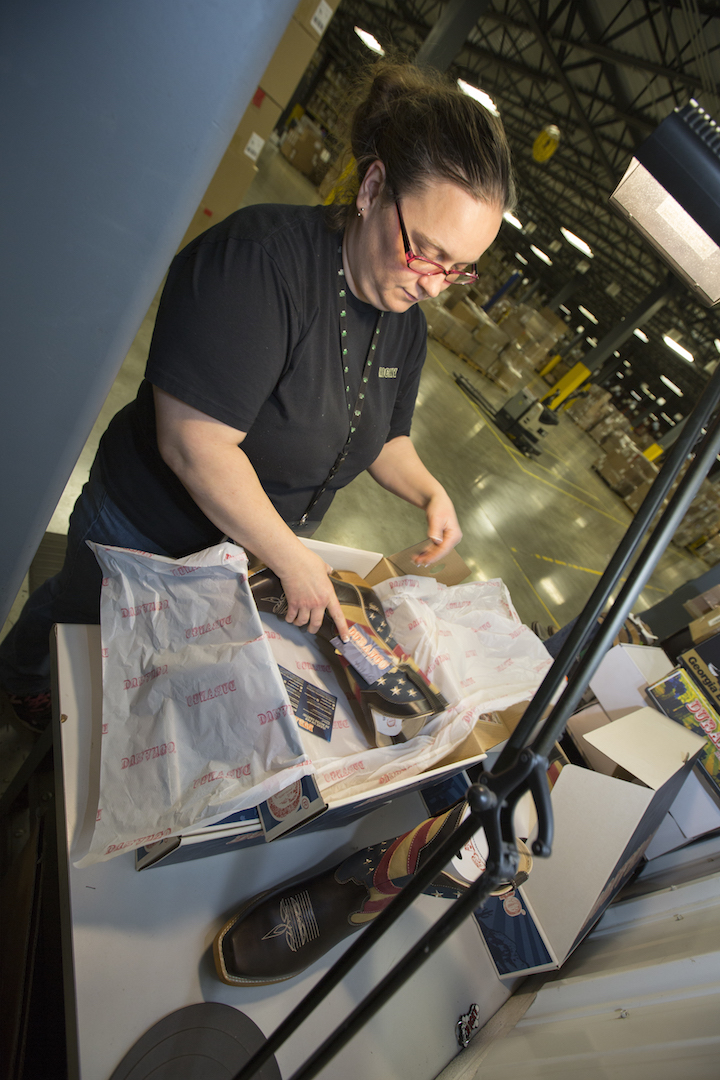 The distribution center employs 54 full-time associates and includes 33,000 active pick locations that are capable of storing 400,000 pairs of footwear. The center receives roughly 25,000 packages daily.
The majority of the company's products are shipped on a same-day basis, with the rest shipped within 24 hours. The distribution center and 3PL locations handle both retail and e-commerce business from a single inventory. Rocky Brands ships products at a 99.95 percent accuracy rate. "We receive a lot of compliments from our customers on how fast they can get their products," Director of Distribution Services Kevin Koster says.
Thinking Ahead
Increasing the distribution center's throughput is a high priority for Rocky Brands' distribution services department. "Last June, we completed a revamp of our conveyor and sortation systems," Koster says. "We felt it was time to rethink those systems, because the previous ones were getting outdated."
The new sortation system includes 17 chutes with the capacity of packing 272 outbound cartons at one time. Previously, the company was able to pack 54 cartons at a time. The new conveyor includes two sections – a transportation conveyor that runs at 140 feet per minute, and a sorter conveyor running at 295 feet per minute. The old conveyor ran at just 65 feet a minute, Koster notes.
The new systems are part of Rocky Brands' ongoing effort to increase the center's efficiency. The effort, known as Project DC 2020, also included installing a new shipping sorter and reorganizing staffing from three to two shifts. Future plans include expanding the facility's footprint.
"We have seen an increase in our volume that helped prompt improvements to our throughput," Koster says. "We called this project DC 2020 because these improvements should allow us to handle that increase through the year 2020."