Video Gaming Technologies
Video Gaming Technologies hits the jackpot when it comes to perfecting its supply chain.
By Chris Kelsch
When Jerry Hale, vice president of supply chain for Video Game Technologies (VGT) started with the company in 2006, it was already on a fast track for growth. But now, more than a decade later, VGT has continued its ascent and has since been sold to Aristocrat Leisure Ltd., an Australian-based public company.
"VGT was very successful when I started," Hale says. "And since that time we have optimized and standardized our methods within the supply chain to ensure continued success."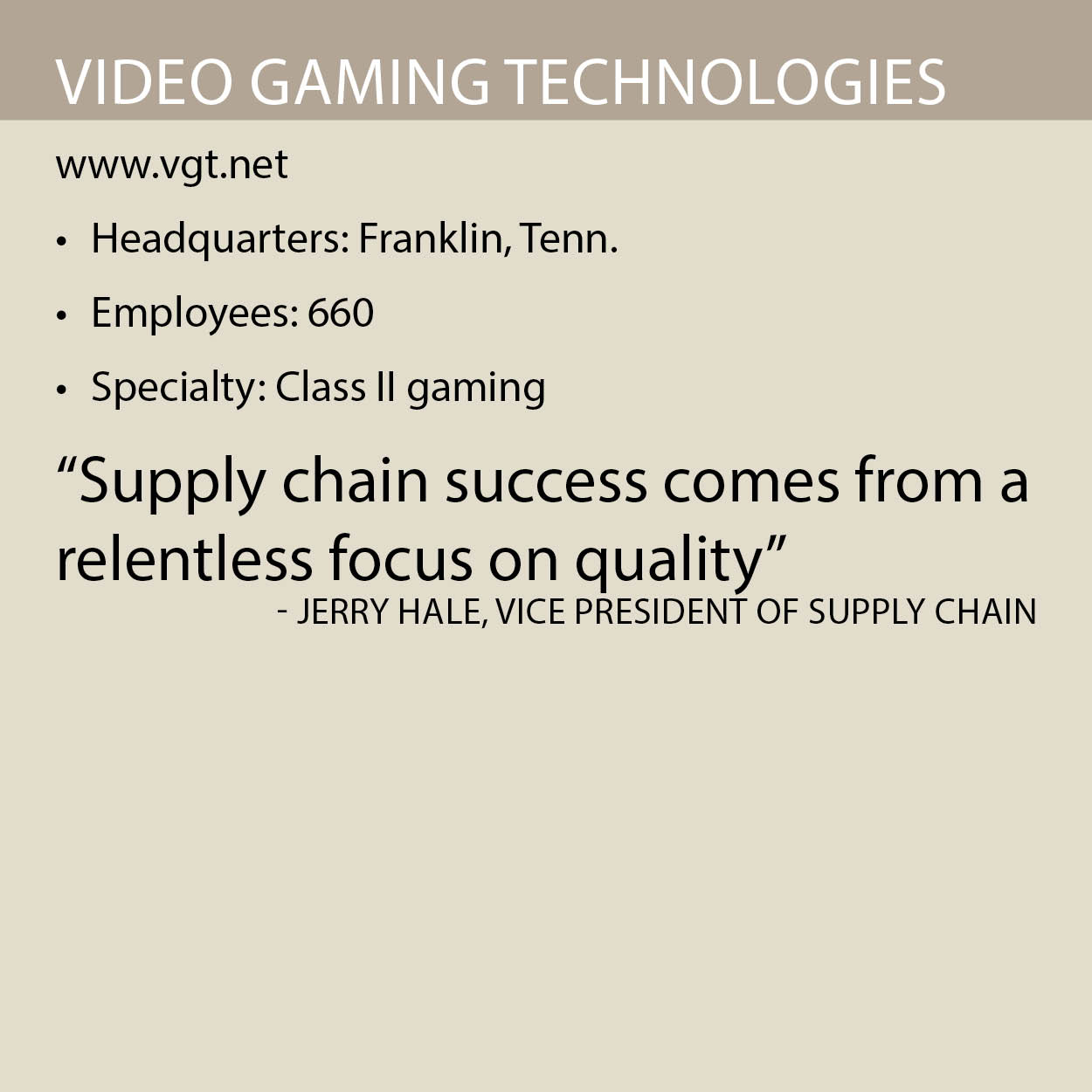 Printing Money
A former NASA intern named Jon Yarborough founded VGT in 1991. When he had to move out of a house he was renting, he had no place to put his beloved foosball table and ended up going to a local game parlor to play it – and there he saw people line up and pay money to play games. That's when the light went on and stayed on.
The company Yarborough founded makes touch screen video gaming machines and leases them to Indian casinos in Oklahoma. "We build electronic gaming machines and then lease the machines to casinos," Hale says. "We then share the revenue and the effort to ensure these machines perform well."
VGT was the first company into the Oklahoma market with these machines, which has been one reason for its success. VGT's continued success also results from factors such as having highly entertaining games and industry leading service. More than 20,000 VGT machines are in use in 140 locations throughout the United States, though mostly in Oklahoma.
Supply Chain Evolution
Its fast growth has made modernizing its supply chain and eliminating inefficiencies a challenge for VGT. During Hale's tenure, VGT has continued to improve its supply chain operations starting with the Purchasing department by perfecting the methods by which it sources materials. "We have a highly engaged team that focuses on building valuable relationships with suppliers," Hale says. "This focus has eliminated a lot of risk when it comes to sourcing materials."
According to Hale, another key improvement in the purchasing department was the creation of a supplier scorecard. "We have improved the process of working with vendors by simply measuring their performance on a few key deliverables," Hale says. "We do that in conjunction with our Quality and Engineering teams, but essentially it relates to how well suppliers communicate and deliver what is expected of them. Scoring the suppliers enables us to make timely decisions and it also helps our suppliers improve their business operations."
Hale says VGT has undergone significant improvements companywide as well. "We have implemented ISO 9001 to ensure a high level of process control and we have a heavy emphasis on quality which we believe sets us apart in this industry," Hale says. "Overall our processes have become standardized and repeatable with outstanding quality yields. As such, we continue to realize process efficiency and excellent customer satisfaction."
Thinking Globally
VGT's efforts to improve and standardize practices received a boost when Australian gamemaker Aristocrat Leisure acquired it in 2014. "If one were to look at the two companies before the acquisition, they would see that our values were well aligned," Hale notes. "This alignment and common vision has allowed our companies to achieve greater combined results in a shorter amount of time."
According to Hale, the acquisition has created a fantastic opportunity to leverage the strengths of each business unit. The purchase tripled Aristocrat's North American business.
One clear advantage to being purchased by a much larger company is the shift in the mindset of the company. "We went from being a private, locally run company that was family-oriented to a being global, public company," Hale explains. "And while we still have that family feel, we now have the opportunity to be truly global, and to leverage all of the resources we now have."
On the supply chain and logistics side, its expanded capabilities have been noticeable. Though the company is headquartered in Franklin, Tenn., most manufacturing and logistics functions operate out of its Tulsa, Okla., facility, where Hale works.
Because the machines are heavily used while in play, much of VGT's supply chain activities can be described as remanufacturing and reverse logistics. When a machine is no longer needed at a casino, it is returned and a teardown process begins. Machines are broken down and materials are cleaned and repaired onsite. Some components are sent to vendors for re-coat and re-chrome to ensure a like-new appearance while mitigating the need to procure new materials.
As one can imagine "re"-doing something comes with a number of challenges that require great focus to overcome. "Taking a mixture of new and used components and building a machine that meets high-quality standards and functionally outperforms our competitors is where our company shines." VGT uses a streamlined approach to the disassembly, repair and test, and re-assembly process which is concluded with a very extensive inspection. Through the use of kanban bins, plan-for-every-part applications, and targeted takt-time performance, VGT's remanufacturing activities run smoothly. Quality is a part of the overall process and ultimately leads to the delivery of machines that function, with near perfect results, once installed. VGT also manages the delivery of its products with internal resources. As Hale puts it, "we manage our own fleet and drivers to ensure our customers always receive timely and compliant delivery."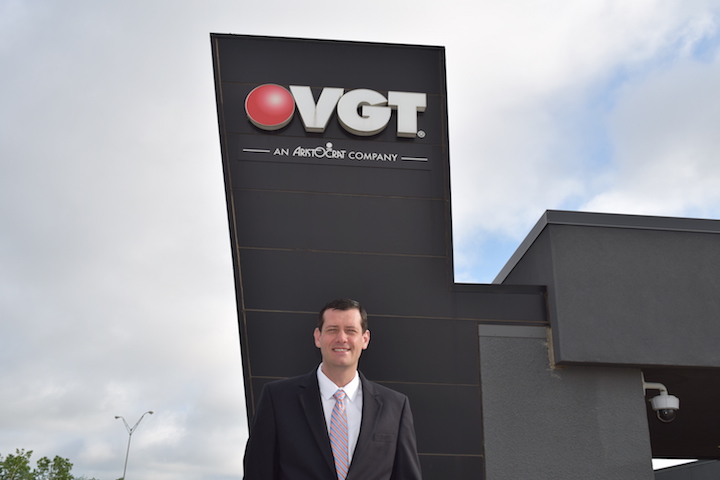 VGT can be demanding of its suppliers. "From a supplier standpoint, our volumes and asks have always been volatile," Hale notes. "Our vendor relationships require agility and excellent communication to ensure we can meet our customer demands."
To ensure that those relations run smoothly, VGT makes sure its suppliers get everything they need from it. "We survey them as well," Hale says. "We want to make sure they are getting all they need from us in terms of information and communication. We want to know what we can do to improve as well."
Constant information sharing and communication have served both VGT and its suppliers well. "In our world, every component supplier is key in a sense," Hale continues. "We have long-standing relationships with most of our vendors and we host formal business review meetings with some of the key vendors each year, in addition to providing regular feedback on their performance."
Consistent Markets
VGT remains committed to the tribal gaming market, a market in which it has been extremely successful. "Our customers, the casinos, receive high value through our business model and close attention to their needs and the players (casino patrons) love our games for the entertainment value they provide," Hale notes. "The Oklahoma market (VGT's primary market) consists of loyal, mostly local players that latch on to popular titles such as Mr. Money Bags and Lucky Ducky."
With a strong client base and an efficient supply chain, the key tenets of VGT's success are in place. And while Hale believes VGT's customer satisfaction is as good as anyone's, the company continuously strives for better results. Hale also believes VGT's supply chain will continue to focus on two main elements: customer satisfaction and a quality-first mentality.